---

The power of the people lies not just in how we innovate, but also how we are able to share knowledge with others through that innovation.

Ken Sinclair, AutomatedBuildings.com
Editor

As published
Energy Management Canada

"The Power of the People" refers to both the power of people to create change as well as the fact that electrical power, which only a few years ago seemed to be the property of the utilities, is now perceived to be the power of the people that use it. These definitions and points of view are radically changing our industry.















An example of this, and a twist with more insight on my last month's Reinvention of Building Automation column, came out in an interview I had recently with Barry Haaser, the principal of Haaser Associates, a business outsourcing and advisory firm that helps companies play a more significant role in energy and clean tech related areas. I asked him what would be the next technological boom for Silicon Valley, and he suggested it would be in energy and clean tech investments.
"The venture capital community invested nearly $6 billion in clean tech and energy-related start-ups last year," he notes. "What really drives innovation in Silicon Valley is a great idea, access to capital, and availability of talented people."
Haaser stressed that downturns tend to fuel innovation, and Silicon Valley is retooling for this.
"While some older Silicon Valley companies are contracting and laying-off very talented people, we are seeing a wave of new ventures forming, new technologies invented, and new solutions coming to market that will support the next economic boom," says Haaser. "Existing companies like Applied Materials, Cisco, Google and Oracle are retooling to play a significant role in energy related markets. Organizations are also retooling like the .NET user community, OASIS, OPC Foundation, ZigBee Alliance, HomePlug Power Line Alliance and others."
It's people that will make the difference in how systems are implemented. And many big changes are coming. For instance, Alper Uzmezler, a systems and graphics designer with BAS Services & Graphics LLC, notes that in building automation, the implementation of internet protocol version 6 will see major implementations of cloud computing.
"It has already been implemented by major corporations," says Uzmezler. "Amazon uses cloud computing to scale their servers. Google uses cloud computing for their applications such as gmail, word, etc. Cloud computing gives us the flexibility to expand our infrastructure and also makes it easier to compute very sophisticated algorithms. Cloud computing benefits will be seen when trend data becomes part of the building automation programming."
Smart buildings will also change substantially over the next few years, according to Jeff Shepard, founder of the Darnell Group (www.Darnell.com). Darnell is a leading source for strategic information and analysis on all aspects of power electronic and energy storage markets and technologies, including building powering.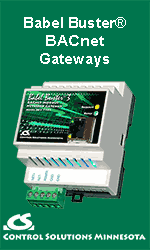 "A convergence of technologies is occurring that will change how buildings are powered, says Shepard. "These changes support increased use of building automation technologies, and will lead to reduced construction and operating costs, improved flexibility and enhanced sustainability. Industrial, commercial, government, and even residential buildings are increasingly looking at alternative sources of power, such as photovoltaic panels, wind turbines, fuel cells and microturbines. Inside the building, energy efficiency and costs are driving the use of emerging technologies like wireless building automation systems, demand-side management of energy use by electric utilities, and solid-state lighting controls (such as LEDs). Large facilities such as data centers are already looking at the use of high-voltage dc distribution, but there are even more opportunities for the use of low-voltage dc distribution as part of a hybrid ac and dc power structure in commercial and industrial buildings."
The power of the people lies not just in how we innovate, but also how we are able to share knowledge with others through that innovation. For instance, Sarah Erdman, Marketing Director, Quality Automation Graphics, notes that, "Building information modeling (BIM) is shifting the way buildings are designed, especially in the sustainable building industry. They are being used more often throughout a building's entire life, from the actual design and construction to the finished building's operations. This increases productivity, controls costs, and allows functional relationships between a building's elements."
However, equally importantly, "BIM can help improve a building's energy analysis by extracting relevant data for review. Using this technology can also help share a building's energy efficiency information with the public."
The power of the people is positioned to create radical change in building management. This is fueled by our need for sustainability, plus the rapidly evolving smart grid with its need for clean energy, and the availability of government support for innovators in a downturn in the economy.
---

[Click Banner To Learn More]
[Home Page] [The Automator] [About] [Subscribe ] [Contact Us]