---

EMAIL INTERVIEW Dave Carswell & Ken Sinclair
Dave Carswell, Director of Business Development, Ziphany, LLC
Dave manages many corporate sales and marketing efforts for Ziphany, a software and service company that enables energy companies and utilities with proven and scalable smart grid applications. He works with demand response providers and utilities who are investing in technologies for the long-term benefit of their customers and grid systems. Dave has an Informatics degree from the University at Buffalo. He lives in Buffalo, NY with his wife of 11 months and 3 weeks and is currently accepting ideas for Anniversary gifts at dcarswell@ziphany.com.
---
Utility Demand Response Programs, and What they Mean for our Buildings

With minimal investment on behalf of the Utility/ISO and typically no out of pocket expense
to the end-user DR participation tends to be a no-brainer.















Sinclair: What is demand response (DR)?
Carswell: DR takes many forms, but its universal goal is a matching of demand to supply. End-users curtail usage for the greater good of the grid system, and they're compensated for doing so. There are Residential programs as well as Commercial and Industrial programs. Some are emergency programs (based on supply cushion) and others are economic programs (price-based).
Sinclair: You believe that DR is, as you've said before, the "gateway" into the Smart Grid. What do you mean by that?
Carswell: Well, it certainly is among the most cost-effective, easily deployed elements of what will ultimately compose a smart grid. Hardware such as AMI, Sensors, etc are important, but costly. DR, in its many forms, is a proven concept ready to curb our peak usage today. With minimal investment on behalf of the Utility/ISO and typically no out of pocket expense to the end-user DR participation tends to be a no-brainer.
Sinclair: What does a utility need in order to justify the implementation of a DR program?
Carswell: A constraint or supply problem, approval from its PSC, support or incentives to invest in supply other than traditional peaking power plants, a willing customer-base and an avenue to manage the relationships with that customer-base.
Sinclair: What are the most important elements to the Utility when implementing a demand response program?
Carswell: From the utilities we work with, the insight gained points to the most critical element of a load reduction program is Reliability. They want to See the Drop. But a close second is the cost. In effect, DR is replacing a peaking power plant – it should be considerably cheaper too. So, a big element is the total cost/kW a utility can expect to pay out. Finally, a utility needs to know that what it's investing in will be around as a long-term resource and that it can be expanded upon, particularly as elements of a smarter grid emerge and new technologies are adapted. So, in answer to your question, Utilities are looking for Reliability, Cost, and Investment Confidence.
Sinclair: So we know what the utility is looking for. Why do our buildings want to get involved? What's in it for the C&I end-users?
Carswell: Cash. Investing in energy efficient retrofits to shave costs and be more environmentally conscious are important to lots of businesses – but in a down-economy, investing upfront in technologies that have high price tags is much less desirable. The long ROI is painful, but opportunities to generate money by participating in DR are immediate and could be used to invest in energy efficiency down the road.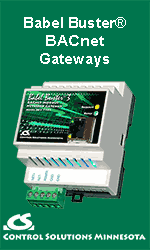 Sinclair: What level of Automation is required of participating buildings?
Carswell: It depends on the program. Many programs do not even require real-time access to meter data, but instead require proof of reduction after the fact. Other programs treat demand response similarly to generation and intend to dispatch it as a comparable resource to traditional power plants. Many times, integrating with the BAS or developing a localized curtailment strategy is an inexpensive method to get the most curtailable load out of a facility, but even that is not always necessary for basic load reductions.
Sinclair: Finally, what are the challenges to greater adoption of demand response as a resource?
Carswell: Well, DR is most valuable in a constrained grid system – one in which supply struggles to meet peak demand. When manufacturing slows, this need for additional supply declines as well. More traditional renewable energies such as solar and wind have a similar difficulty in this strained economic climate. That being said, no one doubts the return of the world economy in the near future – and so a need for new supply resources will likely make a rapid return, and we'll need to be ready.
---


[Click Banner To Learn More]
[Home Page] [The Automator] [About] [Subscribe ] [Contact Us]