---

EMAIL INTERVIEW - Jason Domangue & Ken Sinclair
Jason Domangue, Vice President of Marketing, uControl
Jason Domangue brings over fifteen years of sales and marketing experience from the telecommunications industry to uControl. Most recently, Mr. Domangue served as the director of sales and marketing for EATEL, a 70-year-old telecommunications company that provides voice, data and video services over a Fiber-To-The-Home network to both residential and business customers. Prior to his work at EATEL, Mr. Domangue founded EATELWEB, an interactive marketing firm that was one of the first in the country to offer a paid subscription streaming video service through a college athletic department's website - LSUsports.net. Mr. Domangue holds a Bachelors of Science in Marketing from Louisiana State University.
---
The Security, Monitoring and Automation (SMA) Market
The most logical first step in deploying SMA services is security, as this is already a $6 billion+ market. On top of that, roughly 20% of Americans are already subscribing to some sort of home security service.















Sinclair: Can you give our readers some background on the Security, Monitoring and Automation (SMA) Market?
Domangue: More than one million automation systems are expected to be installed in the United States in 2012, according to a recent ABI Research report ("Home Automation and Security," published in Q1 2010). It said the home security and automation markets are increasingly intersecting with the introduction of home monitoring and managed home automation services.

With more broadband penetration in homes and new home and building automation enabling technologies such as ZigBee and low-power IP, broadband providers will enter the Security, Monitoring and Automation (SMA) market starting this year. The most logical first step in deploying SMA services is security, as this is already a $6 billion+ market. On top of that, roughly 20% of Americans are already subscribing to some sort of home security service and almost every customer understands the value proposition already. Once in the home, the broadband providers expect to use home security as a launch pad to roll out other services like residential energy management, home automation and home health monitoring.
Sinclair: Tell us a little about your new SMA Platform. Why did you select Ember's ZigBee technology?
Domangue: The uControl SMA Platform enables broadband providers to deliver the next generation of services for the connected home. uControl pairs its open, technology agnostic infrastructure with the industry's only "All-In-One" SMA TouchScreen combining an alarm system, communications gateway and home automation platform into one device. In addition, the TouchScreen is a lightweight network information appliance enabling providers to deliver video, photos, web content and social networking applications via an open, standards-based Widget Platform. The Widget Platform enhances the platform's ability to control media and entertainment functions, and manage thermostat and lighting controls to help homeowners manage power usage and costs. We're currently working with Ember to expand our developer/hardware partner community as we continue to add features, services and devices to the platform.

We selected Ember's ZigBee technology because of their market leadership and experience in enabling connected home and smart energy devices. Ember has shipped more than 10 million ZigBee chips, proving the extent of their market penetration. ZigBee was an easy technology choice because it is an open standard; allows two-way messaging capability; gives us the ability to upgrade sensor's and peripheral's firmware wirelessly; and it has a better range and battery life than traditional, legacy security sensors. And, with Ember's chips and software, we have the most reliable, scalable and secure solution on the market.
Sinclair: What benefits does your SMA Platform offer home and building owners, broadband service providers and utilities?
Domangue: In addition to traditional home and building security monitoring, customers can access their premises via the web or their mobile phone where they can arm/disarm their system, see the current status of their home, set-up email and SMS alerts about events in the home such as a child coming home from school or a medicine cabinet being opened, view the history of all events in their home and see live streaming video from cameras.

For service providers and utilities, the platform opens up an additional revenue stream that can easily be integrated with the rest of their bundled services. Since our system was designed from the ground up as an advanced IP-based home management platform, it fits in easily with the existing back-end systems and installation/operations processes that service providers are using today. In addition, it becomes a true gateway to the connected home - enabling the service provider to easily roll out advanced services such as energy management and home automation on top of the home security service.
Sinclair: How does the Platform integrate with the ecosystem of energy management, entertainment and monitoring/security systems already in place?
Domangue: Our TouchScreen integrates with existing home and building security systems that are currently installed today. Our broadband provider partners will actually wire our system onto these existing alarm panels allowing the customer to receive all of the advanced functionally while using their existing alarm system. All of their existing keypads, sensors and peripherals continue to operate normally in conjunction with the uControl TouchScreen.

We can easily integrate with existing Ember or ZigBee-enabled connected home devices and services that are already available in the market and within customers' homes. Our open Widget Platform allows both hardware and application developers to create and deploy an unlimited number of services on top of our platform. We're really excited to see all of the innovation that will take place within our developer community as they leverage the power of our platform as well as the Ember ZigBee ecosystem.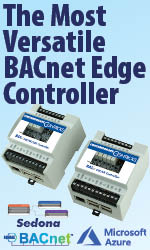 Sinclair: How is the Platform controlled?
Domangue: Today, customers can use the TouchScreen, the web, and their mobile device. This is important because it allows homeowners to understand, control and monitor their home and energy usage from anywhere, and take steps to reduce consumption and save money, working with the utility. Customers can arm and disarm their alarm system, see the current status of their home, access cameras, thermostats and lighting controls and much more. The SMA Platform extends the control of all ZigBee and IP-connected devices on the system to every user control portal. Our open philosophy to the SMA space is extended to customer portals as well. We're more than happy to work with partners to extend our platform to their devices such as TV set-top boxes or other touch screens.
Sinclair: How will this assist with smart grid/smart energy deployments taking place around the world?
Domangue: As broadband providers attack and grow the home security market, our device will be installed in a large number of homes worldwide. The openness of our Widget Platform combined with the fact that we use ZigBee on the device will allow a number of interesting integrations with the smart grid. We see our TouchScreen as a natural integration point for smart meters since it will be in the home already. It will be much easier to get consumers to adopt an in-home energy management display/control system that is already installed. Most companies in the energy management space tend to struggle with the consumer adoption model. We believe the best path to mass adoption of energy management is through the security system.
---


[Click Banner To Learn More]
[Home Page] [The Automator] [About] [Subscribe ] [Contact Us]