---

EMAIL INTERVIEW - Joseph Gillespie & Ken Sinclair
Joseph Gillespie, Analyst, ARC Advisory Group
Joe is a member of the Automation Systems research team at ARC. In this role he conducts market studies on various segments of the automation market and supports clients providing solutions in those markets.
---
An Ideal Climate for Retrofit Projects
Intelligent building control systems available today are capable of improving both a company's short-term bottom line as well as long-term sustainability.















Sinclair: What are the main factors driving the North American building retrofit market?
Gillespie: Current market factors are creating an ideal climate for retrofit projects in the US. These include a weak commercial real estate market; heightened consumer focus on corporate sustainability; increasingly stringent government regulations on energy consumption (especially in buildings); a desire by executives to reduce energy costs, increase control, and increase the visibility of building data; and various government stimulus packages that are injecting capital into the market (such as the ARRA). These allocate federal funding for projects that increase energy efficiency, especially retrofit projects in old existing buildings. The ARRA allocates $6.3 billion to state and local governments to make investments in buildings to increase energy efficiency, $4.5 billion for federal buildings to increase their energy efficiency, and $6 billion in renewable energy power generation loans. The ARRA also designates $11 billion for the modernization of the US electric power grid. This funding will undoubtedly provide a spark to the building retrofit sector for the next couple of years and, as a result, ARC expects the retrofit market to be the strongest sector of the building automation market over this period.
Sinclair: Why should facility managers be paying attention to building retrofit strategies and solutions?
Gillespie: Intelligent building control systems available today are capable of improving both a company's short-term bottom line as well as long-term sustainability. There are many financial, environmental, and social implications of reducing energy consumption that are driving increased adoption of intelligent building controls systems. As energy costs rise, the benefits of energy management increase even more. Energy management initiatives require reliable access to detailed, real-time system operation data. Intelligent building systems collect this data and use this information to analyze a buildings energy consumption, compare the information to the building's historical averages, identify inefficiencies, report problems, and relay building information to enterprise systems that can develop a comprehensive energy portfolio that can span across multiple buildings and multiple sites.

Also, there has been a lot of investment in the smart grid in the US recently. Many people believe the smart grid will revolutionize electric energy distribution and help usher in "smart buildings" and eventually "smart cities." However, estimates suggest that as much as 70 percent of existing buildings in the US still rely on old pneumatic HVAC systems and there are approximately 60 million pneumatic thermostats still in use today. In their current state, these buildings will not be able to leverage the advantages of either the smart grid or benefits associated with a digital control system. Furthermore, smart grid benefits will be severely limited if most buildings cannot communicate with it.

One large positive externality of intelligent building control that often times is not taken into account in ROI calculations is the increase in employee productivity that results from increased comfort levels and more dynamic control of their environments. Studies have shown that advanced HVAC and or lighting control can increase employee productivity by as much as 15 percent. This can have a very large positive impact on a company's balance sheet, particularly in office environments.
Sinclair: If a building still utilizes pneumatics for HVAC control, is a system upgrade worth the investment?
Gillespie: Absolutely. A common misperception is that pneumatic HVAC systems are unable to take advantage of the benefits of digital control systems or the smart grid. While it might have been true in the past, this is no longer the case thanks to recent innovations in legacy pneumatic interfaces, and advances in wireless technology have spawned innovative products designed to introduce web-connectivity and digital control in pneumatic HVAC systems, while maintaining the bulk of the legacy system.

The goal is to implement intelligent solutions while minimizing costs, downtime, and the invasiveness of the installation. Often times the most efficient and cost-effective way to meet these challenges is by maintaining as much of the existing legacy system as possible and adding new components that deliver web-accessibility and bidirectional digital control. This is a very cost effective strategy to bring digital control to a pneumatic system.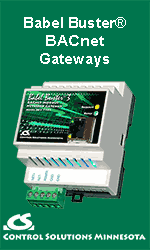 Sinclair: What are the key system and infrastructure features facility managers should consider when planning a building retrofit project?
Gillespie: Facility managers should ensure their building and energy management systems provide visibility into the energy and cost savings generated by the system, the health of the system and its components, the facility's reduced environmental impact since installation, and historical trend data. The ability to easily quantify and report the savings generated by the system to executives is nearly as important as the overall reduction in energy costs. Facility managers should look to install systems that quickly recognize and adapt to ever-changing business conditions, such as variable energy costs, to optimize energy consumption and occupant comfort.

Facility managers should also consider the long term needs of the building, such as the ability to economically expand or reconfigure the system as building needs change. Modular systems that allow incremental additions, communicate with third party products via open bidirectional communication protocols, and utilize wireless networks create a flexible system that can easily be expanded upon or altered as the building requirements change. This protects today's building system investments well into the future and allows an easy migration path to be developed. This helps minimize downtime and maximize building performance when incremental additions to the system are installed.
Sinclair: What role does wireless technology play in building retrofits?
Gillespie: Wireless technologies can play a major role in providing a retrofit building control system the ability to quickly recognize and adapt to ever changing business conditions, thereby ensuring the long-term viability of the retrofit system. Wireless has matured in terms of ease of installation, functionality, and reliability, and the cost continues to decrease. This has caused the adoption of wireless devices in building systems to gain traction. The labor costs associated with installing wireless-enabled HVAC control systems are significantly lower than running cable in existing buildings. Wireless devices are an ideal solution in cases where traditional cable methods would be impossible or prohibitively expensive and time consuming to install, and wireless devices are much more flexible when the building configuration changes. Whether used in new construction or retrofit projects, flexibility is a major benefit in adopting wireless technologies. Wireless sensors can be located, or relocated, throughout a building to optimize system performance, increase comfort, and adapt to changing floor plans. When considering potential wireless applications, however, many users fall into the trap of only envisioning leveraging wireless technologies in traditional applications.

Wireless technology by itself does not provide any value, but when used to connect low-cost solutions that can reduce energy consumption or alert the workforce to potential equipment failures, wireless-enabled solutions can result in fast ROI, making them very appropriate in today's challenging environment. Deploying wireless communication to transmit information from legacy building assets to a control system can help increase enterprisewide adoption of building controls at a fraction of the cost of a complete system overhaul.
---


[Click Banner To Learn More]
[Home Page] [The Automator] [About] [Subscribe ] [Contact Us]