---

EMAIL INTERVIEW – Randy Kondor and Manny Mandrusiak
Randy Kondor, President, OPC Training Institute
Randy Kondor is a Computer Engineer, and is the President of the OPC Training Institute, the world's largest OPC Training company. Since 1996, Randy has been vastly involved within the OPC industry and a strong supporter of the OPC Foundation. He continues to dedicate himself to spreading the OPC Foundation's message about system interoperability and inter-vendor cooperation. Contact information: Email: randy.kondor@opcti.com

---
DCOM and Security Troubles Eliminated with OPC Rescue

OPC Rescue is for anyone experiencing difficulties with OPC and DCOM configuration. A very easy-to-use tool that fixes OPC problems automatically.
Mandrusiak: Can you tell me what the motivation was behind creating a software application like OPC Rescue?
Kondor: Over the years we found OPC users consistently have two requests.
Some people want to know how OPC works and why it behaves the way it does. That's where our traditional OPC training fits.
Others just want OPC to work without all the hassles. They want the benefit of standardization without having to learn it. That's the reason we developed OPC Rescue, there's nothing like it on the market!
OPC Rescue is a very easy-to-use tool that fixes OPC problems automatically with minimal questions. It also enables users to configure advanced Windows security features so installations comply with federal, industrial, and corporate (IT) regulations.
Mandrusiak: In your opinion, which users would benefit most from using OPC Rescue?
Kondor: OPC Rescue is for anyone experiencing difficulties with OPC and DCOM configuration.
There are 4 major roles:
1. End-users have to install their own plant software
2. Vendors must connect to others
3. Developers configure their own products
4. Technical support personnel must help remote users
Mandrusiak: Sounds like it would be a fantastic resource to reduce time-on-site and speed up projects for Systems Integrators.
Kondor: Absolutely! It is a huge time saver because it identifies faults, their cause, and their consequence and also recommends manual repair steps. But the real magic happens when you let OPC Rescue fix installations automatically. One button does it all. People don't believe it until they see it for themselves.
Mandrusiak: How do people typically get this software?
Kondor: The first step to using OPC Rescue is downloading the free version and generating a system snapshot. The snapshot takes a "picture" of all your current settings, and provides a single source of all OPC information. It is accurate and fast. The real beauty is working with technical support. You know all those annoying questions technical support asks when they try to help you? Here's a dirty secret: users hate answering them, and technical support hates asking! It's boring, tedious, and it is easy to mistakenly provide false information.
You just take a snapshot of your settings and save to a text file. Then you email it to your technical support for help. The full version can actually automatically repair OPC communication for you.
Mandrusiak: What about those who worry about new software installations, especially if they have an audited system that must not change?
Kondor: Actually, you don't even install OPC Rescue. Just copy and run; it can even run from a USB stick, and never make changes to your registry. You can easily get a snapshot without affecting any software installations.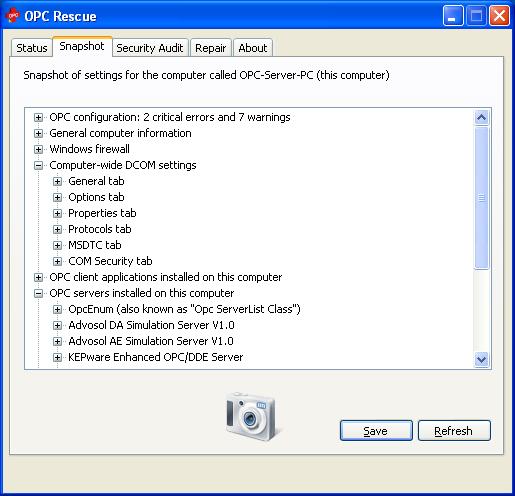 Mandrusiak: How does the Security Audit help system reliability?
Kondor: It usually takes people a week or two to get OPC working. Security is often the first victim in the process. During this time, they typically disable every known security feature. The process is so tedious that when OPC finally works, everyone says "it works, don't touch it!"
But security is important, and (deep down) we all know it. OPC Rescue audits the computer's security measures. It reports every vulnerability it finds. Most importantly, OPC Rescue tells you how to fix each vulnerability and does it for you! Even new users can quickly configure the Windows firewall and DCOM ports to make OPC work with external firewalls.

Mandrusiak: What Operating Systems does OPC Rescue Support?

Kondor: OPC Rescue provides support from Windows 2000 to Windows Server 2008 R2. Of course, this includes Windows 7, XP, Vista, and even their respective server versions.

Mandrusiak: Is this product compatible with all the OPC Classic specifications?
Kondor: OPC Rescue reports everything OPC Classic supports, including OPC DA, HDA, and even A&E.
Mandrusiak: Is there OPC UA and OPC .NET compatibility in the works for future development of OPC Rescue as a product?
Kondor: We're already working on it. OPC UA and OPC .NET support are a natural progression for OPC Rescue.

Mandrusiak: How does licensing work for OPC Rescue? Do end-users have to buy multiple licenses?
Kondor: OPC Rescue is a tool, like a hammer, people can share. It is licensed to storage media. So you can put it on a USB stick and bring it to every computer. You can even the give it to a colleague. Plants with many people using OPC may choose to provide a copy for each person, but that is not a licensing requirement.
Mandrusiak: Do you see a specific advantage for using this product in the Building Automation space?
Kondor: Like other industries, Building Automation is full of systems from many different vendors. But Building Automation is "lean and mean", automation personnel are rushed for time, and training budgets are small. Equipment is often old and diagnostic tools are nowhere to be seen. OPC Rescue is like an expert working along with you. It guides you through the configuration, which is especially helpful when you don't have time to spend in a class.

Mandrusiak: Where can interested parties go to download to get a system Snapshot and audit their installations?
Kondor: You can download OPC Rescue from
www.OpcRescue.com
. There is no installation or registry changes, so it is easy to use. Just run it and click the "Snapshot" tab.
Mandrusiak: Thank you for your time Randy and we are looking forward to hearing more in the future.
Kondor: Thanks Manny! I hope this interview helps people understand how to use OPC Rescue to solve their OPC configuration problems.

---

[Click Banner To Learn More]
[Home Page] [The Automator] [About] [Subscribe ] [Contact Us]