---

EMAIL INTERVIEW – John Van Dine & Ken Sinclair

John Van Dine, SAGE Electrochromics

John Van Dine is founder and CEO of SAGE Electrochromics, the world's leading developer of dynamic window glass, which optimizes daylight, improves the human experience within buildings, and reduces energy consumption. John spent many years in the thin-film solar cell industry before founding SAGE in 1989 in New York. SAGE spent several years on the campus of Rutgers University in New Jersey, and in 2005 moved into its current 60,000-sq.-ft. state-of-the-art facility in Minnesota. Today SAGE is constructing a 320,000-sq.-ft. high volume manufacturing plant adjacent to its headquarters.
---
'Dynamic Glass'

Solves esthetic and energy problems of traditional windows.
Sinclair: John, what's wrong with conventional windows?
Van Dine: We cover them up! Studies show that buildings with abundant daylight and views of nature make us happier, healthier and more productive at work. So we design windows into buildings. But then we defeat the purpose by installing costly sun controls such as mechanized window shades, blinds and louvers to address solar glare, fading and heat gain. In addition to the esthetic problem, these appurtenances have a high carbon footprint when you factor in all the materials, transportation and operational energy they consume – a particularly big concern if you're striving for LEED accreditation. The other problem with traditional windows is their energy inefficiency. They let too much heat in on hot days and too much heat out on cold days.

Sinclair: So what's your solution to these esthetic and energy problems?
Van Dine: Dynamic glass that changes tint electronically throughout the day to optimize daylight and energy efficiency. It's like giving the building tint-changing sunglasses. In this way, our SageGlass "switchable" glass enables the construction of buildings that are not only exemplars of sustainability, but improve the performance and well-being of their occupants. SageGlass is a green technology choice that saves money, increases a building's value, and benefits the environment.
Sinclair: How does SageGlass work?
Van Dine: At the push of a button, the glass transforms from clear to darkly tinted (and from darkly tinted to clear). Control can also be integrated into an automated building management system and combined with light sensors to intelligently regulate interior light levels throughout the day. SageGlass modulates visible light transmission and solar heat gain, and, in the tinted condition, blocks 98 percent of the total solar radiation that causes fading.
At the microscopic level, the panes are coated with five layers of ceramic materials, which have a total thickness that is less than 1/50th that of a human hair. When voltage is applied across the coatings, ions travel from one layer to another layer, where a reversible solid-state change takes place, causing the coating to tint and absorb light. Reversing the polarity of the applied voltage causes the ions to migrate back to their original layer, and the glass returns to its clear state. For more detail, see our technology Web page.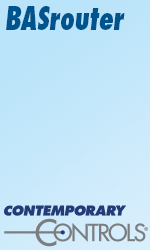 Sinclair: What are the potential energy savings?
Van Dine: Huge, frankly. The Department of Energy Lawrence Berkeley National Laboratory (LBNL) thoroughly tested our windows and determined that technology like ours could save up to five percent of the entire U.S. energy budget if widely deployed in buildings. So not surprisingly, dynamic glass windows earn LEED building credits.

Sinclair: Do the windows require power?
Van Dine: A trickle amount. It takes less electricity to control 1,500 square feet of SageGlass than to power a 60-watt incandescent light bulb.
Sinclair: What control system options are available?
Van Dine: The glass is supplied with a standard panel-mounted control system. This control system can be operated by the user via a simple wall switch or integrated into a variety of different building management control systems (including wireless), such as lighting, energy management, audiovisual and security systems. When integrated like this, SageGlass windows and skylights are controlled by inputs such as timers, light sensors, motion sensors, lighting controls and thermostats.

---


[Click Banner To Learn More]
[Home Page] [The Automator] [About] [Subscribe ] [Contact Us]