---

EMAIL INTERVIEW – Rob Murchison, Tom Shircliff and Ken Sinclair

Tom Shircliff and Rob Murchison are a co-founders and principles of Intelligent Buildings, LLC, a nationally recognized smart real estate advisory services company started in 2004. Intelligent Buildings provides planning and implementation of next generation strategy for new buildings, existing portfolios and smart communities. Their work includes "The Smartest Building in America", the largest energy analytics project in North America, and the smart buildings standards for the US and Canadian governments. In addition to their work, they help shape the industry by volunteering as speakers and collaborators with numerous universities and national laboratories. Between them, they have been a gubernatorial appointee for energy strategy and policy, a founding Chairman of Envision Charlotte - Clinton Global Initiative, a certified continuing education instructor at Harvard University, and a member of the building technology advisory group at Lawrance Berkeley National Laboratory.

---
Developing an Effective SELECTION PROCESS

The list of companies offering Energy Management Systems (EMS) continues to grow. For the real estate owner/operator, it has become an exhaustive task to identify, organize and analyze the different options for a final, incisive decision.

Sinclair with the questions from IBcon Session Las Vegas see link below:
When considering an EMS, what is the first step for an organization and how do we best document their mandatory requirements?

Murchison - Shircliff: It sounds simple, but start with your organizational goals. Many time an EMS initiative starts as a special project or experiment that morphs into something bigger that can become misaligned. The dashboard, trend analysis, etc. all seem logical to the techie team that is working on them, but unfortunately their motivations are often more tactical in nature and they doen't translate into the strategic messaging that is required to fund a organization wide initiative.
Sinclair : How important is a consultant in helping to understand the EMS requirements and in the selection of a solution?

Murchison - Shircliff: As a consultant you might expect me to say essential…but the real answer depends on the culture of organization and the urgency of the pain. All of us sitting on this stage bring value to our customers by injecting learning from prior experiences, which include lots of failures, most of which were required for validation and to setup for making the next pivot.

So if the urgency of the pain is low and the organization as a whole can culturally afford to select a solution (or group of solutions) to maybe solve just one aspect of the pain, then I would say use internal resources.
But if the pain is high and the strategic visibility of the EMS solution is likely being discussed in the board room (like a sustainability goal) then I would suggest a consultant to bring experience to the table.
Sinclair: Have you ever used an RFP approach and what are the pros and cons?

Murchison - Shircliff: We have seen the RFP and non-RFP approach play out with varying degrees of success. As talked about in the first question, it ultimately boils organizational alignment. Some organizations (usually the larger ones) have sourcing/procurement departments whose policy dictates the use of RFP's. This approach often runs into a challenge in balancing the required subject matter expertise with the cost. Sometimes what appears to be the lowest cost initailly turns out to be the highest cost over a 5 or 10-year period.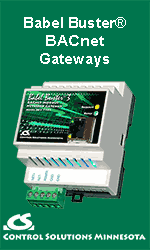 Sinclair: What determines when an EMS needs to expand into a more comprehensive smart buildings strategy?

Murchison - Shircliff: Well in my view (and I guess I'd say I'm biased) an EMS should ALWAYS be a part of a broader smarter building strategy. At its core, an EMS solution is built on harvesting metering data for better decision making. SB strategy is foundational, identical, except that the data gathered is more holistic in nature (occupancy, cycle times, preventative maintenance schedules, etc). An EMS solution is a great way to step into an overreaching SB program. My only caution is that it should be viewed in a silo.
Sinclair: How does the selection process for the smart building infrastructure address the impact on building and enterprise operations?

Murchison - Shircliff:
A data driven approach requires data. :) In order to capture that data, devices must be connected to a secure infrastructure. So as I stated above, it is my belief that an EMS solution should always be positioned in the broader context of an SB program which includes operations.
Editor's note; These questions were asked of all speakers at this session at IBcon
http://automatedbuildings.com/releases/may14/140526120808abcom.html
Please join me for an exciting discussion from our panel at IBCon 2014.
Moderator: Ken Sinclair, automatedbuildings.com
Speakers: Rob Murchison, Intelligent Buildings; Brian Oswald, Environmental Systems, Inc. (ESI); Micah Remley, EnerNOC; Jim Sinopoli, Smart Buildings; Peter Scarpelli, CBRE
Wednesday 6/18/2014 5:00PM - 6:00PM ENERGY EFFICIENCY
Energy Management Systems – Developing an Effective SELECTION PROCESS


---


[Click Banner To Learn More]
[Home Page] [The Automator] [About] [Subscribe ] [Contact Us]