---
Kaiser Permanente is the largest not-for-profit health plan in the nation with hundreds of facilities and operating revenue of more than $40 billion, Energy represents a major part of their operational overhead and they are intensely interested in energy savings.















When Pacific Gas & Electric offered them new financial incentives for reducing energy use during peak times, facilities management for their Northern California locations was quick to respond.
The incentive
PG&E's new offering for its customers is called the Automated Demand Response Program, or AutoDR for short. It uses a program developed by the Lawrence Berkeley National Lab (LBNL). This program combines with technologies from the California Energy Commission and smart grid science to send internet demand response signals to the control systems in their customers' facilities. These signals raise the set points on a building's thermostats a predetermined number of degrees reducing energy usage during peak demands. Not only does AutoDR save the clients' money by reducing energy usage when electricity is most expensive, PG&E also offers substantial incentive payments to customers who participate in the program.
One problem building
Almost all of Kaiser's facilities are modern buildings with Energy Management Systems (EMS) that control all of their HVAC and lighting systems. That made it easy to program the EMSs to receive and act upon PG&E's internet signal during times of high electricity prices or grid emergencies. But there was one problem building. The 80,000 square foot medical administrative office in Walnut Creek was an older building and had pneumatic thermostats.
Their only option was to convert from pneumatic thermostats to direct digital control. A typical DDC installation would take months and cost so much that the ROI would be too far down the road to be practical.
Their head engineer looked for other options and went to the source. He asked the people at PG&E and at Lawrence Berkely National Lab if there was a more efficient and affordable solution to the pneumatic thermostat problem. They both suggested that they look into something new on the market -- a wireless pneumatic thermostat that can communicate with an EMS.
It's called the WPT and is made by Cypress Envirosystems, a subsidiary of Cypress Semiconductor. It had just come on the market in 2009 and cost about 20 percent of a DDC and installed in about 20 minutes per thermostat.
The thermostats are a combination of technologies. A simple thumb wheel controls the temperature. A motor turns the wheel. It's connected to a radio so a technician can command and control each wheel separately from a remote location, either Cypress's own remote server, an EMS, or a building automations system. Both the radio and the motor run off a three-year battery. The pneumatics have their own power source, so the system doesn't have to provide for them. A sensor inside thermostat monitors the temperature of the room. And there is a pressure sensor so our system knows the pressure in the pneumatic line.
Cypress did a demonstration featuring a special kit comprised of the WPT mounted on a stand, an air compressor, a main pressure gauge, and a branch pressure gauge along with all the pneumatic hookups, a lap top, and a USB hub. Kaiser facility management was able to actually see the WPT at work and communicating wirelessly with the computer.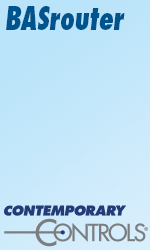 A complication
Kaiser was ready to start installation and wanted to set a start date for the project when their people at IT expressed concern. All of their data, including patient information, was stored in a wireless system and they are very protective of patient data. So IT wanted to run tests to be sure the WPTs wouldn't interfere with their patient data base. The WPT passed all of their tests and was given a green light.
To be safe, they decided to install an initial 17 WPTs and work further with the IT group assure there was no interference with their data storage system. It took us about a day to install and calibrate the WPTs, and IT monitored them for another month.
The result of the trial installation was that any interference from the WPTs was so small as to be insignificant. IT gave the final go-ahead and the remaining 68 wireless pneumatic thermostats were installed and calibrated in five days.
Kaiser Pemanente facilities management now controls set points for all thermostats remotely and has programs in place to control them according to a variety of variables. They now have a true wireless EMS system and can go online and see every zone and control each one remotely. The WPT system also gives them very powerful diagnostic and troubleshooting tools.
With the incentives offered by PG&E, it's likely that the return on investment will be almost instant.
The WPT was developed by ex-Honeywell engineers and backed by technology from Cypress Semiconductor, a $1B company in Silicon Valley. Since its introduction in October 2008, it has been installed in colleges, commercial office buildings, and health care facilities. Numerous system integrators including Emcor, ACCO, Johnson Controls, and Siemens Building Technologies have received training to install and execute projects using the WPT.
Cypress wireless products have won numerous industry awards including EnGenius Energy Saving Product of the Year, Connectivity Week Smart Device of the Year, Gases and Instrumentation Gold Award of the Year, Progressive Manufacturing 100 Award, and Selection of the US Senate Energy Showcase of the Year.
---
About the Author
Harry Sim is the CEO of Cypress Envirosystems, a company which produces low-cost, easy-to-install technologies to retrofit existing facilities for energy efficiency. Before Cypress, Harry was a VP at Honeywell, holding General Management and Marketing positions. He holds BS and MS degrees in Engineering from Stanford and an MBA from Insead in France.
---


[Click Banner To Learn More]
[Home Page] [The Automator] [About] [Subscribe ] [Contact Us]