---

EMAIL INTERVIEW - Brad White & Ken Sinclair
Brad White, MASc., EIT is a principal at SES Consulting Inc, a Vancouver based company specializing in developing energy efficiency solutions for new and existing buildings. Brad has four years of experience working with energy systems as a researcher and mechanical engineer. His work has focused on seeking ways to improve the sustainable use of energy through conservation and improved efficiency. Prior to joining SES Consulting Inc., Brad helped develop new manufacturing techniques for clean energy technologies as a masterís student and research engineer at UBC. He contributes to raising public awareness of energy and environmental issues as Vice Chair of the Vancouver Chapter of the BC Sustainable Energy Association.
This was Bradís second year as a YoungEnergy Network representative at ConnectivityWeek.
---
YoungEnergy & ConnectivityWeek
Iím always on the lookout for new technology, services and ideas that can help our clients save energy, and these were certainly all in abundance at ConnectivityWeek.















Sinclair: How did you find your second year at ConnectivityWeek compared to the first?
White: As a returning attendee I thought I had a pretty good idea what to expect at this yearís conference, but Iím constantly amazed at how fast this industry is evolving. Trends that were present last year, like Smart Grid, Demand Response, and energy conservation, are now being universally embraced and discussed at great length. Just like last year, the conference was full of interesting and inspiring people doing some great work. While I didnít feel quite as overwhelmed this time, it was still shocking just how much was going on at any one time. I think there is a real advantage in coming back to events like these so that you can pick up where you left off with some of the ideas and relationships from previous years.
Sinclair: As an energy efficiency consultant, how do the themes from this yearís ConnectivityWeek apply to your work?
White: Well, there werenít really many parts of the conference that donít apply to my work in some way. Iím always on the lookout for new technology, services and ideas that can help our clients save energy, and these were certainly all in abundance at ConnectivityWeek. It also helps us connect with the thought leaders in this industry so that we are aware of and can prepare for coming trends in the industry. One coming trend that was obvious from this year was real time energy pricing and a more direct participation of buildings in an ďenergy marketplaceĒ. This has the potential to be a real game changer in how building systems are managed.
Sinclair: Were there any particular highlights?
White: Vint Cerfís opening keynote address was certainly a highlight for me. Itís not every day you get to listen to one of the visionaries responsible for the creation of the internet offer his insights into the future of your own industry. I found his discussion of some of his perceived failures along the way (e.g. the fact that we are now running out of ip addresses) to be particularly relevant. However, I donít think his message was that we must spend a great amount of time and resources getting everything absolutely perfect the first time. Rather, that this huge messy endeavour we call the Smart Grid can be successful in spite of some mistakes, as long as we do a few key things right.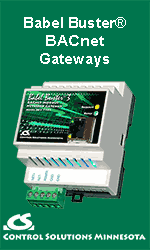 Sinclair: How did this affect how you view the future of the building industry?
White: Well, the future of buildings is obviously connected, and the number of these connections is set to rapidly increase. These connections will be between buildings and the utilities, tenants, owners, operators, and nearly every piece of equipment within the buildings. With these connections will come a flood of data that we have to somehow use to operate our buildings and the energy system itself more efficiently. The people that figure out how to do this best will be the industry leaders. This move towards more efficient use of energy seems likely to drive the development of Smart Buildings and the Smart Grid for the foreseeable future.
Sinclair: How do you see YoungEnergy developing going forward?
White: The whole point of YoungEnergy is to get young professionals and students more involved in the industry and in events like ConnectivityWeek. In that sense, Iíd say that the group is succeeding in its mission. Compared to last year, there certainly seemed to be a lot more young people present. This has a lot to do with Clasmaís generous support of the organization. Iíd like to personally thank Anto Budiardjo and our fearless leader, Ken Sinclair, for pulling this all together.

Going forward, I hope that we can continue to build on the success weíve had so far. I think itís important to continue to get as many people out to events like these as possible. Particularly for first timers, those who havenít been to big industry events before, I think it can be a transformative experience that can have a big influence on future career development. The more that young people can be involved directly in the conference, the more significant I think this experience will be. Ultimately, as the YoungEnergy network grows, I think it will become a fantastic tool in its own right for creating connections between like minded young people in the industry.
---


[Click Banner To Learn More]
[Home Page] [The Automator] [About] [Subscribe ] [Contact Us]