---
What do you need to know about industrial wireless networks?

The improved ROI of wireless – for repair and maintenance and lower overall operating costs, as well as its flexibility of installation and reconfiguration are the principal drivers.


Joseph Citrano,

Honeywell Sensing and Control
Industrial wireless switch and sensor networks are becoming more popular in a wide range of warehouses, factories and campuses.

Over the last several years, developers and facility managers have become more educated about the technology and its characteristics, and have become very comfortable implementing wireless solutions.

Yes, we still occasionally get the question, "is wireless secure and can it really function in an industrial setting?", but most questions are now about how it will work in their own environments and how to effectively replace wires and cables with wireless.

A primary motivating factor behind the shift is the value, the ROI that wireless can bring to factories, warehouses and industrial plants.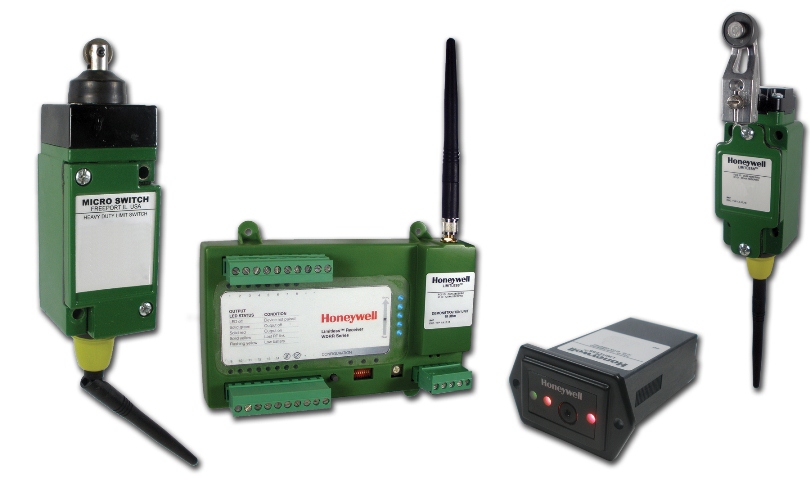 Fig 1 - CAPTION: The Honeywell Limitless™ network consists of wireless limit switches which monitor position and a Limitless WDRR Receiver that can talk to up to 14 different switches at a time.
To ensure reliability of the wireless switch network, each switch provides a way to ensure that the signal is actually getting through to the monitoring receiver. In extremely RF noisy environments or those with lots of moving equipment, the switches can be programmed to re-transmit the signal until it gets through. The wireless receiver monitors the quality of the signals to ensure that it is reliably receiving the signals from each switch node. In addition, in the case of battery powered switches, each switch provides a power monitoring function that provides an alarm when the batteries begin to get low.
Automotive factory managers and assembly line designers have found that the cost of going wireless is much less than the long term, accelerating expenses of maintaining, reconfiguring and repairing cables.

Wireless Control for Doors and Vents
A good example of how wireless is used is to control and monitor open doors and vents that waste heat and air conditioning, or that are security access points.

One such interesting application is the use of the Honeywell Limitless™ industrial wireless network to monitor the status of hangar doors at airports.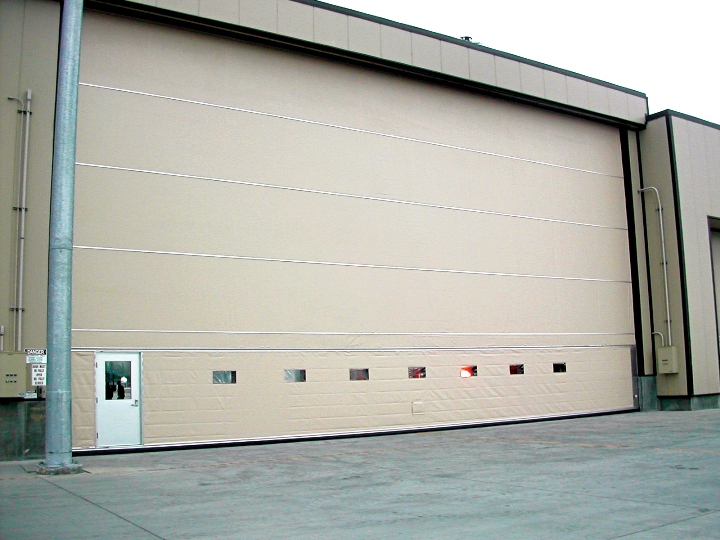 Figure 2 . CAPTION: An aircraft hangar door with a personal cutout door at the lower left

If you have visited an airport or military facility, you will note that large aircraft hangar doors often have small cutout doors (Figure 2) that can be opened for access instead of raising the entire large hanger door.

Opening the main door while the smaller door is unsecured can cause thousands of dollars in hangar and/or aircraft damage. Because the personal door is encased in the folding main door, getting communication cabling and power to the personal door is a significant engineering challenge. As these doors both move, traditional wiring would be subject to flexing and straining, which can result in communication failures.

The wireless network can provide information regarding the open/closed status of the access door itself, as well as the device diagnostics. Is the door switch functioning and transmitting? How reliable is the signal? If the switches and battery are battery-powered, what are the battery levels? If there is a problem, the Limitless™ wireless system is easy to troubleshoot compared to a wired solution which can require tearing up hundreds of feet of tarmac to find the break in the cabling. Not only is that expensive, but the possible downtime as the runway or traffic lane has to be closed off, further increases the overall cost.

Wireless for Industrial Yards and Transportation

An industrial plant in Illinois depends on rail track deliveries to keep production lines moving.

For years, a hard-wired limit switch on a rail gate was responsible for activating appropriate indicators that notified employees of a train's arrival. However, when the aged wired system finally failed, it was determined that the underground conduit had disintegrated, disabling the electrical connection to the switch. A replacement switch was needed quickly to resume the facility's required safety procedures.

Initial research indicated that replacement costs for a similar hard-wired solution would require extensive trenching to replace old wiring, as well as contractor time and fees. The total cost could potentially reach $10K, up to 6 weeks of installation time, and significant site disruption.

Alternatively, a wireless-enabled limit switch and monitor was found that could be used for position sensing and presence/absence detection.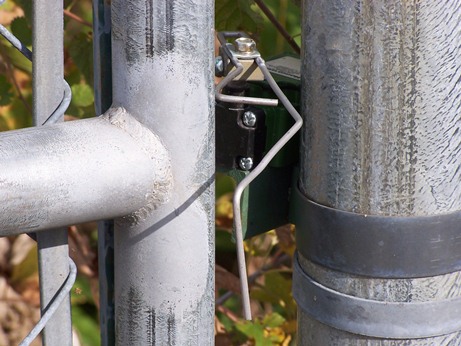 Fig 3. CAPTION: The Honeywell Limitless switch is mounted on the gate and an antenna cable is mounted on the plant's railroad crossing sign. As a train enters the gate, the switch communicates with a monitor mounted inside the manufacturing facility, through another antenna mounted outside the building. The monitor then activates a computer control system which automatically activates the facility's safety sound and light indicators, notifying employees of a train's presence.
The entire wireless system was up and running in just over 6 hours, and cost less than $1000.
There was no wiring, conduits, clips or connectors to purchase or install. There was no wire routing problems to solve, virtually eliminating location and placement restrictions of the limit switch. Going wireless has reduced maintenance costs as well. Troubleshooting is simplified and system reliability is increased due to the elimination of challenges that arise from switch wiring and connectors. The switch is simpler to replace as there is no disconnecting or re-attaching of wiring. In addition, battery costs are minimal as batteries last up to three years due to low power draw.
One of the industries with the highest adoption of wireless is occurring in large manufacturing environments such as the automotive factory floor because they operate in large buildings and are prone to frequent reconfiguration. A major challenge in an automotive factory, as well as in almost any industrial or manufacturing facility, is the exposure to constantly moving and twisting components that shorten the lifetime of cabling, as well as long wire runs. Combined with the hazardous chemicals often found on an assembly line, cables do not survive long and they need to be troubleshot and repaired. Troubleshooting and replacing broken cables or connectors in a busy and dirty factory environment is not fast or inexpensive.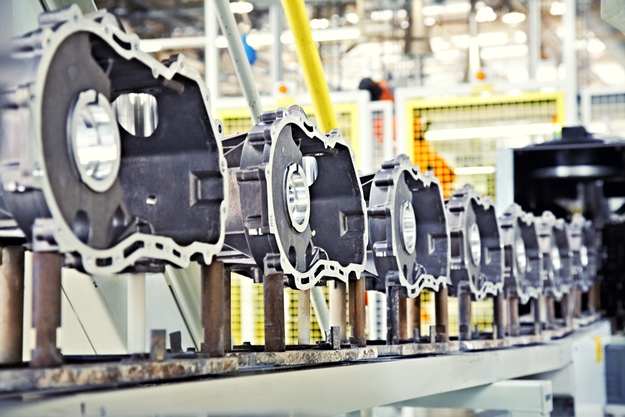 Fig 4 - CAPTION: Automobile manufacturers throughout the world are rapidly adopting industrial wireless networks to cost-effectively monitor and control automated assembly lines.
Another powerful motivation is the innate flexibility of wireless. As assembly lines are often reconfigured as new automobile product lines are introduced, not re-running data cables is yet another great ROI advantage. Using a wireless network enables quick reconfiguration of the switches and controllers as well.

Is the new location of the control hub optimal for the new assembly line plan? If not, just move it. Attach it where it works best, plug it in to power, and once again you can monitor the wireless switch network. If it's still not right, just unplug it, move it and power it back up.

The reduction of downtime associated with troubleshooting and repairing an industrial wired network often more than covers the total cost of installing a wireless network. Every minute of downtime in a busy automotive factory can cost tens of thousands of dollars.
Troubleshooting a wireless network is much easier and quicker than tracking down a shorted or defective cable connection. Imagine trying to locate and then repair the bad spot in a cable as it twists and winds around complex machinery coated with heavy layers of paint, grease and grime. Many plants simply give up on maintaining their data wires, choosing instead to get rid of the old cables and make the move to wireless. In these harsh environments, wireless switches in sealed, protective housings can successfully function far longer than cabling.

The improved ROI of wireless – for repair and maintenance and lower overall operating costs, as well as its flexibility of installation and reconfiguration – are the principal drivers we see for the increasing rapid acceptance of wireless into a diverse spectrum of industrial and manufacturing environments.
More about Honeywell's Limitless product line including spec sheets and videos can be found at http://sensing.honeywell.com/index.php/ci_id/56634/la_id/1.htm

---
About the Author
Joseph Citrano III is a Global Product Manager for Honeywell Sensing and Control (S&C). In this role, Joseph is responsible for S&C's wireless switch and sensor product line, driving integrated product and technology roadmaps, program vision and leading new product introduction efforts. He develops global execution and go to market plans, identifying potential technologies and strategic direction.

Joseph has 15 years experience in product marketing, with extensive experience in the oil and gas, automation systems and sensing and control industries. Joseph holds a bachelors of science degree in chemical engineering from Rutgers University. More info about Honeywell sensing and control can be found here www.honeywell.com/limitless

---


[Click Banner To Learn More]
[Home Page] [The Automator] [About] [Subscribe ] [Contact Us]