---
BAS Graphics and Trends

Graphics are becoming more visual and accessible.
Several members from QA Graphics attended Tridium's Niagara Summit last month. Since then, we've had several exciting discussions about the Summit and changes happening in the industry. We had similar conversations after the AHR Expo earlier this year, so it's exciting to see that the industry as a whole is beginning to discuss and expect greater visualization in terms of graphics, information etc.

Having provided HVAC graphics and other design services for the building automation industry for over a decade now, we're proud to be at the forefront as the industry evolves to more visual based solutions. With this experience, QA Graphics was invited to be part of a panel discussion at the Summit, led by Ken Sinclair, for the session "Visualization, can you afford to do without it?" The panel discussed industry trends and how visualization and technology needs to progress in this industry. A key topic was BAS graphics and how mobile applications or other technology can make graphics and building information available via desktop, mobile, and other platforms to easily access information, help the decision process and make day to day functions easier.

Another trend that was discussed is how system graphics are typically developed, whether integrators build their own graphics using the image libraries provided by the building automation system software, along with many tools available to work on top of the system platforms to help assemble graphics, or if they outsource. In feedback from the panel as well as at our booth during the show, many integrators are increasingly choosing to outsource graphics. It's clear that there's hesitation by some because it's thought that outsourcing may be more expensive, but if companies looked at the opportunity cost of developing graphics in house, they would see that their time may be better spent on other tasks.

A benefit of outsourcing to a company like QA Graphics is that the design team is comprised of both technical and creative backgrounds, ranging from mechanical engineers, graphic designers, 3D designers, architects, and developers with the technical knowledge and familiarity to ensure accuracy. QA Graphics is the leader in developing custom graphic libraries for control manufacturers. They have completed libraries for six of the largest control companies in the industry, and serve as a preferred vendor for those that choose to outsource their graphics needs.
The company's recent partnership with Tridium was also announced at the Niagara Summit, discussing a high-end library being developed exclusively for NiagaraAX 3.7. When completed, the new graphics will be pre-installed on all Tridium NiagaraAX JACE and Supervisor devices, allowing integrators to consistently assemble more realistic system graphics. For those that prefer to outsource, we can provide graphic development for Niagara AX 3.5 and 3.6, and the library that is currently in beta testing for 3.7. Our company has the ability to remotely access a NiagaraAX system and install the graphics. It's very advantageous for integrators; they don't have to make any changes to their database for graphic functionality, and have the ability to modify the graphics themselves if changes are needed. This is possible usingour licensed image module. It also ensures that the graphics are placed in the accurate directories, and any changes can be made live at the project site without having to send new files.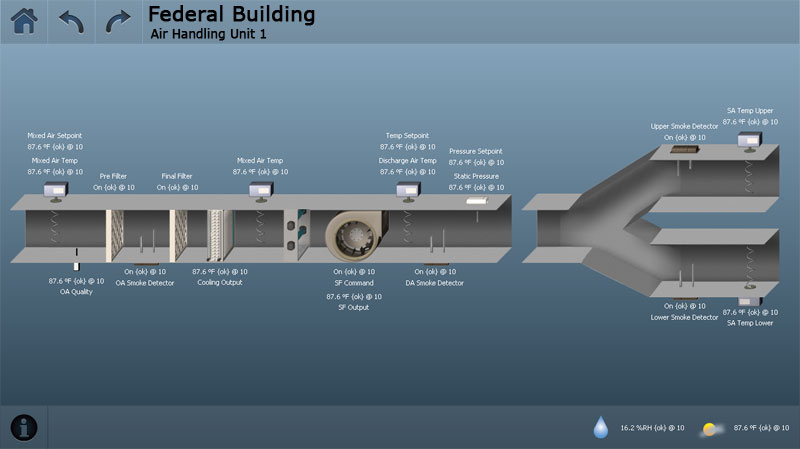 In addition, working with a company like QA Graphics opens the door for other opportunities, such as illustrating building automation systems, mechanical equipment and sustainable building concepts with graphics, mobile applications, touchscreen applications, multimedia and more. As this industry continues to move into a more visual direction, companies can access graphic solutions that are interactive, and available anywhere, anytime.
About QA Graphics
QA Graphics is a leading provider of design services for the building automation industry, specializing in control system graphics, energy dashboards, mobile applications, and other user interfaces. Learn more at http://www.qagraphics.com/.



---


[Click Banner To Learn More]
[Home Page] [The Automator] [About] [Subscribe ] [Contact Us]