---
Something Happening Here


Haystack-Connect Event
The theme song for the first ever Chattanooga http://haystackconnect.org/ event was Buffalo Springfield's - For What It's Worth playing on the words; "There's something happening here What it is ain't exactly clear." The song gets a little darker after that but the not the event. It continued on a very positive note and ended on a high one.
So from every successful event there needs to be a takeaway that changes our point of view. For me it was captured when a couple of hayseeds took the stage and planted the seeds of change and showed us all how a connected Haystack using data modeling could alter industry dynamics as we know them. A great production with an amazing cast in this historical and mildly hysterical production…….smile.
Just a couple of Hayseeds planting ideas about using data modeling and an open source initiative to change how we view everything. This is what our world needs to understand about the true value of the power of data modeling.
Eric and Ken of ControlTrends.org, a fellow media sponsor of the event captured this all on video so I can show you what I am talking about.
They wrote; One of the highlights of Haystack Connect was the presentation by Jason Briggs and Scott Muench of J2 Innovations. Their demonstration shows the ease, power and flexibility of Haystack. Great job guys!
http://controltrends.org/2013/05/see-the-power-of-haystack-connect/

Take the time to view it all, as it starts with building on Niagara Framework but that is not where it ends. You will be suprised to see how the haystack concept can be used almost everywhere and at several levels.
In addition several others from the event have provided us interviews to let you catch up on what you missed from their point of view.
Haystack Connect Event Review The ability to automatically interpret the meaning of data enables best of breed applications to be implemented, quickly and at lower cost. This gives owners more choice and a faster path to financial return. - Marc Petock, Marc Petock, Vice President Marketing, Lynxspring
Back from Haystack Connect What was great about Haystack Connect was that it was organized by small, mid-sized and emerging companies.- George Thomas, President, Contemporary Controls
Simple and Open Wireless Control for Smart Buildings There is no doubt building operators are looking for a more intelligent and elegant building control solution to make their lives easier. - Danny Yu, CEO, Daintree Networks
Lighting Controls, made simple By putting a microprocessor in the ballast of the fixture you will be able to turn on one lamp at a time and provide multilevel illumination without using a dimmer. - James F. Loughrey, Inventor, Entrepreneur, Logica Lighting Controls, LLC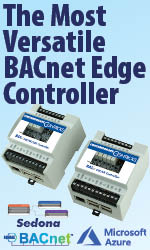 Most of this paperless event was captured on the agenda/presentation/event software called Pointview.

A completely paperless event should be applauded but now is a reality for all events moving forward. All that is required is a cloud service like Pointview plus a excellent wifi with seamless connection from your room to event provided by the venue. In addition to a no hand out program, "it is on your phone" the event moved towards the end of paper cards exchange allowing us to bump each others phone and exchange contact info while running the app. I was impressed when this worked between an iphone and my android phone. Great stuff. We all need to walk the walk and talk the talk in everything we do.

Go to the http://haystackconnect.org/ web site and click on the Agenda and then Agenda Summary at a Glance. Go to presentations during the core days of Tuesday and Wednesday. All of the presentations using Power Point have been converted to pdf and are linked to the web site. Example; Data Modeling.

Presentation Files in pdf format are listed on the bottom right hand side of each breakout session. Just click on them to download and see what you missed.


A great event and as George Thomas said in his interview; "You need to give credit to John Petze, Scott Muench and Marc Petock for their efforts in organizing the event."


Good, no, Great job guys! I am already looking forward to my next meeting with you in New York. We are now organizing the meeting and building the agenda online with Linkedin. Meeting is open to all. A great place to see and hear what others are doing. Please join us.


Connection Communities Meeting New York - AHRExpo Please come to a meeting to help us all make stone soup in New York. I have just confirmed a room for our meeting with AHRExpo - The Connected Communities Collaboration meeting with various industry speakers will be Wednesday, Jan. 22, 2014 1:30 at http://www.ahrexpo.com/ Room Location TBA

Help guide us to find the best recipe for stone soup for the industry, see John and Marc's comments below.

http://www.automatedbuildings.com/news/may13/reviews/130425025901cccny.html

---


[Click Banner To Learn More]
[Home Page] [The Automator] [About] [Subscribe ] [Contact Us]