---
Freelance Work Culture is Laying the Foundations for the Virtual Office

"It is the ultimate in flexibility and personalisation; it is virtually anything you want it to be, and it seems inevitable that it will be a key characteristic of the future of work."






James McHale,




Managing Director,


Memoori
There are more than 53 million freelancers workers in the US, making up 34% of the national workforce according to a Freelancers Union report. Freelancers log more than one billion work hours per week and bring an estimated $715 billion in earnings into the US economy. Twice as many freelancers have seen an increase in demand for work in the past year as those who have seen a decrease says finds the report, and 77% say their best freelancing days are ahead of them.
Freelancing has become a reality of our modern economies. European freelance numbers have increased by 45% since 2013, making them the fastest growing group in the EU labour market according to Future Working: The Rise of Europe's Independent Professionals. In the UK, the self-employed sector now accounts for nearly 15% of the total workforce. These numbers are growing rapidly around the work, underlined by the WorkMarket Workforce Productivity Report, which found that 83% of business leaders consider contractors more productive than employees.
Follow these trends into the future, and you'll find some staggering conclusions about the future of work itself. Consulting giant Accenture even predicted that in a decade from now personnel at Fortune 2000 companies would only include C-suite executives, with the rest of the workforce hired on a freelance basis. This prediction was dubbed "The End of Employees" in a Wall Street Journal article.

Without employees, the need for a company office disappears completely. "The traditional office model is out of date," says Chantal Robinson, operations director at co-working firm LABS. "Working in cubicles or even in the more modern idea of the open plan have been demonstrated to damage health and decrease productivity," he adds.
Workplaces are not giving up so easily, however. Through smart building approaches to light, temperature, air quality, and biophilia, the workplace is becoming a healthier, more productive, and more comfortable place to work. Through flexible workspace design and hotdesking strategies, the office is providing freedom to workers… but still nowhere near the freedom provided by freelancing.
Offices also offer social benefits that support productivity, be that collaboration or simply "water cooler" interactions and other healthy distractions. Co-working spaces promise to be the middle ground with a wide range emerging in major cities and freelance hubs around the world. However, 76% of freelancers have never used a co-working space, suggesting a limit to the co-working trend. For many who freelance, the co-working space is just another office they do not want to commute to every day.
In fact, 51.5% of freelancers work from home. That's according to a Freelancer Map survey, which included 1300 participants from the freelance community. At home, they can control their environment, cook in their kitchen, create a workspace that perfectly suits their needs, work in their pyjamas, nap, workout, eat, and take breaks whenever they want. In place of the social interactions provided by physical offices, these freelancers choose online social interactions.
Platforms like Slack allow freelancers to interact with individuals, project teams, workgroups, and even allow random social situations to take place, much as they would in a physical office. Major social networks include many groups where freelancers can discuss mutual matters with other freelancers, all in the comfort of their homes, in a cafe, on the beach, or wherever connectivity allows them to be. Online interactions are not the same as physical ones though, and while chat systems have a role to play, they do not quite replace real meetings and conversations… yet.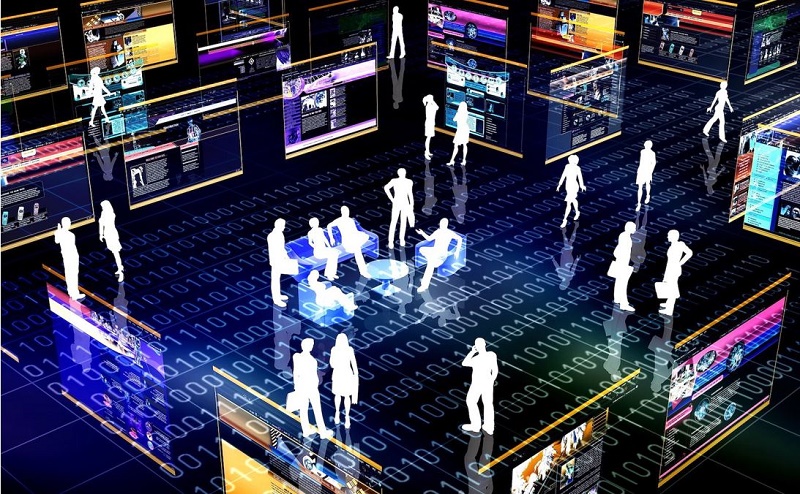 The co-evolution of online communities and smart workplaces, within the context of unprecedented connectivity, cloud computing, and immersive digital experiences creates a best-of-both-worlds scenario – the virtual office. A photo-realistic virtual environment where employees can log-in to work for meetings and be in a social, collaborative setting like a real office, while their physical body is at home, or anywhere that connectivity allows.
"An office building does not necessarily need to be a physical structure made of bricks and mortar, glass and steel. It is, in essence, a place that companies utilize to bring all their staff together to facilitate the smooth operation of their organization, and that definition does not specify a physical space. The future workplace may, and is, in fact, likely to be a virtual space," Memoori wrote in their Future workplace report. "This future has already been sneaking up on us through the remote working and digital nomad movements," the 2017 report continued.
In this proposed virtual world, everyone can have a "corner office." After a meeting together, one employee looks out of his office window across the sprawling virtual cityscape, a colleague retreats to their virtual treehouse office in the forest, while their boss walks down the virtual corridor to a beach hut workspace, complete with the sound of waves to support her focus and productivity. "Walking" as an analogue counter-revolution style option, virtual teleportation would also be provided.
While the technology is not ready yet it is maturing rapidly, just consider digital twins, data-based replicas of buildings and cities, or how BIM is being developed to create shared immersive experiences for architects, construction experts, and even property buyers to walk around buildings before they are built. In the ultimate virtual world, anything is possible; the scale is irrelevant; your environment is only limited by your imagination.
"A virtual office is an office, but it could be so much more. A virtual office could adapt to the needs of the company and the employees with an unlimited supply of meeting rooms, chairs and tables, a virtual office can be one thing in the morning and something else in the afternoon, it can look one way to one person and completely different to another. It can morph into whatever the company wants and allows it to be.
A virtual office can also be much less. Nothing to clean, nothing to maintain, no commute times, no parking problems, no energy systems to optimize nor light bulbs to change. Whether it lacks some intrinsic need for real physical presence and interaction remains to be seen, but the technology can likely advance to overcome that and humans can also adapt to a new way of working," our Future Workplace report continues.
"It is the ultimate in flexibility and personalisation; it is virtually anything you want it to be, and it seems inevitable that it will be a key characteristic of the future of work."


---

[Click Banner To Learn More]
[Home Page] [The Automator] [About] [Subscribe ] [Contact Us]