---
Smart building encompasses the integration of all of the systems in the building, this additional level of commissioning should be a requirement to ensure the benefits of integrated building technology systems, and in the process, pick up one LEED credit.

Ken Sinclair, AutomatedBuildings.com
Editor

As published
Energy Management Canada

March / April Issue
How do smart buildings make a building green? How can smart buildings support and effect the LEED certification of a green building?











Buildings can receive LEED certification by submitting documentation of meeting or exceeding certain technical requirements. One or more points are earned towards certification for each technical requirement that is attained. Four different levels of certification can be achieved based on the total points earned.
Design the building systems to maximize energy performance. The focus is obviously on HVAC and interior lighting systems (referred to as "regulated" systems), both of which fall under the umbrella of a smart building.
A smart building is where an IP network is able to provide power-over-Ethernet (POE) to a range of "plug load" devices. POE not only supplies low voltage rather than high voltage power to these devices but more importantly, provides the means to control power to the device. Central control of the POE devices allows for devices to be turn on or off based on a predetermined schedule, a sensor, or an event, such as an occupant's use of an access card. The result can be reduced consumption of power to devices, reduced power usage and a greener building. In addition POE reduces the use of materials, eliminating the need to provide a power cable to the device. POE can be considered an innovative candidate for optimizing the energy performance of a building and obtaining points.
Smart building encompasses the integration of all of the systems in the building, this additional level of commissioning is not really an option, but should be a requirement to ensure the fulfillment of the benefits of integrated building technology systems, and in the process, pick up one LEED credit.
LEED credit is given for a carbon dioxide monitoring system that can provide data on the ventilation of spaces which then can be used to adjust the HVAC system.
Similar to the CO2 monitoring, LEED provides credits for temperature and humidity monitoring systems integrated into the HVAC control system to maintain occupant comfort and automatically adjust conditions as needed.
LEED credit is provided if the building affords individual occupants or specific groups in multi-occupant spaces (conference rooms, classrooms, etc.) the capability to control the lighting, temperature and ventilation of their spaces. One credit is provided for perimeter and non-perimeter spaces. This level of individual control, while still maintaining overall system management, is part of programmable lighting and HVAC control systems. Many times this type of control is provided to occupants through touch screens or other smart building systems such as VOIP telephones.
LEED will grant points for innovative ideas not covered by the Green Building Ratings System or ideas that substantially exceed a LEED performance credit.
For example, one possible scenario could involve the cabling of the building. A converged and standardized cable infrastructure for a smart building should require less cable and fewer cable pathways, thus reducing the use of materials and saving energy. Innovations such as zone cabling further reduce the use of materials. Standardization of the cable also allows for greater potential to reuse the materials, thus saving energy. Extensive deployment of wireless within a building further reduces the need for cable and minimizes the use of materials.
Displaying energy efficiency on an interactive display helps a building owner to earn credit towards the U.S. Green Building Council's Innovation in Design Leadership in Energy and Environmental Design (LEED) system, which recognizes companies for innovative strategies that demonstrate quantifiable environmental benefits.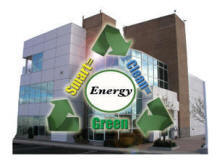 This graphic shows, this new thinking and considers the intersection of buildings, energy and environment to illustrate a point; buildings are at heart of our energy and climate issues. Recent data from the Department of Energy indicates that electricity generation is responsible for 39% of greenhouse gas emissions, and the American Institute of Architects credits buildings alone with responsibility for 48% of Greenhouse gas emissions. There is some overlap between these numbers since buildings are large electricity users and the burning of fuel to produce that electricity is what causes part of the greenhouse gas emissions contributed by the building sector. There has also been solid research done to validate the fact that these emissions increase at times of peak electric demand. This is because utilities must fire their least efficient and highest polluting power plants to meet peak electric demand. This is really just another way to embrace the whole idea of green buildings, but more importantly to emphasize that HVAC, automation and energy efficiency are highly important parts of the equation. Integrators can't tell a story about how our work addresses; building site, urban redevelopment, bike racks or recycled carpet. They can however tell a story about energy and demand response. They may be able to help pay for their services with dollars from the utility. Energy may also offer integrators a chance to declare independence from the control specification and begin to leverage the full power of technology to deliver new value.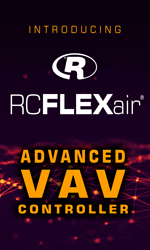 A lot of new LEED concepts, but, growing greener buildings is not a new concept. In September 2003, I presented a paper at the Worldwide CIBSE/ASHRAE gathering of the building services industry in Edinburgh, Scotland. The conference addressed the issue of delivering sustainable buildings while remaining profitable and delivering value to clients. My paper was titled "The Greening of Buildings with Computerized Web Enabled Automation," and an excerpt follows:
"Opportunities arrive daily to intelligently use building automation as more than just a connector of 'brute force' comfort generation systems. To realize this renaissance, the building automation industry must become part of the globally expanding green building movement and show how improved occupant/architectural interaction can enhance environment-friendly buildings. Using evolving automation, we can bring passive designs alive with the necessary missing ingredient 'intelligent interaction.'

"The low energy impact of the original raw materials required to create the building automation systems, coupled with their potential power creates the greenest of all building materials. Automation's capability to provide significant change with only grams of substance, and the inherent ability to be easily reconfigured to grow and adapt with the building makes it the essential backbone of leading green building design. Web-enabled building automation takes us to a higher level of interactive communication with the architectural fabric."
I am pleased that LEED is empowering us to reach the total potential of Today's Smart Building Automation.
My sources of information are:
How Do Smart Buildings Make A Building Green? Smart buildings make green buildings greener, and green buildings make smart buildings smarter. Jim Sinopoli PE, RCDD, Managing Principal, Smart Buildings
Out-of-the-Box Energy Monitoring Earning LEED Innovation in Design Credit Dan McCarty Quality Automation Graphics
Buildings at the Epicenter… Don't miss B2G in New York John J. "Jack" Mc Gowan, CEM, Energy Control Inc.
---


[Click Banner To Learn More]
[Home Page] [The Automator] [About] [Subscribe ] [Contact Us]