---

The telephone continues to hold claim to the most convenient user interface.

Ron Poskevich,
General Manager,


Lumisys
With the advent of web based building automation systems the web browser has received a great deal of well deserved attention as a user interface At one time or another you have probably heard either or both of these phrases associated with a web-based building control system: "control your building from anywhere in the world" or "control your building from a wireless device." The web has clearly transformed building controls and it will continue to do so in the future. At the same time it is important to note that the telephone has continued to quietly plod along, due mainly to the growth of cell phones, steadily expanding its presence. In fact, just stop what you are doing right now and count the number of telephones within 10 feet of you and compare that figure to the number of computers that are connected to the internet. The winner is (drum roll please)…..clearly the telephone.











Today, the telephone continues to hold claim to the most convenient user interface. Just think about some of the machines in our world that have copied the telephone; ATMs, Security Keypads, and TV remotes. So the question is how do we leverage the most convenient user interface in the greening up of our buildings?
The first opportunity is the use of the telephone to override lighting, HVAC or both. Imagine this….
You are in a building and the lights blink around 6pm to notify you that the lights are scheduled to turn off in 10 minutes. You need to work another hour to finish a report, so you hit the speed dial number from your desk phone for the override system. At the other end of the line, you hear a voice welcome you and it prompts you to enter your ID and pin#. Then the voice prompts you to enter 1 for Lighting, 2 for HVAC, or 3 for both. Then the voice prompt confirms your request and you hang up. The next morning you receive an e-mail that confirms the after hour usage and you forward the detail to accounting with your approval.
User Convenience
The telephone override scenario described provides the user with a readily accessible solution that is compatible with any phone and that requires no training or manual. The other factor, shown in figure 1, which impacts user convenience, is life cycle reliability. Web browser solutions are subject to compatibility issues with new operating systems or software releases which make these systems inherently less reliable than systems that are not subject to these constraints. It is also important to note that a web browser interface as compared to a touch tone interface is graphical in nature and is likely to require more work to maintain as the building ages.
Another common product used in buildings is occupancy sensors, which promote automatic off of lighting after a space is unoccupied for some period of time. Unfortunately occupancy sensors do not always deliver the performance that is promised. Other than occupant feedback, occupancy sensors are usually installed without any ongoing verification of actual performance. The lack of actual performance feedback makes this solution less reliable than solutions that provide verification. Anyone who has been in an office or restroom with an occupancy sensor that does not work as expected knows how well occupant feedback works; busted lens cap, countless phone calls, and finally a complete bypass or removal. This is not to say that all occupancy sensors are bad since, when they are properly applied, installed and maintained occupancy sensors are a useful component in an integrated energy management strategy.
Low Voltage Override

Occupancy Sensor w/ Override Switch

Web Browser

Telephone Override

User Convenience

Readily Accessible

Low

Low

Medium

High

Acceptance of User Interface

High

Medium

Medium

High

Life Cycle Reliability

High

Low

Medium

High

Flexible

Retrofit Suitability

Low

Low

Medium

High

Simplicity (Technical)

High

Medium

Low

High

Allocate Consumption by User

No

No

Yes

Yes
Flexible
The telephone override scenario described also offers the owner a solution that lowers cost and increases profit. This is especially true for existing building owners that need a cost effective way to control energy without substantial construction expenditures or operation upheaval. The basic design of a telephone override solution is that it only requires power, a network connection to a building automation system and a dedicated telephone line, refer to figure 2. Unlike occupancy sensors and low voltage switches, there are no new wires for each zone because a telephone override leverages the existing infrastructure via the telephone.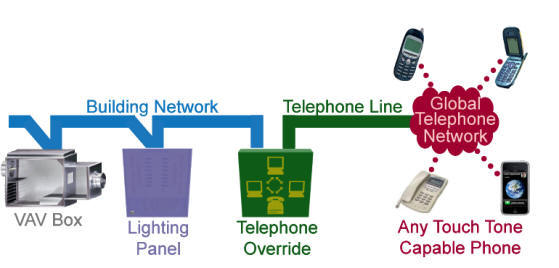 Many building automation systems have the capability to provide tenant billing or cost allocation information, but they lack a verified override method that is simple and cost effective. Inherent in the design of the telephone override system is user verification, which is accomplished using the callers ID and pin#. Occupancy sensors and override switches are not designed for this purpose, and web browser solutions typically require a higher investment than a telephone override solution.
So as you consider the design of your building control system, telephone override should be at the top of the list of possible user interfaces. It is the most convenient and flexible user interface on the planet.
---


[Click Banner To Learn More]
[Home Page] [The Automator] [About] [Subscribe ] [Contact Us]