---
EMAIL INTERVIEW Tom Burke, Manny Mandrusiak & Ken Sinclair

Tom Burke - President, OPC Foundation
Thomas J. Burke has been an officer for the OPC Foundation since the start of OPC, currently serving his fourth year term as President of the OPC Foundation. Tom was one of the founding members of OPC; he was the architect for the OPC Data Access Custom & Automation Interfaces. Tomís vision is the OPC Unified Architecture, which is a multi-vendor development that addresses the unification of all the OPC Foundation specifications providing a rock solid web service / XML standard for multi vendor secure reliable interoperability integrating the plant floor with the enterprise.
Manny Mandrusiak - Vice President of OPC Marketing, OPC Foundation
Manny Mandrusiak, formerly the Director of Marketing for MatrikonOPC, has been responsible for all aspect of marketing standards based software to various industry verticals. Manny is now dedicated to spreading the OPC message across the globe to all industry verticals. Manny has also held board seats on several other non-profit technology based societies.
---
The OPC Advantage in a Down Economy
Member companies of the OPC Foundation devote considerable time and resources to developing robust interfaces to all the protocols used within the Building Automation industry, and then in keeping with the core values of OPC technology, make them off-the-shelf products.











Sinclair: We know that in todayís economic situation, there is more and more pressure on generating profits while controlling costs. What does an organization like the OPC Foundation offer members of the Building Automation community during these times?
Mandrusiak: If you look at organizations like the OPC Foundation, The Profibus Trade Organization, Mimosa, or BACnet International, all of these organizations strive to maintain one thing Ė Standards. Open Standards can really open a plethora of new possibilities of plug and play integration in a vertical as diverse as Building Automation. Look at things from a vendorís perspective for a moment. A vendor trying to increase their sales in todayís marketplace needs to be able to cost effectively integrate their hardware and software into existing systems, they can do this by optimizing to only develop and provide service to one communication interface. This interface would be OPC.
Sinclair: I know that OPC technology is the standard in the Process and Manufacturing industries, but could you explain a little more about how you see it being utilized in Building Automation?
Mandrusiak: If you look at the communication structure of a typical building you have three basic layers: the Communication layer, the Operation and Control layer, and the Management layer. The Communication layer is the one that is your device layer which controlled by protocols such as PROFIBUS, BACnet, Ethernet, LON, and Serial etc. The information from this layer needs to pass through the Control layer which would contain items such as: elevators, HVAC systems, lighting etc. Ultimately the data needs to get turned into information in the Management layer. This is where you find Building Management Systems (BMS) and the like. This situation is the very core of what OPC was created for: to bring data from the shop floor to the top floor, and turn it into valuable information.
Sinclair: That sounds like a great solution, but there would need to be a lot of interfacing between protocols. That sounds expensive?
Mandrusiak: That is the beauty of OPC technology. It was created to be cost effective. It easily interfaces with Johnson Controls devices, LON devices, BACnet devices, Modbus, PROFIBUS, the list is long. Member companies of the OPC Foundation devote considerable time and resources to developing robust interfaces to all the protocols used within the Building Automation industry, and then in keeping with the core values of OPC technology, make them off-the-shelf products.

Look at it this way. Building management in todayís economy requires the monitoring of HVAC systems, AC systems, Security Systems, lighting systems, access control systems, etc. There are systems, and subsystems that were created by a variety of manufacturers. The exchange of data will occur using a variety of different protocols and perhaps fieldbuses. Why would vendors or system integrators take the considerable time and effort to create specialized interfaces when there are over 400 vendors who have already done it? 400 vendors whose software has been compliance tested to be interoperable with each other. Building Automation vendors and SIís can build best of breed solutions easily and cost effectively. This reduces custom development, and onsite services. That saves money, and saving money improves the bottom line. That is the message that todayís economy sends us, and that is why the Building Automation industry needs to continue to embrace OPC technology.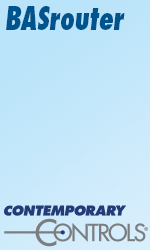 Sinclair: Letís jump to the issue of power, and connecting to the Grid. Would OPC be the logical choice to connect to the Grid?
Mandrusiak: OPC has its roots in the Process industry, and is proven to safely, and securely transfer data from critical systems at extremely high rate. A great many of the integrators that are doing projects in the building automation vertical either also do integration work in the process industry, or have to connect to the Grid. There are even cases where I know power generation companies that use the data collected through OPC to fine tune the production of power so that they can reduce waste, and be more environmentally sound. In todayís economy, no one can afford to waste resources on producing excess. If a company could map and trend the patterns of building power usage, and match them to the grid to determine when to buy power, and when to reduce power consumption, they could save millions.
Sinclair: I would imagine that OPC Unified Architecture (OPC UA) would be the newest way to connect the Grid?
Burke: When you look at the issues that face the building automation industry, OPC UA is the answer to all the future facing questions. The OPC UA specification comes complete with security built right in, OPC UA becomes a efficient technology to use to provide secure robust transfer of data. Letís not forget scalability. Since OPC is an open standard maintained by the OPC Foundation, it remains a scalable technology evolving along with industry demands. OPC UA is also completely backward compatible with the current OPC specifications, so no one has to delay projects because they want the newest flavor of OPC. Projects can still be completed using products from OPC Foundation vendors based on the current specifications, and seamlessly upgraded to OPC UA when the end-user is ready. The OPC Foundation is currently rolling out the latest version of the OPC UA specification in the later part of 2009. Until that time I strongly encourage everyone to visit the OPC Foundation website and explore the various products that the over 400 plus members have that will maximize your building architectures, and save you money. Our site is at www.opfoundation.org if there is anyone with any questions about OPC or OPC UA, please feel free to pass them to Manny at manny.mandrusiak@opcfoundation.org.
---

[Click Banner To Learn More]
[Home Page] [The Automator] [About] [Subscribe ] [Contact Us]