---
Graphics Demonstrate What the Eye Can't See
Great graphics offer the opportunity to explain the invisible, allowing you to see what's going on behind the scenes.





Sarah Erdman,

With today's technologies, creative graphics can bring any intangible concept to life to accurately illustrate what generally can't be seen. Great graphics offer the opportunity to explain the invisible, allowing you to see what's going on behind the scenes. Graphics can improve sales and marketing tools, simplify training and education resources, and make technical concepts easier to understand. Ideas can be brought to reality, demonstrating even the smallest of details. Graphics are also relied on for day-to-day building operations, providing you with quick feedback for monitoring equipment functions, alarm statuses, resource consumption and other building operation tasks.

QA Graphics is an industry resource that can help bring difficult concepts to life with eye-catching graphics. The company specializes in creative design solutions that accurately illustrate building automation systems, mechanical equipment and sustainable building concepts. With a design team comprised of technical and creative backgrounds, ranging from mechanical engineers, graphic designers, 3D designers, architects, and developers, they have the technical knowledge and familiarity with building concepts that is required to accurately meet industry specific design needs.

Seeing is believing. Below are just a few ways that demonstrate how graphics are currently being used in the industry to illustrate typically invisible concepts.

Photorealistic Equipment Graphics
Graphics are utilized in a number of facility management processes to provide better visualization and ease the day-to-day operations. Cutouts of mechanical equipment demonstrate what's happening on the inside of the equipment. For example, a realistic cutout such as this rooftop unit shows how the dampers, cooling coil, compressors and fans operate together. This can be integrated with a facility's control system graphics, allowing managers to access critical operation data including temperatures, fan speeds, whether compressors are on/off, and alarms for air pressure or pipe temperatures.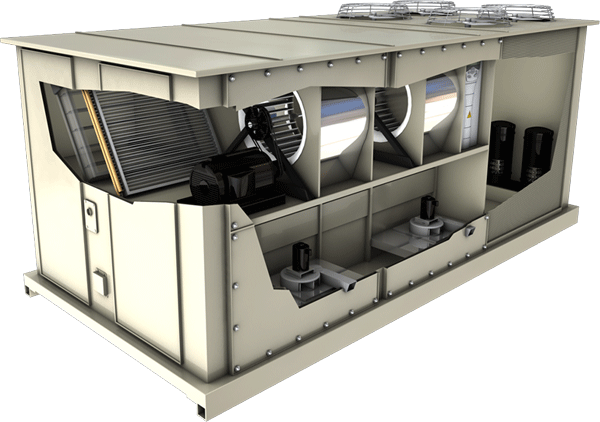 For larger facilities, an interactive 3D campus map can illustrate multiple buildings, which users can select to see floor plans of individual buildings and the layout of electrical equipment in that building. When a piece of equipment in the floor plan is selected, it brings up a realistic view of the equipment, where managers can access critical performance data such as input and output voltages and monitoring alarms.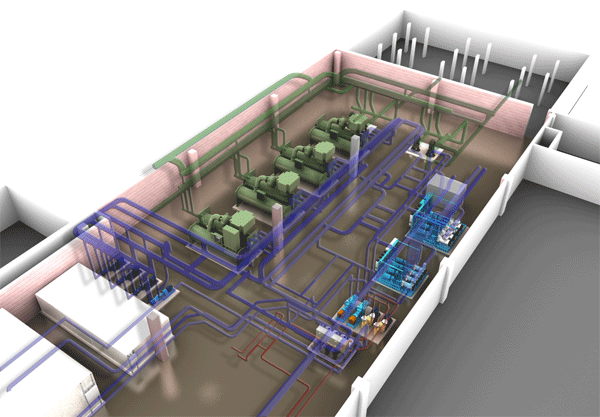 Take Viewers Behind the Scenes
Graphics and animated demonstrations simplify complicated concepts and allow viewers to go behind the scenes to see operations that may take place underground or out of the typical eye's view. This example demonstrates how a geothermal well network functions, showing the piping beneath the building to illustrate how the water is pumped in and out to heat and cool the building. It also provides technical data, showing the speed of the well's pumps, and the temperature of the water as it enters and leaves the pipes. Animated demonstrations are a great way to demonstrate how mechanical equipment and building features like rainwater harvesting, daylighting or photovoltaic systems function. More examples can be viewed at www.qagraphics.com/interactive-development/multimedia-solutions.html.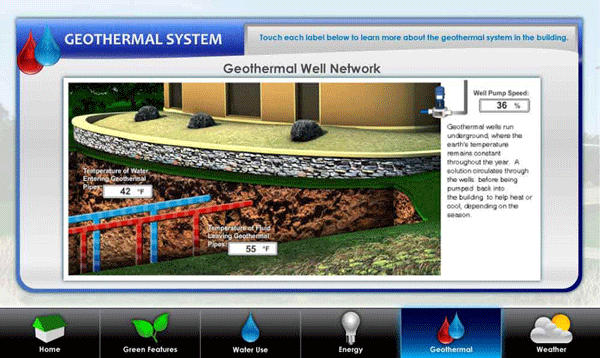 Make the Invisible Visible
Graphics can demonstrate features that you would never otherwise be able to see. This example is part of an animated video that explains how a data center conserves energy. The video shows how invisible energy, air flow and temperature changes impact the data center's efficiency. The video illustrates how the electric current flows through transformers to the data center campus, and shows the layout of the mechanical room and air handling units used to cool the building. The graphic below takes the intangible concept of air flow and provides a clear view of how air leaves and enters the building and at what temperature. The full video can be viewed at: www.qagraphics.com/interactive-development/multimedia-solutions.html.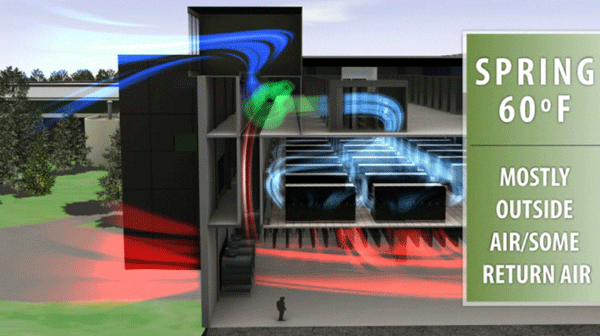 Building Performance
Graphics also make building performance data visible and more accessible. Dashboards can be used to display building performance data, simplifying the data so that a general audience, even children, can see and understand how much electricity your building is using. For these types of displays, the data is typically already in place, it just needs a creative outlet that people can relate to. The example below illustrates a school campus and their efforts to conserve energy. A leaderboard displays real-time energy use for each of the campus' buildings, and allows the students/faculty to see which building is the most efficient.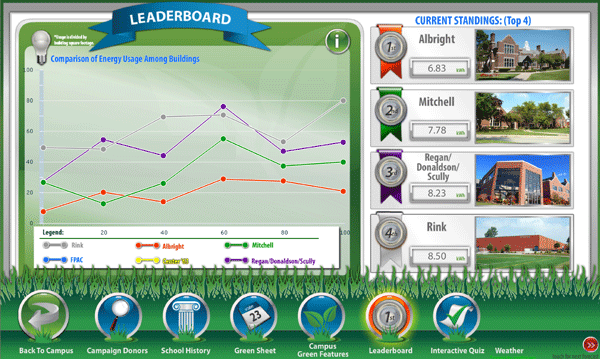 In addition to providing real-time resource use, creative graphics can provide education about a building's efficiencies or sustainable features in place. Below demonstrates the green features that are in place at a school. The interactive map identifies where sustainable features are located throughout the campus, and when viewers select a feature, graphics and additional information is provided. A variety of interactive graphics like this can be used to engage viewers, through demonstrations, quizzes, videos, etc.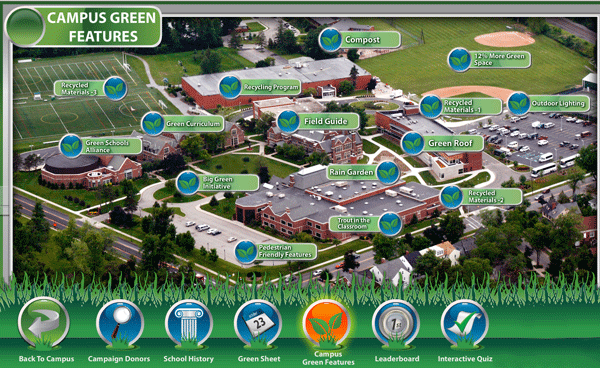 These examples briefly illustrate how graphics are used to explain how unseen or invisible concepts function. Providing creative tools such as these is QA Graphics' speciality. To learn more about how graphics can be used in your day-to-day functions and to showcase your products and services, visit www.qagraphics.com or contact serdman@qagraphics.com.


---


[Click Banner To Learn More]
[Home Page] [The Automator] [About] [Subscribe ] [Contact Us]