Our March theme - Platforms, Frameworks, and Databases focuses on the fact that our industries' connection communities have all converged at a similar place and point to the cloud. We all work with real time data or very fluid data and need to stabilize this slippery substance. The conclusion is we must store this data somewhere with a time freeze so we can analyze and visualize from anywhere by any device. The data model is similar for all real time data industries and is what convergence is all about. We need to raise our gazes from our navels and look up and around at all the evolving data models and their interactions with everything. We need to learn to interact and decide how we can best bring value to our data. Data as a Service (DAAS) is a new concept for most of us and we need to better understand these new tools. AutomatedBuildings.com is committed to learning and teaching by connection to those leading us on this journey.
In an example of this convergence, I find myself interviewing my daughter about her company's new product - Smart O & M manuals. Like I saw that coming....smile! We had chatted in the past of trends we saw in the industries that were similar, but now here we are on the same page.
We are extremely pleased with this issue; is has a great scope of articles, interviews, and columns speaking to the theme.

Please feel free to take any of the content links to our web site off to our or your Linkedin groups or other blog interaction tools for your discussions.
We are pleased to join in if you send a link to your blog. Each article, interview, column and even news release has a unique url. If you click on any content while opening a new browser the url will be provided. Feel free to use a tiny url to link these articles to your discussion or tweets.
We welcome our newest advertiser www.taco-hvac.com iWorx by Taco Electronics Solutions is a powerful, web-based, easily-scalable building management, monitoring and control system designed specifically for the light commercial buildings and high-end residential markets.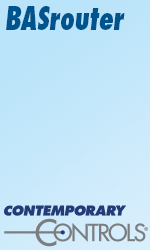 Tell all our sponsors you saw their ads on the AutomatedBuildings.com web site and thank them for supporting your free access to evolving Automated Building Industry information. Click on their ads and view their valuable products and services. Please review all Our Sponsors.

I am assembling a self-maintained global network of "Who is Who in building automation". Presently my network includes over 4420 please join us.

Please join our Group on Linkedin with over 1825 others and interact with our magazine and online resource in real time while sharing your thoughts with our editors and other readers around the world.

The news just keeps flowing thru our web site and RSS feeds daily, and of course the only way to truly find what you are looking for in the vast quantity of information on our site is with our site search engine http://www.automatedbuildings.com/search/sitesearch.htm

As always lots of new products, plus be sure to check our event calendar to see the number of events we have in our future.


---


[Click Banner To Learn More]
[Home Page] [The Automator] [About] [Subscribe ] [Contact Us]