---
Open Sedona Evolution

Our March issue speaks well to the rapid evolution now occurring in the Sedona community that is redefining open.

Founder, Owner, Publisher AutomatedBuildings.com
This review provides further connection to this evolution and links to the history of how and why Sedona is leading a new generation of edge-devices that come tagged, preconfigured, and with a programmable control language can be can be reconfigured by open software.

In Alper's article Energy Analytics Controllers he states; Anyone designing an IoT architecture must decide which tasks are best performed locally by a device at the network's edge versus remotely by a cloud-hosted application. Within the IT world, an edge device is defined as a gateway or global controller. Within the building automation world, a direct digital controller (DDC) can be considered an edge controller. Likewise, a global controller is an edge controller. Physically, the network's edge might be integrated into roof-top equipment, solar arrays, utility-owned equipment, data center infrastructure, etc. The EAC marks a new generation of edge-device in that they will come with tagged, preconfigured apps to automate the workloads typical at these edge locations.
In this article; Contemporary Controls, a Sedona Framework Community member, has developed the Sedona Application Editor (SAE) which allows graphical development of control applications for Sedona devices
SAE is available for download from Contemporary Controls' website.
George Thomas of Contemporary Controls provides this further insight:

Sedona developers want to apply extensions to the tool and use it with their products. The tool has reignited the Open Sedona debate. There is going to be a meeting at the Light+Building show in Frankfurt next month and I plan to attend.

I have the invitation list for the Sedona User Group Organizational meeting to be held at 14:00 on Wednesday March 16 at Light+Building show in Frankfurt, Germany.

Ontrol - Turkey (Organizer)
Contemporary Controls – USA
Contemporary Controls GmbH – Germany
EasyIO – Singapore
EasyIO Europe – Netherlands
GC5 – Poland
Solidyne – USA
Max Line Solutions – Hong Kong
Phoenix Contact/SysMik – Germany
SCADA Engine – Thailand

George Thomas <gthomas@ccontrols.com>

A follow up meeting will be held at the Niagara Summit in May. I will try to put together a bit about what I am thinking regarding an open controller and ask you to give me an opinion on my approach.
A universal programming language is like religion. The Control BASIC crowd will not be interested. I am not trying to convert the unwashed. What I am trying to point out is that there is open source technology out there for the taking that is similar in structure to one of the more popular frameworks – Niagara. It is also IP-based. Sedona can work with Niagara but does not depend upon Niagara or Niagara Workbench. We chose for our open protocol BACnet so we can work with any other BACnet head end.

George also added this comment very insightful; I think Sedona is more important as this affects the programming of controls (the meat of the system), not just reaching them via the Internet. Having an open control language and open license tool is more important than IoT.

John's Petze response; You identify the whole reason behind Sedona - Having an open control language and open license tool.
Alper Üzmezler adds this comment;
First of all, Sedona is a great framework - small, modular, extensible etc.
Second of all, with the idea of controlling things with internet just came about recently and we have been controlling dampers, fans, temperature etc. The point is now that we will have more "THINGS" physical and abstract.
With that said Sedona does "the control" part very well and it does where it can be extended to the needs of the end user.
Just matter of time where a large corporation will understand its value and combine it with its own open source intiative as a part of the push of controlling "things".

Sedona is a proven technology for controlling physical equipment and it will get better if only community forms an consortium for it and improves with apache model voting system. I have been saying this vocally somewhat around 5 years now.

Great response by all. Pleased that you all are carrying the torch and yes you are correct that this is as close as we'll ever have to an open industry Control language. I am of course disappointed it is not If Then Else but us old guys are prone to disappointment. Maybe we can finally finish this article we all started so many years ago.

"The Past and Future of Control Languages" A call to the industry to speed their evolution to open protocol for control languages
In this interview from last year George provided considerable insight; Creating an Open Controller with Sedona Framework Sedona Framework technology is available to the public under an Academic Free License granted by the licensor – Tridium, Inc.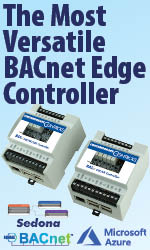 Thomas: Contemporary Controls defines an open controller as follows:

Utilizes an open protocol for network communications
Supports an open programming language for implementing control strategies
Provides a programming tool that is available to systems integrators without restriction
Fosters a community of developers and integrators that share technology for the public good
This article from October 2011 provides further insight to the introduction of Sedona;
What is Sedona -- a language, a protocol, a framework, a town in Arizona? Brian Frank, Founder SkyFoundry
Actually it is all of the above!
The best way to get started with Sedona is to visit http://sedonadev.org/. You can review all the documentation and download the latest code from that site. The website also has links to the live Mercurial code repository as well as links the forum used by the community.
This is good information about EasyIO's journey
Control Trends - EasyIO Europe's EasyStack Update and Congratulations to EasyIO Europe B.V. on Your 10th Year Anniversary
What is the Direction of EasyIO?

"To be innovative and different to anybody else. There is no point in doing the same thing that everybody else already does! We see a paradigm shift taking place in the M2M, building automation and energy management field. We see big opportunities to look for out-of-the-box thinking to the way they currently are delivered. Different in the way to flatten the architecture of a conventional system, put more power where it needs to be and take advantage of IP and wireless technology so that we directly can go from device to enterprise and use more of the new nice analytical tools and viewing tools such like EasyStack.
Mash ups are occurring and new financial models are being explored.
Our new products for March features six new Sedona products check them out.

Exciting times for sure.
---

[Click Banner To Learn More]
[Home Page] [The Automator] [About] [Subscribe ] [Contact Us]