---
EMAIL INTERVIEW – Zach Netsov, and Ken Sinclair
Zach Netsov is a Product Specialist at Contemporary Controls focused on the BASautomation line of products which provide solutions for both small and scalable building management. He received his BSET from DeVry University with a concentration in renewable energy. Zach is part of the team at Contemporary Controls that championed the design and creation of a BASpi I/O board for Raspberry Pi. The I/O board, plus the firmware files provided by Contemporary Controls, turn your Raspberry Pi into a BACnet-networked, Sedona-programmable controller with 6 Universal Inputs, 6 Relay Outputs, and 24 BACnet Virtual Points. Software support for the BASpi includes a graphical programming tool, project backup and restore utility, and an emulator packaged in the BAScontrol Toolset offered as a free download.
---
Turning a Micro PC into a Controller

If we can have open software, why not open hardware?

Sinclair: Contemporary Controls had a very popular booth at AHR Expo 2018, thanks in part to the BASpi give-away you held. What made you decide to develop a controller using a micro PC?
Netsov: We're huge proponents of the concept of "open control" and built our BAScontrol Series on the idea of open software and free programming tools. The BASpi was the next logical extension of that idea. We started tossing around this idea of making a controller on a micro PC to give home enthusiasts, students, and DIYers a truly open controller they can easily set up and use. If we can have open software, why not open hardware? We're fans of the Raspberry Pi and we noticed there weren't any Raspberry Pi daughter boards which support building automation control requirements, specifically 0-10V analog inputs and thermistor inputs. We thought it would be good to make a daughterboard which can be used in building automation systems. Because we had this technology in our BAScontrol products already, we were able to quickly bring this to a Raspberry Pi daughterboard.

Sinclair: Why did you choose the Raspberry Pi instead of some of the other micro PCs?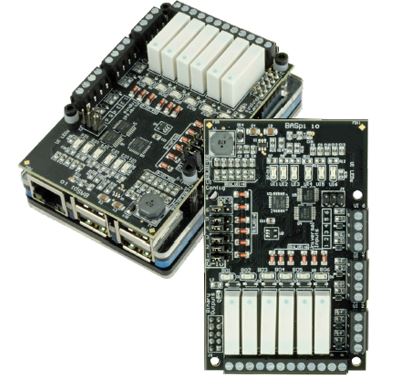 Netsov: We chose the Raspberry Pi because it is a powerful embedded platform, it is easily accessible, and it is the micro PC with the largest community which provides support in the form of custom applications, software tricks, and neat "hacks." Given that the community already has a lot of diverse applications for the Raspberry Pi, we wanted our expansion board to offer some new capabilities. Our BASpi hat provides enhanced hardware circuitry, web-based configuration, and free graphical programming software for control applications. We wanted to truly enhance the capabilities of the Raspberry Pi3. We also wanted to keep both the hardware and software open, so we designed our BASpi hat so it can be run in conjunction with other applications on the Raspberry Pi. Combined with our BASpi hardware and software tools enhancements, the already powerful Raspberry Pi3 turns into an extremely capable control device with web-based configuration, universal IO, and industry standard data communication and control protocol - BACnet.

We're selling two versions of the BASpi right now. The BASpi-IO is just our BASpi I/O board for those people who already have a Raspberry Pi and are experienced using it. The BASpi-SYS is the entire system, which includes the Raspberry Pi 3 board, our BASpi I/O board, an industrial grade μSD card with the pre-written image, international power supply, and an enclosure case.

Sinclair: The BASpi-IO is being released March 1, but you've given a few to some of your beta users. What kind of applications are you seeing from your beta users?

Netsov: A lot of our customers are mechanical and HVAC contractors, sequence of operation programmers, or electricians, all of whom implement networking and control for a living. We had a spike of excitement when we first announced the BASpi because these guys have a lot of interesting ideas and need capable, unrestricted hardware and software tools to realize them.

We also work with colleges and training facilities all over the country. We had a feeling the HVAC training market would be very interested in the BASpi, and we are seeing it now. The open hardware and free software tools make the BASpi a perfect automation and control trainer, whether on the workbench, in the classroom, backyard, basement, or garage.

Sinclair: How does a novice get a BASpi and figure out what to do with it?

Netsov: We've updated the BAScontrol Toolset to support the BASpi. The BAScontrol Toolset includes our Sedona Application Editor, our BASemulator, and our BASbackup tools – and it's available for free. That means BASpi users can download the free BAScontrol Toolset and use it with the BASpi-IO board or BASpi-SYS to teach themselves sequences of operation based on industry-wide concepts such as graphical wiresheet applications – Sedona, and networked automation using the worldwide-accepted industry standard – BACnet. We love Sedona because it's a drag-and-drop graphical component programming language that's open, unrestricted and much easier to use than Python or other procedural languages normally used on the Raspberry Pi. BACnet is very powerful for networked control – it gives experienced building automation BASpi users a piece of mind, and to those who are new to the automation world, an insight of what the professionals are doing out in the field. With the BASpi-IO, we have given Raspberry Pi users the ability to learn and implement their own networked control applications.

Sinclair: So, what's next? You have the BASpi – are you planning on releasing different models or other micro PC products?

Netsov: We are certainly always looking ahead and above the standard. Based on the feedback we have seen on the BASpi-IO control board, we have already thought of ways to enhance the Raspberry Pi platform even further. We wouldn't ever want to be limited in any way. We are always looking at unleashing more possibilities to our keen and enthusiastic customers in the form of hardware platforms and software tools without restrictions. Whether it is for our field-proven networking and automation products, or our DIY products for micro PC platforms, we will continue to bring innovation and open control concepts to this industry.


---


[Click Banner To Learn More]
[Home Page] [The Automator] [About] [Subscribe ] [Contact Us]