---

Right Now

Ken Sinclair, AutomatedBuildings.com
Editor
In our April issue of AutomatedBuildings.com Anto Budiardjo and I wrote an article called Building Automation Renaissance How to survive and prosper from Building-IT Convergence....











http://automatedbuildings.com/news/apr06/articles/antoken/renaissance.htm
I extracted these highlights from the article to give you a sense of the renaissance that is occurring real time in our industry right now.
Wordreference.com Defines renaissance as the revival of learning and culture "a cultural rebirth" resurgence; revitalization. A renaissance is certainly what is happening in the world of Building Automation Connectivity. We must completely rethink how we do everything while immersing ourselves in a new IP/IT culture. As we move from a physical world to a virtual world with our products and services it is a true renaissance that will change us and our industry forever. Of course the renaissance has already begun for the masses in their transition from a physical world to an anything anywhere virtual world powered by powerful web services delivered by the pervasive internet. Our task is to provide all our future building services, products, existing infrastructure and services virtual connections so that they seamlessly mesh with the new world renaissance.
The trends that are now visibly apparent are...
The Catalyst: An 800 pound IT Gorilla - Cisco is the most significant IT company to come into our space. In their CCRE Cisco Connected Real Estate Whitepaper they talk of harnessing the power of Internet Protocol (IP) to turn traditional building construction and management paradigms on their heads. In so doing CCRE will bring huge financial and operational advantages not only to the construction, real estate and property services industries but also to downstream constituencies – such as hotel operators, multiplexed retail outlets, and corporate tenants – in sectors as diverse as leisure, healthcare, education and retail finance.
A Summit: The Palm Springs Roundtable The participants gathered at the Cisco Sponsored Roundtable at BuilConn is an inspiring list of the key movers for the new world of building systems. This roundtable will make it clear that we are in the middle of renaissance. The purpose is to discuss the needs of building owners and the issues regarding the supply of products and services; the context of the roundtable is the increasing adoption of IP-centric systems in building systems.
Global Issue: Energy, Green Buildings and GridWise With the burgeoning emerging markets around the world needing fuel, President Bush's call to action on American's addiction to oil, and the increasing concern for a green planet, the energy subject is high on the agenda. The use of technology to resolve energy problems is here and building automation is right in the middle of it all, holding many of the cards. GridWise is such a solution.
The Demand: A New Breed of Owners are; Business centric, IT aware, demanding, using Enterprise systems as their lifeline and connection to the new world of web service and remote operations. The market is huge and the time is now.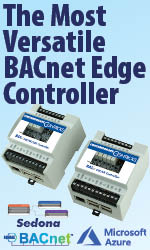 Allan McHale, Director, i&i Ltd states The total commercial market potential for retrofitting existing building stock with web enabled systems that can directly connect to the business enterprise is worth $4 billion in North America.
New Laws: Connectivity is King Sun stated that "The Network is the Computer", Echelon stated "The Network is the Controller", and we all now say "The Internet is our life - business and pleasure". Anto's Connectivity Law gives us a way to envision the value of connectivity to devices. Anto's Connectivity Law states: "The value of a piece of information is proportional to the number of uses that piece of information is connected to."
Wireless: The Game Changer Much talked about... Just a question of being comfortable with reliability... last month's article provides insight to Kiyon's view of neutralizing protocols. Using one wireless backbone for several systems can reduce engineering, construction, commissioning and operating costs over the entire life of the building.
Core Technology: IP (Internet Protocol) is Ubiquitous No argument here, just a question of how low into the field it will go, and it's a question of time. A powerful convergence is underway and it will accelerate. Each mega-trend is a market changer but in combination they will totally restructure building automation.
Control Theory: Is also undergoing a renaissance Tom Hartman writes about New Vistas with Relational Control: Why PID Control is Outdated for Modern Building Applications. Relational control is only possible in an IT world.
The Venue: BuilConn Palm Springs is where you can learn more about and can become part of the Renaissance that is occurring in our industry.
---


[Click Banner To Learn More]
[Home Page] [The Automator] [About] [Subscribe ] [Contact Us]