Jack McGowan, CEM
President & CEO, Energy Control Inc
GridWise Architectural Council Chairman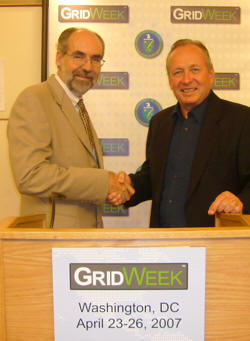 AutomatedBuildings.com was pleased to present Jack McGowan our News Maker of the Year award at the first ever GridWeek in Washington DC.











In addition to all the news, articles and interviews that Jack has been generating as a contributing editor for our magazine, Jack has been chairman of the GridWise Architectural Council rallying the thirteen members around notions of interoperability and the need to develop a crosscutting electricity community of people and organizations representing industrial systems, building automation, home automation, and economic and regulatory policy in addition to electric service providers. Jack's day job is CEO "Energy Control Inc" a major player in the Grid Integration space based in New Mexico. Jack has helped evolve and elevate our industry from arriving on the scene as building integrators and morphing into grid integrators.
Jack's contributions to GridWeek were very significant and the GridWise Architecture Council received the Smart Grid Advocacy Leadership Award.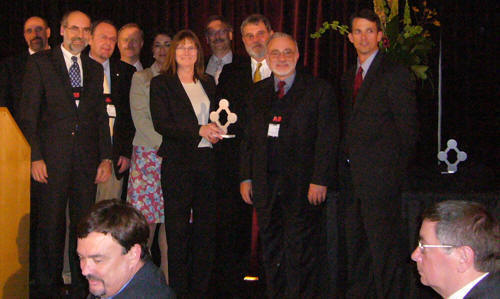 Another first carried out by Jack was the first signing of the first GridWise Constitution by the Mayor of Albuquerque.
MAYOR CHAVEZ 1st MAYOR TO SIGN TECHNOLOGY ENERGY EFFICIENCY "GRIDWISE CONSTITUTION"
WASHINGTON D.C. – APRIL 24, 2007 - Albuquerque Mayor Martin J. Chavez today became the first mayor in the U.S. to sign the GridWise Constitution—a document that solidifies Albuquerque's commitment to creating energy efficiency in city buildings. Mayor Chavez is in Washington D.C. this week participating in a Department of Energy sponsored GridWeek Conference. Congressional leaders, CEOs from major corporations, leaders of utility companies, commissioners from the Federal Energy Regulatory Commission utility companies, the Federal Energy Regulatory Commission among others are attending the GridWeek Conference (www.gridweek.com) to collaboratively work on solutions for creating more efficient methods of distributing and consuming electricity.
Chavez challenges other mayors to sign the GridWise Constitution and do their part to have their cities become energy conscious and energy conservation leaders.
According to Jack McGowan, chairperson of DOE's Gridwise Architecture Council and president of Albuquerque-based Energy Control Inc., "Mayor Chavez' early adoption of this new concept in energy efficiency is an important first step in reducing the harmful effects of greenhouse gas emissions and combating global warming and climate change.
"Other cities are sure to follow, but it is great to have Albuquerque be a leader and a prototype for others to emulate," McGowan said.
"I'm committed that Albuquerque lead the nation in energy conservation," Mayor Chavez said. "Signing the GridWise Constitution is the first step."
This is a summation of his years of hard work in bringing our large building automation industry to be an important part of the GridWise Smart Grid movement.
Jack was instrumental in organizing the GridWeek Congressional Reception. This reception featured Smart Grid technologies and highlighted projects that have been implemented in six states! See pdf for further details.
Jack was 2006-2007 BuilConn Buildy vision award winner which recognized his hard work with the GridWise folks
http://www.automatedbuildings.com/news/jun06/reviews/060522045105visionaward.htm
Please join us in our acknowledgement of Jack's achievement as AutomatedBuildings.com News Maker of the Year.
---


[Click Banner To Learn More]
[Home Page] [The Automator] [About] [Subscribe ] [Contact Us]