---
Mass Customization





Using Dashboard Visualization Tools in lieu of graphics generation tools can provide key stakeholders with cost effective, customized views tailored to meet their unique needs.





Greg Barnes,
Vice President
Activelogix, LLC

PeriscopeTM
Buildings are generating more and more data. Every device, every subsystem has need for a basic visualization of its data. In our industry, we often license one or more tools used by integrators to graphically summarize the data from multiple subsystems and provide a measure of control in the processes. The most prevalent tool today comes from Tridium and its many resellers (www.vykon.com). These traditional building systems graphics are designed to turn fans on, change setpoints, and link to data point energy trends.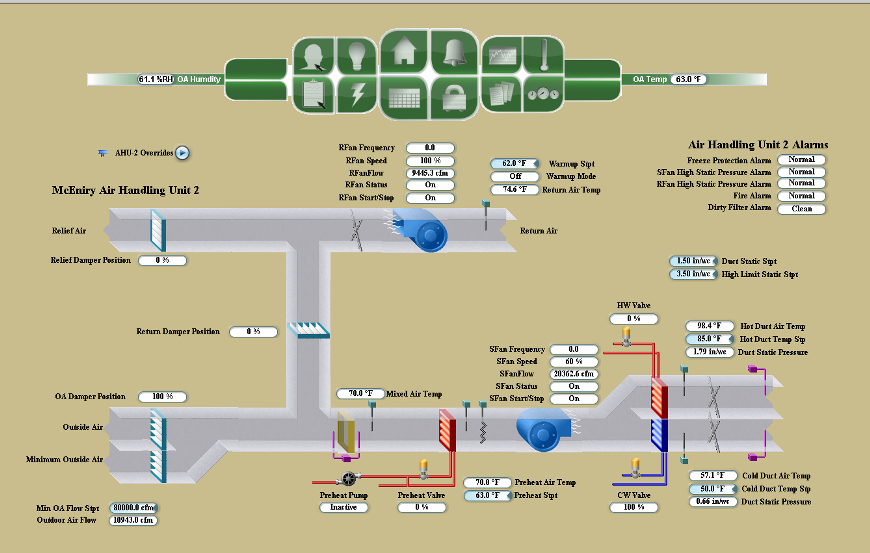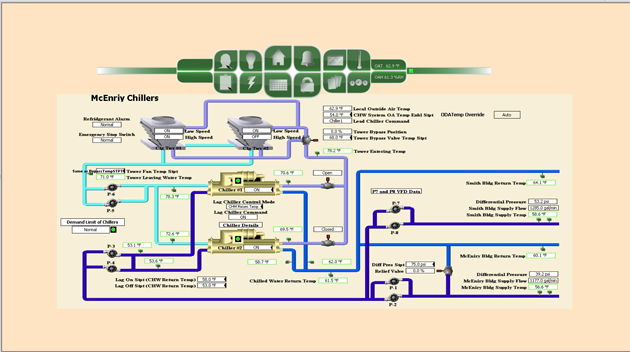 Most graphics tools were built to produce custom visualization for a building operator, not an analyst or an executive. While valuable, these graphics generally don't serve the needs of other stakeholders such as an energy engineer or sustainability director. Most organizations must pay for more custom graphics to be designed or they purchase another new software tool for additional stakeholders. While these graphics provide a valuable service for someone who needs to start a fan or view a single data set, they inherently can't make the essential and important connections among data and they don't show or find the less obvious, much needed information to really run a building or campus efficiently.

Data's value to a business relies on human intelligence and is predicated on how well managers and analysts formulate questions and interpret results. More data doesn't mean you will get "proportionately" more information. In fact, the more data you have, the less information you gain as a proportion of the data (concepts of marginal utility, signal to noise and diminishing returns). Understanding how to use the data we already have is what's going to matter most.

Enter innovative companies such as Activelogix, LLC (www.activelogix.com). Seeking to improve industry visualization tools, we embraced a new paradigm of product management - Mass Customization. Mass Customization is a play on combining the best of mass production and individual customization. It is a thought movement that companies should create greater variety and customization in their products and services while retaining the benefits of mass production's competitive prices http://en.wikipedia.org/wiki/Mass_customization. The basic idea is simple: Make existing products and services more valuable to your customers by building in more relevant data and personalized information. A variant of Mass customization is Adaptive customization - firms produce a standardized product, but this product is customizable in the hands of the end-user (the customers alter the product themselves).

Social Media is perfecting the concept. For example, use a traditional navigation application to find the best place to eat. But please factor in recent reviews, or more precisely, reviews by my friends. If my friends are actually there now… that becomes the tie breaker! Now imagine in our industry of Building Automation, Energy Management, Sustainability, etc. having the power to offer a single software license to an organization that allows each stakeholder to truly individualize their own dashboard at the same or lower cost as traditional graphics are delivered.

Today's best dashboard tools are built to analyze, trouble shoot and communicate (with systems and people). At Activelogix, we built our PeriscopeTM dashboard (www.periscopedashboard.com) tools to be deployed cost effectively, customized for/by multiple stakeholders with shortcuts to foster awareness to the masses. We use the model of the app store to allow users to customize their Dashboard by choosing which visualization apps (viewlets) should co-exist on their real estate and we let them change their mind every day!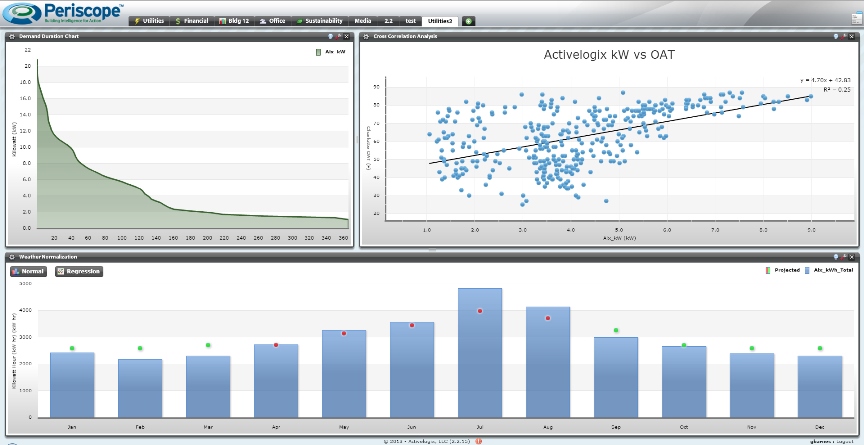 We recognize that a successful visualization requires an understanding of 1) how to present information and 2) how to allow the presentation to change based on the targeted audience. Ultimately, we want a visualization that is targeted and communicating an idea that will drive action. PeriscopeTM allows for different visualization of the same data based on positional differences.

For example:
An executive sees the following dashboard and immediately asks a direct report why electricity cost is up 1.67% year to date versus budget when he had been told a new energy management system would save costs? Having a simple, high level viewlet allows the executive to quickly find what matters.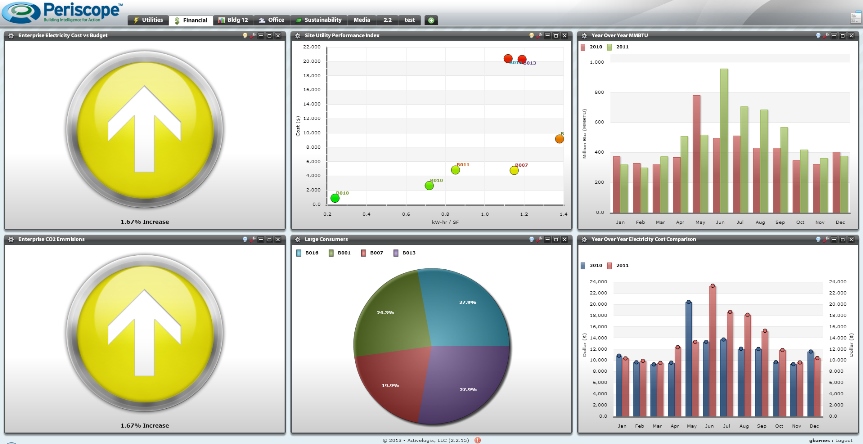 The building engineer reviews his dashboard and finds out that we had an unseasonably cold January that resulted in a 5% increase, but since January, usage has been below baseline. He then feels comfortable in telling the executive that he has confidence in the current energy management program and it is working for 2013.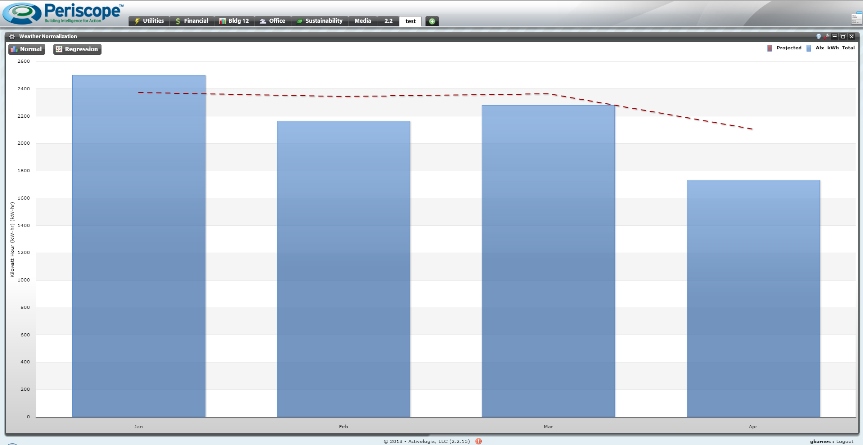 There are three broad reasons for visualizing data:

Confirmation: We already have a set of assumptions about how the system operates and we need to confirm. For example: Since we spent money on energy improvements, we expect to see reduced energy units normalized for weather. Visualizations can help us check those assumptions. They can also enable us to observe whether the underlying system has deviated from the model we had and assess what to do about it.
Education: There are two forms of education that visualization offers. One is simply reporting and the other is to develop intuition and new insights on behavior. The most of exciting of these is visualizing the cause and effect of some action we take to improve. If we turn off the lights, how does that affect our energy usage?
Exploration: When we have large sets of data about a system we are interested in and the goal is to provide optimal human-machine interactions (HMI) to that data to tease out relationships, processes, models, etc., we can use visualization to help build a model to allow us to predict and better manage the system.

We see examples of Confirmation in the Executive Dashboard above and Education in the Sustainability Dashboard below. Assuming the visualization creator has gotten it all right, humans can often be better at seeing the connections than any software is, though humans often need software to help. Consider the example of Exploration below. In a PeriscopeTM Dashboard viewlet, a room temperature sensor value is compared with its heating and cooling setpoints both in occupied and unoccupied timeframes. The controlled variable, space temperature, is tracking between its occupied heating and cooling setpoints well, and drifting during afterhours except for a few hours of hard to explain overrides.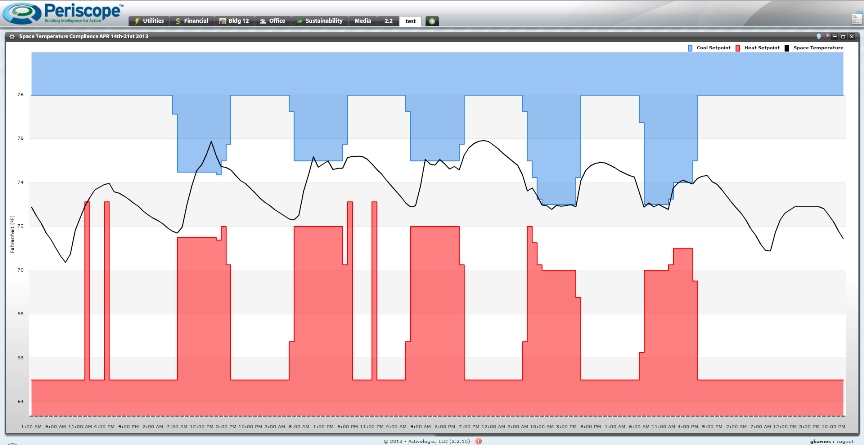 The Facility Manager can explore in the controls system to see why the set point was changed on the weekend if it causes concern or by writing a rule to catch these anomalies, he can automate the process for the future and automatically display every occurrence of this after hour's usage for presentation to a tenant or a manager.
In the example Sustainability Dashboard below, we see examples of Education. The corporation can share positive results with the team and educate employees, tenants and visitors on other energy saving opportunities or environmentally friendly tips. Another good example of Education is the City of Raleigh NC using PeriscopeTM to promote Electric Vehicle Usage to their local constituents. View a live "published" viewlet via a link on their website: http://www.raleighnc.gov/environment/content/AdminServSustain/Articles/PublicEVChargingStations.html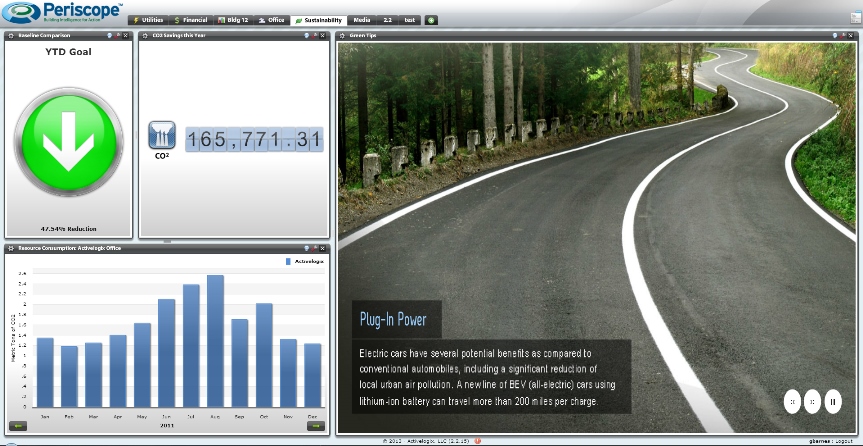 Finally, we must understand that specialty expertise is always required in buildings and having the right people analyzing the data is often more important than the tool. If you don't understand what is happening in the building, behind the trends, or in Space Temperature Compliance visualization, you risk missing the savings, comfort or the needed message to your occupants. Tools can make finding the needle easier and facilitating problem solving, but they are just an enabler, an accelerator or a magnifier of our industry experience and training, not its surrogate.

Often a lone manager on staff may not have the training to find the correlations in so many devices. Maybe the user has a specialty in environmental control, but not in energy. With a tool like the PeriscopeTM Dashboard, building owners can provide unique logins to third party professionals to analyze data and build dashboards for them. Engage one of our Energy Management partners to sub-meter your facilities, deploy the dashboard software on your secure server, and build and analyze ongoing dashboards for you. Imagine having a fractional Certified Energy Manager (CEM) that can support your efforts remotely by building his or her own dashboard, sharing this analysis of your energy consuming systems and checking back after you made adjustments. Try asking a CEM to use your existing HVAC graphics tool of choice and see how far they get!


---


[Click Banner To Learn More]
[Home Page] [The Automator] [About] [Subscribe ] [Contact Us]