---
"H. Michael Newman" His_Story and Mine

40 years of evolution in Building Automation


The first computer dedicated to monitoring building systems was installed in 1974 or 1975.

Founder, Owner, Publisher AutomatedBuildings.com
In an attempt to capture some of the history of building automation I have prepared this html page connecting to resources that provide good recreational reading of how industry evolved in Mike's eyes and mine over the last 40 years.
Mike started working at Cornell about the same time I was working as a young consultant with my company Sinclair Energy Services Ltd for the University of Alberta, Canada. We were working on their first DDC system called Remote Control and Monitoring System RCMS.

Mike provides a little history about his recollections at Cornell. The author John W. Rudan went around campus and interviewed dozens of folks to memorialize their contributions to computing at the university.
http://www.automatedbuildings.com/editors/History
An extract below from this insightful piece prepared on September 17, 1999

The first computer dedicated to monitoring building systems was installed in 1974 or 1975.
The data for a selected unit is gathered from the remote digital controller and displayed on the schematic for that particular building system. One sees the "H" diagram for the building air handling systems or other schematics using standard graphic depictions that show all the measured values and even set points.

The "final frontier" in recent years, since 1987, has been the effort to develop a standard communication protocol to replace all of the proprietary ones. (We have had 8 proprietary protocols communicating from the VAX concurrently!) This work has led to the adoption by the building control industry of "BACnet," the "building automation and control networking protocol." The protocol was developed within ASHRAE (the American Society of Heating, Refrigerating and Air-Conditioning Engineers) by a committee that I have chaired since its inception. There are now "BACnet Interest Groups" in the U.S., Europe, and Australia - all as a result of the Cornell-sponsored initiative!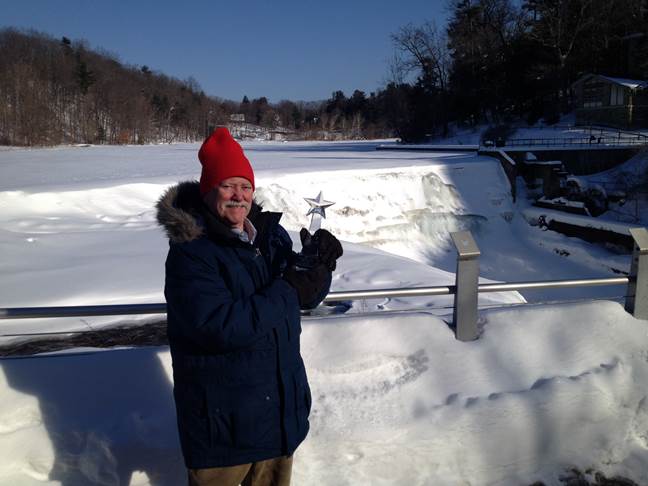 Meet the "Father of BACnet®"

In an interview with Contemporary Controls, Mike Newman tells his story of leading the charge for adopting the BACnet® protocol, and the battles and victories that ensued. He describes the development of BACnet, its greatest strengths and much more.

In the first annual BACnet International "Building BACnet" award ceremony, six people and companies were recognized for their contributions to the BACnet community. Recognized by many as the "godfather" of BACnet, Mike Newman of Cornell University was recognized with a Distinguished Service award, the highest award presented by BACnet International. Also receiving a Distinguished Service Award was "BACnet Bill" Swan of Alerton/Honeywell, former chair of the SSPC 135. The "Titan of Testing" award went to Carl Neilson of Delta
Sinclair: Why did you decide to write your new book on BACnet?

Newman: For years, basically since the standard was first published in 1995, people have been asking for BACnet training. While there have been some face-to-face courses organized by ASHRAE, the University of Wisconsin, and BIG-EU in Europe, among others, there has never been a comprehensive book on BACnet in the English language. My good friend Hans Kranz wrote the first and, up until now, only full-length BACnet book in 2005 in his native German. It is an excellent work but tends to focus on doing BACnet jobs in the context of building automation projects in Germany with all of their particular building codes, bidding conventions, certification requirements, and the like. I just felt the time had come to write a definitive text on BACnet in English.

"BACnet - The Global Standard for Building Automation and Control Networks" Published by Momentum Press, available from the publisher directly or from Amazon, Barnes & Noble, etc.
ControlTrends Awards (CTA) Chicago The pinnacle event of the evening was when Mike Newman, the Godfather of BACnet and George Thomas, master of all networks - were inducted into the ControlTrends Awards Hall of Fame.
I was very honored to be chosen to present Mike his induction into the hall of fame.

My recollection of a similar evolution occurring in Canada are captured in the following articles. I was hired in approximately 1975 to assist in the creation of a never before build direct digital control campus wide system. The first DDC Remote Monitoring and Control System "RMCS" system was built on the back of several failed commercial Control Point Adjust "CPA" systems that had being installed in various parts of the campus. The system was designed under the direction Ron Burns, the director of energy management for the university. The system was one of the first Direct Digital Control systems. Until this project building HVAC control was done with pneumatics and computer control was used only to reset set points "CPA".
The system ran on new DEC mini computers of the time and included a historian hard disk which could provide a replay of any event. Interactive Graphics were created on several ISC screens, resolution was about a 1/4 of a inch. System was fashioned after industrial control systems used in the glass and cement industries of the time. Many of the required HVAC sensors had not been invented or created yet so we built them and wrote the interfaces.
The first stand alone panels (SAP) that provided the first DDC field control came from industrial plants but later panels were build locally, smaller and at a greatly reduced cost. Mini computers were morphing to micro processors. These panels communicated directly with and were programmed from the DEC head end computers sharing all their information. The control language ran in two separate files, one for analog, one for digital relationships.
The RMCS trending and historical data abilities solved many campus problems. In particular problems involved with a very large central chilled water system that involved miles of chilled water piping and pumping. System proved that under certain conditions water flowed backwards in some of the buildings. Piping changes and DDC control of these loops solved problems and allowed several large buildings to be added to the chilled water system without increasing central chilled water capacity.

The Past and Future of Control Languages - AutomatedBuildings.com
The concepts started to evolve in the mid 1970s out of the University of Alberta's first DDC Remote Monitoring and Control System "RMCS" system that I worked ...

Local History of Building our DDC Industry Several British Columbia start-ups that are now highly successfully international companies owe their start to a team of visionaries, who were focused and were resolved to get high performance controls in BC.
A Year of Rapid Change at ...
Digital Dinosaur Does Dallas could have been a title for a low-grade horror movie but proved to be a significant growing point for us.

---


[Click Banner To Learn More]
[Home Page] [The Automator] [About] [Subscribe ] [Contact Us]