---
Be the Mentor to Grow BACnet Younger

Only you can grow BACnet younger. It is your turn to reach out and become the mentor.

Ken Sinclair
AutomatedBuildings

Published by The BACnet Journal

We are constantly striving to grow our industry younger, yet we fall short of quantity, quality, and connection of the young folks who are attracted to our industry.

Could we be the problem? Do we all give of ourselves and seek opportunities to mentor those around us?

When I reflect on my five decades in the control industry, I sometimes think about how did this happen? How did I get from being a kid on a small farm in Alberta to mentoring and penning this plea? What were some of the key things that put me in this industry?

An early introduction to ASHRAE from some members of our local chapter on a voluntary outreach, who came to our school and invited me to be part of the student membership in 1966 plus those big ASHRAE manuals for free was a fantastic start. These outreach folks became my first industry mentors who lead me to my involvement in a mentoring organization. One of them who became a good friend was Don Holte, who went on to be international president of ASHRAE. ASHRAE provided a path for my passion, the control of energy conservation, which led me to be part of the starting of a new ASHRAE chapter on Vancouver Island with the help of Ron Williams who was a mentor of Don as well as my mentor. I became chapter president. Ironically one the other original mentors Stan Hayden led me to become actively involved with AEE. That introduction led to me becoming part of that organization as well, where I met control trends Hall of Fame 2016 inductee, Jack McGowan who became my mentor and encouraged me to write. The 19 years of our magazine provided reason and connection to all these Hall of Famers; Mike Newman, George Thomas, Hans Kranz, and this year's winner Steve Bushby. Also, Werner Buck of Belimo, another Hall of Famer was one of our first advertisers and introduced me to a young lad he was mentoring, Lars van der Haegen. You can see the power of mentoring in a 50-year cycle.

In 1969 I started at Johnson Controls who trained me and connected me to a network of mentors and friends that are a big part of who I now am. One of my lead mentors Cliff Badger taught me how to think, by asking questions about my question; breaking the problem into bits. By the time I was able to answer all his questions, I was able to answer my own questions. A great lesson.

Mentors need not be experts at what they are mentoring sometimes our best mentors are our learning peers. In the early days of building computer simulations, we were all a community learning this new skill much like BACnet we constantly mentored each other. Working to develop one of the first DDC systems in 1975 I met my first system analyst, people who code, and folks that made hardware, all while learning the politics of idea implementation. A mind-expanding project is full of life mentors and friends.

These mentors led me from Alberta and introduced me to an evolving DDC industry in British Columbia in early 1980 which allowed me to be part of a mentoring group with the likes of BACnet pillars, Rowland Laird, Raymond Rae, and later Carl Nelson.

Every skill I learned was tied to a mentor, and I can see all their faces as I write this for you; you may notice the word friend often gets attached to the word mentor.

Think about your path to BACnet, it was paved with people that inspired and mentored you and now are your friends.

Somehow in this process of being mentored, we never feel worthy to become the mentor, but you are now worthy, and it is your turn to reach out to those around you in your work and also for the greater good to those that surround you in your personal life and community and become their mentors. Millennials want to know, Am I making a difference in the world, does my work matter? Yes, tell them how important the work we do is and how they will have an impact. Only you can grow BACnet younger. It is your turn to reach out and become the mentor. Yes, you are worthy.....smile. Did I mention how much I learned from those I have mentored? Learning how to think younger from those you mentor will be your greatest gift.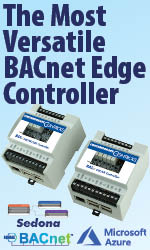 In this article, Steve makes some excellent points

https://www.linkedin.com/pulse/do-you-mentor-enough-give-receive-steven-guzelimian

Mentoring is not a subject you see talked a lot in business circles; it is my feeling that it is a valuable part of making an organization whole. When you graduate from school, you leave with a base level of knowledge and little experience to apply that knowledge.

In my business, (Building Automation) for new people, it can be tough to get comfortable with the environment. There are few places to learn building automation, yet it is multi-disciplined (electronics, electrical, mechanical, software, IT ). People often come from mechanical engineering or industrial automation backgrounds and scratch their heads on day 1 trying to figure out the nuances of how this business works. Mentoring is key, here is my suggestion to help your new recruits adjust.

"Mentoring is to support and encourage people to manage their own learning in order that they may maximise their potential, develop their skills, improve their performance and become the person they want to be." Eric Parsloe, The Oxford School of Coaching & Mentoring

Resources

https://www.linkedin.com/pulse/local-history-our-ddc-industry-ken-sinclair?trk=mp-reader-card
https://www.linkedin.com/pulse/h-michael-newman-hisstory-mine-ken-sinclair?trk=mp-reader-card

Across my desk.
https://www.linkedin.com/pulse/how-making-difference-world-reduces-employee-turnover-chester-elton?trk=eml-email_feed_ecosystem_digest_01-hero-0-null&midToken=AQF5rhoSxWooJA&fromEmail=fromEmail&ut=053oZ_odsyzTE1


---

[Click Banner To Learn More]
[Home Page] [The Automator] [About] [Subscribe ] [Contact Us]