---
| | |
| --- | --- |
| Editorial Comments by Ken Sinclair | |
Our December issue was assembled in Australia, confirming global connectivity works. We were very pleased to be part of the first Asia-Pacific ConnectivityWeek in Singapore; it was a very good showing for this first ever event. The event redefined for me what is included in the term connectivity. A keynote from Khoong Hock Yun, the Assistant Chief Executive from IDA Singapore (Infocomm Development Authority) told us of Singapore's project to implement a National Broadband Network, providing 100MB+ to all, as well as free WiFi to around 80-90% of the country. Now that is a commitment to connectivity. In addition to Anto's observation from the CISCO round table I heard a clear cry for education both in and out of our industry. We all need to better understand our new found capabilities and once we grasp these we must educate the traditional and non-traditional users of our new services.











Be sure to read Anto's Review of BuilConn Singapore.
Lots of information about what is happening in Dubai with the RealComm Review and the Dubai BuilConn article.

December and January will be our AHR Expo issues with connection to what is happening in Dallas. Dave and I are preparing for our 8th annual AHR Expo Educational Sessions plus looking forward to being part of Wednesday's Building Intelligence Tour at AHR 2007: Intelligent Building System Design.
Tom Hartman provides a third article in a continuing series on achieving sustainability. Moving Toward A Sustainable Building Industry
As usual Lots of great Articles. Interviews, Reviews, New Products, and News

We are on our way to the first Asia-Pacific ConnectivityWeek and I am excited to learn about how the industry is unfolding in Asia. I was pleased to be asked to speak to the Cisco Systems roundtable discussion on Building-IT Convergence at BuilConn Asia-Pacific. I have been asked to speak about the trends driving the building automation industry, and provide a perspective as an observer of industry activities in North America. Please see my review of Cisco Roundtables Round the World for more info on this.

Our education sessions for AHRExpo 2007 Dallas have now been posted http://www.ahrexpo.com/education/. Note that also included on Tuesday at 11:00 am in room D161 is GridWise - Smart Energy Technology for Buildings and the Power Grid with our contributing editor Jack McGowan and friends.
I am also looking forward to being part of the Workshop in Dallas on Wednesday, January 31st "Building Intelligence Tour: Intelligent Building System Design". A one day workshop focused on building owners, consulting engineers, suppliers, contractors and commissioning agents and the essentials of delivering the Intelligent Building. The event will include a keynote talk on the role of the Building Systems Architect and the importance of integrated design.
For insight read this month's article Help Wanted: Building Systems Architect Paul Ehrlich, P.E.
Please join us for all these events if you make it to Dallas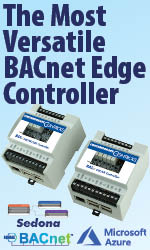 Just finished a presentation for our local utility company at their Power of Business Forum Challenges and Choices in Energy Management and Environmental Sustainability.
Makes you wonder how we find time to run the magazine. It is certainly a blur of information out there; the cutting bleeding edge is becoming the rapid reality and is so flexible that each one reality is not the same. It is a great time to be in the news business as each article and interview spins the technologies in a different pattern explaining their new reality in the authors minds and the answer of course is that all is possible.
We have been working on improving our web site by reorganizing how we handle the great number of news release we receive daily. We now provide a

News Feed ( Which Needs a RSS Feed Reader ) and have provided a New Our RSS news feed rendered into HTML
If you are like I was and do not know what RSS is RSS is a Web content syndication format. The name is an acronym for Really Simple Syndication. Read here for more details http://blogs.law.harvard.edu/tech/rss
We are slowly figuring it all out so bear with us as we install this new news service. Please share with us any suggestions you have to better use this approach and others to keep moving our web site forward to meet your needs. Our News Briefs are now handled as news feed items and archived for now in a similar format as before.
Tell our sponsors you saw their ad on the AutomatedBuildings.com web site and thank them for supporting your free access to evolving Automated Building Industry information. Click on their ads and view their valuable products and services. Please review all Our Sponsors.
Be sure to check our event calendar to see the number events we have in our future.
As I always say, it is a great time to be in the news business for our industry.
Send comments and suggestions to news@automatedbuildings.com
---


[Click Banner To Learn More]
[Home Page] [The Automator] [About] [Subscribe ] [Contact Us]