---

Convergence, connectivity, controls and conservation can guide us towards a more profitable, vibrant industrial future. It's time for new thinking on energy management.

Ken Sinclair, AutomatedBuildings.com
Editor
I was pleased to be asked by Todd Phillips to share my thoughts for the new Magazine ENERGY MANAGEMENT CANADA www.energymanagementcanada.com











My name is Ken Sinclair and I am the Editor/Owner of an online magazine called www.AutomatedBuildings.com. The Magazine is a web resource that provides the news, as well as connection to the exciting and rapidly evolving industry that automates large buildings. The publication has been online for 9 years. Prior to starting this magazine I was an Energy Management / Conservation / Automation Consultant in the large building space for over 30 years in western Canada.
Todd asked me to share my thoughts and talk about how conservation and Energy Management will be forever changed by this new found substance called "connectivity". Connectivity is no longer a concept; but a reality that is changing how we work and what our industries will look like in the near future. Connectivity concepts such as the smart grid, the greening of buildings with better connections to everything, coupled with connections to powerful web services plus the notion of Buildings 2.0, Facilities 2.0, Factory 2.0 all based on Web 2.0 are all creating new directions and markets for our industries. This requires that we all re-examine our core business models and make adjustments for connectivity, convergence and decide how to use it to control our precious energy supplies.
At GridWeek http://www.gridweek.com/2007/ in Washington DC I witnessed the winds of change blowing in several directions and at several levels. This event allowed the politicians, electrical regulators, generation, distribution folks and the technology providers a common venue to talk about the smart grid of the future and changes that would be required. I was extremely pleased to hear that conservation and connectivity are the fifth fuel for the grid of the future. I was also extremely pleased to hear that our industries electrical demand response was much quicker from a smart grid than what can now be obtained from adding and subtracting generation equipment. I was also pleased to hear how connectivity and innovation will help change the grid users' behaviour by communicating price breaks for time of day billing using new connectivity paths. The evolution of our industry integrators to grid integrators was a great revelation which greatly increases all of our scope and reach.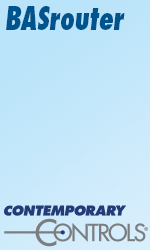 Smart grid thinking is not as advanced in Canada yet, but pressing environmental issues and changing attitudes will force us to similar conclusions.
It is my hope that this new magazine and my columns will help the Energy Management Industry in Canada "Think Out Loud". Using the power of the press and your feedback we hope to inform, educate, change minds and connect industry leaders to take our industries and our country to the next level.
We all will support evolution that we feel we have been part of. When groups meet behind closed doors with narrow agendas and withhold information for perceived market advantage our industries and country suffers. Our seemingly broad open agendas have become very narrow as we converge and connect our rapidly evolving industries. New players and new directions abound encapsulating unheard of opportunities. We all need to think out loud to quickly guide our industries to the next level and set plans for the future. Please read each article carefully and allow yourself to think out loud about what this means to your future and the future of your industry. Examine your agendas and allegiances in light of out loud thinking. We live in a world where the application of a new technology or a single web service or a cell phone feature will radically change our focus. Thinking in traditional terms in pods of special interest groups is dangerous as it does not allow the necessary convergence of all available ideas. Ideas from the convergence model abound and we must make them part of our industry or those lacking the millstones of traditional thinking will. I just heard a new term "Grid Integrator". A "Grid Integrator" is a person who integrates conservation opportunities with the electrical grid. We must unhinge our minds and find new pivot points from which to build our future.
Please share your "Out Loud" thinking with us as we are already staging articles for our next issue.
---

[Click Banner To Learn More]
[Home Page] [The Automator] [About] [Subscribe ] [Contact Us]