---

It's clear that in the last year our clients and society in general has moved much further in their expectations for sustainable buildings than our industry has moved in ability to effectively implement them.

Ken Sinclair, AutomatedBuildings.com
Editor
The above pull quote is from an interview with Tom Hartman, Hartman Company in our October issue of AutomatedBuildings.com. The interview started with a discussion about how in Wednesday's opening session at the Building Automation and Sustainability (BAS) Conference in Phoenix the attending group gave our industry a "D" report card rating,.











Tom replied with: "I think the Engineering Green Building (EGB) Conference attendees would likely agree with the BAS Conference grade for our industry right now."
In all this self realization and identification of need for industry self improvement is a lot of optimism that we can deliver sustainable in all we do plus provide fully grid integrated buildings. To do this a collaborative effort is required with utilities and ISO. Some of our concerns are expressed in the following conclusion to our interview.
Sinclair: The utilities are certainly a force to be reckoned with, but what encourages me is the growth of large intermediate firms that are coming into the business of making exactly that value equation to utilities. They are offering power from energy efficiency and demand response networks they are willing to build at a lower cost than what utilities would pay if they were to build new plants. These firms may be leading us to the convergence future many of us have envisioned for some time. I don't think we can discount their potential.
Hartman: You are right. But I do worry about the consequences of the lost revenue by the efficiency improvements and how that utility will react. You can imagine that if the efficiency improvements were in the same utility's service area, the utility would be facing a future wherein it would be serving an increasing volume of customers without any increased power sales. That scenario was described to me by a utility executive as "self cannibalization." It's exactly what the public wants, but certainly not the utilities. I still think it is of utmost importance that public policy be employed to change the mission of utilities and make this their goal. I've proposed in earlier essays at automatedbuildings.com that we consider new rate structures that reward utilities and customers for being more efficient. These approaches are real time and network based that fit well into an overall integrated convergence approach we have been discussing.
Sinclair: Well, it seems wherever we start, the conversation returns to convergence with IT technologies into large networks as at least a part of the solution. Is it fair to say that we both envision this as the direction we should take toward a more sustainable future?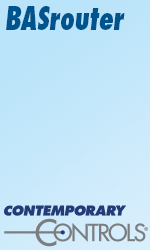 Hartman: Absolutely! It's also important to note that the current strategies used to control most building systems today are embarrassingly outdated and inherently inefficient. Stringing new robust control networks through our building stock not only allows us to capture the value of demand response and other emerging large scale network technologies, but it also permits the replacement of the out of date local stand alone controls being used to operate components in the buildings with much more efficient network based strategies. To me, large scale convergent networks aren't just a part of the solution; they are the solution and the direction we as an industry should embrace for converting to a sustainable building stock. Our efforts in designing and constructing new buildings should prepare them to be part of such networks.
The North American electricity grid is under increasing pressure from a continued increase in demand, the focus on curtailing peak load provides an opportunity for building owners and building automation stakeholders to participate in load shedding and load shifting strategies driven by lucrative incentives offered by electricity suppliers.
How energy efficiency and demand response networks are implemented today and in the future is in the hands of the utility companies. This involves us all learning about the programs that utilities and ISO's have put in place and embrace them or provide them with the guidance they need. Unfortunately, the programs differ from region to region but this only means that we all must get involved.
At the conference in Phoenix deep integration was talked about in every session and how the new converged model of our industry included close, near and far integration. This radical growth and blurring of traditional building responsibility lines brings with it a responsibility for us as an industry to better document our value statements and present ourselves as ready and willing partners in the new converged, connected, and conserving world.
---

[Click Banner To Learn More]
[Home Page] [The Automator] [About] [Subscribe ] [Contact Us]