---

Successful energy retrofit programs take a comprehensive approach to building systems as well as operational and maintenance practices to improve energy efficiency, comfort and productivity.

Spinwave Systems, Inc.
www.spinwavesystems.com
Are you responsible for facility management for a high-rise office or apartment building? Are you faced with rising energy bills and inconsistencies in your tenants' energy usage?











Have you been charged with making your building more energy-efficient but don't know where the best return on investment might be?
Have you recently implemented an energy retrofit program within a facility? Are you unsure if the project is really paying off?
If you answered yes to any of these questions, you probably already know that energy saving opportunities exist within your current facilities. And if you're like most of us, the enthusiasm for these potential energy savings quickly diminishes as you begin to think about the equipment and installation costs involved with this kind of project – not to mention the disruption to the building's occupants and business operations.
Spinwave Wireless for Energy Retrofit Projects
Deploy additional wireless sensors quickly and with minimal installation costs to provide you with base-line information on how natural resources are used and on how comfortable you current indoor climate is.

Wireless sensor data lets you evaluate if and how established energy conservation procedures for heating, cooling, ventilation, lighting and water are being followed.

Wireless sensor data helps you assess the performance of your mechanical building equipment.

Wireless sensors allow you to continuously monitor the performance of your energy retrofit project to ensure the desired return on investment and keep your building at peak performance.
Conducting a Comprehensive Energy Audit
The thousands of commercial buildings in the U.S. present a tremendous opportunity for energy savings. Successful energy retrofit programs take a comprehensive approach to building systems as well as operational and maintenance practices to improve energy efficiency, comfort and productivity.
A comprehensive energy program follows a proven step-by-step process and is based on accumulated building performance data. The problem, however, is that installed building automation systems often do not provide the required sensor points for a comprehensive energy and comfort audit and the installation of additional wired sensors to obtain the necessary information is usually cost prohibitive.
Fortunately, with the recent availability of low-cost wireless sensing products from Spinwave Systems, there is now a cost effective, non-intrusive solution for successful energy retrofit projects.
The low overall installed cost of a Spinwave wireless mesh sensor network makes it easy to justify the use of more data points in order to better understand and control energy consumption in buildings while maintaining best possible occupant comfort levels. And wireless sensor data, monitored and collected after an energy retrofit, ensures that expected results are met and that planned return on investment is achieved. As we all know, buildings drift to lower performance levels over time and continuous performance monitoring and tuning is required to protect your investment.
Accountability Metering & Tenant Sub-Metering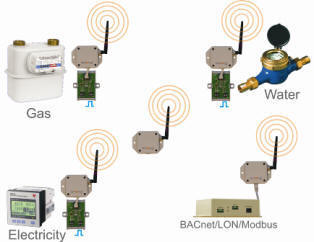 In most high-rise office and apartment buildings, utility usage is monitored and billed for the entire building. Tenants are typically billed for their utility usage on a per square foot basis as part of their rent or as a proportion of the common costs. This method of allocating usage does not encourage tenants to be more efficient in their energy use since they are not billed based on their actual consumption.
College campuses and industrial facilities, which are often metered centrally, lack the necessary information to properly allocate usage costs to departments, functions or manufactured product lines. Without the ability to allocate costs based on actual consumption, today's facilities managers struggle to implement successful energy management programs and the ability of a company to accurately determine the profitability of specific products or functions is severely limited.
Using Spinwave's wireless sensor networks, it is quick and easy to collect data from metering devices (water, gas, electric) and wirelessly transfer that data to a central database for analysis.
Implementation is quick and easy - you get plug-and-play connectivity without the need to install additional communication lines. Simply retrofit your current meter with a pulse output or replace your installed meter with a pulse meter; install battery-powered wireless pulse counters at meter locations; and begin receiving meter data from multiple locations and monitoring consumption centrally.
Spinwave Wireless for Utility Sub-Metering
Wireless sensors enable programs to sub-meter energy usage and allocate utility costs.

Wireless sensors play a key role in monitoring environmental conditions in order to get a clear picture of comfort levels.

Wireless sensors quickly and easily tell you where energy is being used, where energy can be saved and whether or not existing energy conservation procedures are being followed.

Wireless sensors offer a non-invasive installation process with no inconvenience to occupants or disruption of business operations.

The flexibility and scalability of wireless sensor networks makes for quick and easy system expansion.
At this point, energy usage by tenants and individual departments can now be allocated based on actual energy consumption rather than on an estimate. The advantage to this method is that it gives consumption responsibility to the tenant or department head. For the owner of multi-unit properties, this method also helps to make the property more attractive as it removes variable utility costs from the standard rent. For managers of campus facilities such as universities, this method provides an incentive for department heads to manage energy wisely and gives them additional advocates to help ensure the success of their energy management program.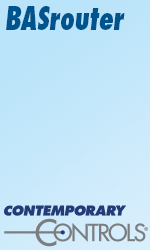 The Spinwave Solution
The Spinwave wireless solution consists of wireless sensors for measuring a variety of environmental variables (temperature, humidity, electricity/gas/water, voltage); mesh repeaters/routers for extending the range and node count of your wireless sensor networks; and a variety of options for integrating Spinwave's wireless sensor network with virtually any Building Management System, HVAC Equipment Controllers, SCADA software, Visual Basic application or Industrial Control System (PLC, DCS) through pre-configured LON, BACnet, Modbus Network Interfaces or I/O "Mirror" Modules.
About Spinwave Systems
Spinwave Systems is a technology rich company focused on developing state-of-the-art wireless sensors and wireless mesh networks for the industrial automation and the commercial building controls markets. Spinwave's products and systems enable operations personnel to easily generate data about their buildings and processes enabling them to reduce costs and improve productivity. Spinwave's unique system architecture enables seamless integration of wireless sensors to automation systems from all major manufacturers. To learn more about Spinwave's products, visit www.spinwavesystems.com.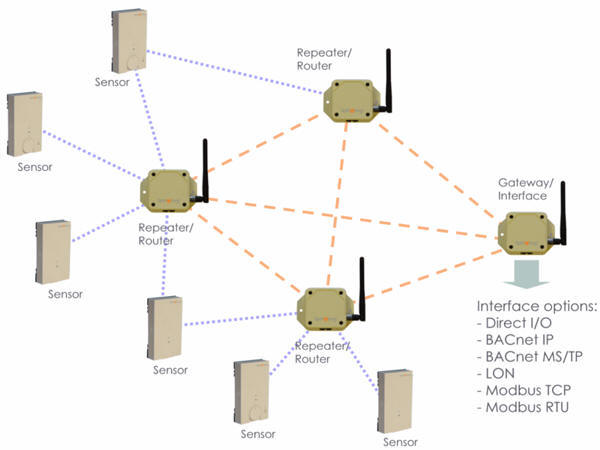 ---

[Click Banner To Learn More]
[Home Page] [The Automator] [About] [Subscribe ] [Contact Us]