---
EMAIL INTERVIEW – Dennis Krieger and Ken Sinclair
An interview with Switch Automation's Director of Engineering Services, Dennis Krieger, outlines the future of mobile apps in facilities management and the power they have to transform the way we manage our buildings.

---
Smart Building Apps for Facilities Managers

FMs need to be able to collaborate with their teams and solve on-site issues with third parties just as easily as if they were in the same room or at the office.

Sinclair: Switch Automation recently launched a new app for smart facilities management. Why was mobile important to your business strategy?
Krieger: We learned early on that smart building platforms, and the data-driven insights they provide are useless without the ability to drive action in the building. We also learned that facility managers don't have the time to sit at a desk and interact with charts and alerts. We wanted to give onsite teams a quick and easy way to solve problems on-the-go while enabling them to keep their team and vendors informed and accountable.

Sinclair: How does the app help make an FM's job easier?

Krieger: FMs are constantly traveling, even within a single building; and problems occur whether you're at your computer or not. Ultimately, FMs need to be able to collaborate with their teams and solve on-site issues with third parties just as easily as if they were in the same room or at the office. The Switch Automation App extends the power of the Switch Platform to mobile devices so you can make timely, data-driven decisions and avoid miscommunication and bottlenecks.

Sinclair: Can you give an example of how FMs are using the App?

Krieger: A day-in-the-life of a facility manager typically involves responding to high priority work orders while constantly being disrupted by tenant complaints and critical building issues. The App allows our customers to insert data-driven insights and opportunities into the existing workflows and tools the facility manager is already using.

The Switch Automation Platform analyzes thousands of sensors in the building in real-time and detects issues that can impact energy, comfort and equipment performance. Most of our customers utilize a centralized team of technical experts to diagnose these issues and prioritize the appropriate actions for each site team.

With the mobile app, the facility manager's daily routine is enhanced, not disrupted. Now, instead of prioritizing work orders from tenant-generated complaints, they are prioritizing work orders from the data-generated Switch Platform. The mobile app delivers the results of automated fault detection rules in a language they are familiar with – a work order with priorities, tasks and due dates.

Over time, these data-driven work orders reduce the number of tenant-generated complaints and the facility managers transition to a proactive maintenance model that improves the overall building performance.

Sinclair: What makes the mobile app different?

Krieger: The Switch Automation App is a tool designed for facility managers. It focuses on the tools required to action the outputs of the complex analytics and root cause analyses being performed in the Switch Automation Platform.

The app equips a facility manager with data-driven Events that can sync with work order platforms. Notifications are sent when an Event is assigned to the facility manager, allowing them to open the Event details in the app to see the impacted equipment and conditions that are present (e.g., Supply air temperatures at the 3rd floor AHU are too high). Facility managers can upload photos, complete tasks and interact with their centralized support team directly in the app interface as they work through the issue.

Actioning the outputs of a smart building platform is an often overlooked and undervalued component of the program. The mobile app provides a user-friendly interface to implement change—ultimately to achieve the energy savings and comfort improvement goals.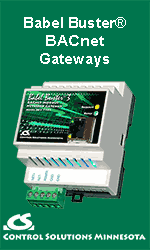 Sinclair: Who is the Switch Automation App for and where can we get it?

Krieger: Right now the App is available for Switch Automation customers and is available to download in the Google Play and Apple stores. We're happy to provide a demo to anyone who'd like to understand more about how to leverage mobile apps for more efficient building management.

Sinclair: So, what's next for Switch Automation?

Krieger: Our immediate focus on the mobile app was creating a tool that can enrich a typical work order process with smart building analytics. This will help our customers identify and work through building optimization opportunities to improve energy, comfort and equipment performance.

Our next step is turning the mobile app into a Continuous Commissioning (CCx) tool. We're building tools to engage facility managers with real-time alerts from our Fault Detection and Diagnostics (FDD) library with the ability to directly control equipment from the app. These enhancements will empower facility managers to respond to a prioritized list of FDD rules in real-time to maintain the building at the highest performance level possible.


---


[Click Banner To Learn More]
[Home Page] [The Automator] [About] [Subscribe ] [Contact Us]