---

Greg Fitzpatrick, CxA



Greg introduced the concept of the MSIP, or Multiple Systems Integrated Platform, as a way to connect all the BAS systems at the various facilities to one common software platform on the district-wide area network.






EMAIL INTERVIEW – Scott Cochrane and Greg Fitzpatrick, CxA

---
Interview | Scott Cochrane and Greg Fitzpatrick, CxA
When I first met Greg Fitzpatrick, he was the chief mechanical design and commissioning manager for a program management team that managed a 1.3 million dollar bond for a major school district with more than 100 facilities. Greg introduced the concept of the MSIP, or Multiple Systems Integrated Platform, as a way to connect all the BAS systems at the various facilities to one common software platform on the district-wide area network. Greg and I started working together on multiple projects throughout the district, and he was a leader when it came to moving the BAS platforms into IP connected infrastructure that allows the district to take advantage of all the new benefits available today.
Greg is now working with me at Cochrane Supply. He didn't apply for a job… I recruited him to help me educate the design community, and ultimately the BAS industry, on OT network design, installation, maintenance and much more. After just three years at Cochrane Supply, Greg has made a huge difference in the markets we serve. With his exceptional ability to educate, we now see over 50% of our current projects being IP-based flat architectures with networks—designed and installed by the mechanical community.
Cochrane: Not only do you have a fascinating career going, but you also have a fascinating personal life. Could you first give us a little glimpse into your personal life, especially with your kids and what you've accomplished with them?
Fitzpatrick: My personal life is really based around my three wonderful children. I have my daughter, Brianna, who's the oldest, my son Desmond, and my youngest son, Christian. My daughter graduated from Columbia College with a degree in marketing. Briana is currently working in her field in Chicago, in addition to working as brand ambassador for a few clothing lines. My two sons actually play wide receiver for the University of Louisville. Desmond is studying communications and wants to be a coach after he finishes his football career, while Christian is a business major. Dez will more than likely be drafted to play in the NFL next year.
With having one of our branches in Louisville, I spend a lot of time down there developing the market and our business in that area. As I result, I get to spend time with my two boys while I'm there and have grown close with the University of Louisville football program. So close, in fact, that this past summer the head coach invited me to come and speak to the team about the social unrest the players would experience through the season, how to handle adversity, and how to use the program to positively affect social change. The pride I could see in my two boys' eyes as I spoke to the team about my professional ups and downs along with emotional choices I've made to be who I am today was one of the biggest rewards I've experienced.
So that's where the majority of my time is spent. In addition to that, we spend a good deal of time on Lake St. Clair doing a lot of family stuff. Kayaking, paddle boarding, boating, and canoeing. My personal life is geared around a healthy lifestyle and trying to find the fountain of youth.
Cochrane: How did you end up in the controls industry?
Fitzpatrick: Well it's interesting, it goes back to when I started as a consulting engineer years ago. A major part of being a consulting engineer is that controls piece. Controls have always been their own discipline. Over the years, controls have become more and more sophisticated as technology has changed. When I met you in the early 2000s and you introduced the Niagara product to me, that level of sophistication sparked my interest. Previously, controls were more mechanical than they are now; there's far more technology involved in controls now than there was back in the 90s. Niagara introduced integration, and once we started talking about integrating those different schools, I was hooked.
Cochrane: Calling on consulting engineers, for most of them, the thought of moving to all IP control is a radical idea. Can you speak to what and how they're reacting now to that in terms of when you're approaching them with this concept?
Fitzpatrick: The reaction has been positive for the most part. I think positive reaction is due to the simplistic approach to how I introduce the technology to them. One of the things I try to do is let the consulting engineers know that this is a new phase and a new chapter in the controls industry. Our industry has taken another sharp left turn and this is a good time to get on board and learn the technology now that we're starting off fresh again with IoT, IP devices and a flat architecture.
Cochrane: What's the best way to communicate this message to them?
Fitzpatrick: My basic approach is to show things pictorially. When I'm pushing this technology out to the consulting community, I always arm myself with drawings and specifications that literally mirror the drawings. That's how consulting engineers think. They think in terms of contract documents. How am I going to get this design and concept on a set of contract documents? If I don't make it easy for them to understand the technology so they can get it on a set of contract documents, we're going to have an uphill battle.
I try to reduce the learning curve by showing topology drawings that explain every piece of hardware and software from a 30,000-foot level so they can put a set of documents together that fully conveys their design intent. If you dive too deep into the technology, nine times out of 10 you're going to lose them. If you teach them how to get it on a set of documents and your drawings match the specification that you're pushing out to them, they become incredibly receptive.
Cochrane: There's a lot to this… but can you simplify what is the biggest change when we move over to the flat architecture for the engineering community?
Fitzpatrick: In the new architecture, all of the devices are IP-based, so we're not running any subnetworks like MSTP or LON. Because everything is IP-based, they don't require a gateway device like a JACE, so we don't include them in the design—instead we just host software on a server that's secure and properly managed. It's a more simplified topology to understand for a designer. You can show the entire topology on one system's integration drawing. You can show the entire front end, along with all your equipment controllers, IP switches and network media required for all of the devices for every floor in every building. There's far less guesswork by the consulting engineer when you're about an IP topology as opposed to the traditional MSTP topology.
Cochrane: There seems to be a perception that when they move to a flat topology or IP devices, that the project becomes more expensive. Are these projects more expensive with the IP-based controls?
Fitzpatrick: Absolutely not. Because #1, these IP controllers are much more intelligent, which makes them a lot easier to program, set up and commission because all the software is right there. #2, you're standing up your own network, so all of these devices can communicate with each other instantaneously as soon as that network is set up. This allows the installer to continuously work on the project with no interruptions or delays while waiting on IT support. When the contractor is setting up the IP network, they don't have to wait for the IT department to start commissioning devices. When it comes to programming, set up and commissioning, it's a lot faster and a lot of systems integrators are seeing labor savings of 20% or more installing IP devices as opposed to all of the subnetworks when you traditionally install MSTP networks.
Cochrane: Without needing the gateways on the network, it's a cost avoidance right?
Fitzpatrick: Absolutely, you have fewer devices out there on your network. You have fewer devices, fewer connections and less programming time.
Cochrane: I recently focused you not just on educating the consulting engineer, but also educating the BAS community by making you a product manager. Can you speak to some of the new products you've brought into Cochrane Supply for this new flat topology and how are those products being accepted in the BAS space?
Fitzpatrick: We're selling servers, racks, and PDUs and I am currently developing relationships with all of those vendors. When we look at IoT and integration from a wholistic standpoint, you have what your traditional consulting community likes to call the front end. This includes your network/integration software, your server, your power distribution unit, your server rack, your layer three router, your network management switches, your physical firewall and any VPN devices. These are the products needed when you look at the front end or integration platform for any of these architectures that we mentioned.
Another product offering that has become relevant in this new time is cyber security. Not only do we provide secure managed IP switches and physical firewall, but we address cyber security with software products that ensure that the owner is adhering to certain protocols when it comes to cyber security for the life of the system. We also offer additional protection through our secure VPN key and lock products. I'm excited about all of these products and they give me the confidence to know that we can help design future proofed systems for any application that are totally secure.
Cochrane: As I mentioned, you've had success. We have now seen projects going in. How are the contractors responding to this change in direction from the design community?
Fitzpatrick: We're getting a very positive response from the contractors. Now that they've seen that there are products out there when it comes to an OT network and that they're easy to design and install and easy to manage, and they know that we as a company will support them in all three of those areas, we've had incredible feedback. We have customers coming to us and asking for design assistance on large enterprise-type projects and we've been very successful in helping them design those systems and get trained on those systems so they know how to manage those systems for their customers. And it's not just locally, integrators are reaching out from across the country for assistance on designing and installing these OT networks.
Cochrane: What about the end users? What benefits are they going to see from this new technology, as they are ultimately the ones who are going to live with this new system?
Fitzpatrick: What this does for the end user is provide them with a really good technology foundation for their buildings. Something that is going to future proof their building and allow them to take advantage of all the different applications that are available and on the horizon. There are applications available like analytics, asset tracking, geo-fencing, space utilization, location-messaging and more. With a lot of these services coming out, you need that integration platform for these applications to be deployed. Even if an application hasn't been developed yet, installing an IP network with the proper technology designed into it future proofs your building for at least the next 20 years. They also get access to a lot more information a lot faster. The systems are much quicker to respond, and because the devices are smart, you can move more data.
Another advantage is that by having their own OT network, or a dedicated IP network for building operations, they can put other software on there that they wouldn't be able to do on a traditional BAS network with MSTP and others. Now they have a server at their disposal that they can use to task for different software needs dedicated to the building without having to worry about a big IT departments to work with all the time. When the technology is there, your building becomes future ready.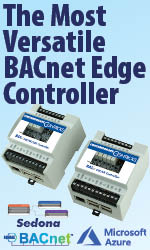 ---


[Click Banner To Learn More]
[Home Page] [The Automator] [About] [Subscribe ] [Contact Us]