Here come some multi-ton Chillers!
And they're not waiting for a protocol standard.

Nikki Cuban
Technology Marketing Planner
TXU Energy
---
"Wouldn't it be easier to have one system to monitor and provide control for all equipment for all buildings from a central location?" The answer is an undeniable yes! So, move over PDAs, laptops, and Web pads. The network is making room for "devices" like turbine generators, multi-ton chillers, thermal storage units, and other large on-site equipment.












As an energy services company, developing premier energy and building management methods is the core business, not hardware manufacturing or software development. However, applying technologies from those that do concentrate in this area are critical for continually enhancing the timeliness and cost effectiveness of managing buildings and performance of energy-consuming equipment. Once these "devices" are networked, super operators will be able to monitor and control their energy-consuming equipment for multiple buildings from one location. Finally, questions like, "How long until I need to change out this filter or repair this motor," can be answered faster, better, and with more control than ever before - as long as the different equipment or system protocols are standardized and interoperable (at some level).
The standardization of protocols and reliable interoperability between them will make optimizing building performance much easier than it is today. Instead of integrating between disparate systems, a standard protocol for uniform messaging will allow equipment manufacturers to focus more on functions and quality rather than proprietary media access layers. However, today's reality consists of a multitude of disparate and geographically displaced systems. Given history's lessons, this will likely be the reality for quite some time. For example, networks began communicating with TCP/IP (Transmission Control Protocol/Internet Protocol) as early as 1978. The early stages of TCP had been outlined as early as 1974. Not until 1983 were all networks that use TCP/IP defined as the Internet. Optimizing energy efficiency and building performance can not wait for a standard protocol to streamline processes between the power supply, energy-consuming equipment, and maintenance decisions. Enhancing these processes is critical now.
Today, communication between proprietary protocols can be integrated with an open system architecture that "standardizes" at the software layer. In other words, the flexibility of the system is based upon standard equipment and later integrated with software. Figure 1 provides a high-level overview of how heterogeneous data is transformed from one format to another so that it can be registered in a common database and read universally by the application or other systems. Adding new protocol drivers requires working directly with equipment manufacturers, system integrators, and software providers.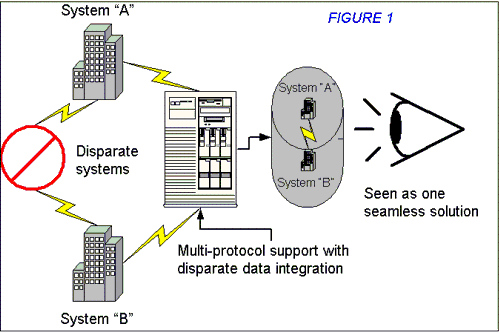 Transforming heterogeneous data so that it can be read universally by other systems is the critical factor that enables complete building management and maintenance of system health. For an energy company, the power supply data is as equally important as the data that defines equipment conditions. Without both perspectives, a holistic comprehension of the building operations is considerably more difficult. For example, one-time tests are used to detect equipment performance problems. However, testing often provides "symptoms" of a problem rather than a "cure." In many cases, power supply may contribute to equipment defects. Without the ability to analyze all information - energy and equipment - the root cause of the defect may not be clearly identified and minimizing the possibilities of reoccurrence is not as successful. In Figure 2, the neural engine is the key to providing operators with the tools necessary for high-level analysis and abilities to achieve a holistic understanding of building performance. It dynamically assembles the data from the various systems and creates relationships for trending, alarming or projecting conditions of the facility, its equipment, and commodity consumption.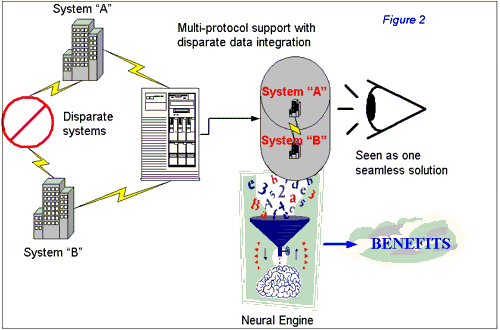 Since there is nothing artificial about the intelligence required to effectively manage commercial buildings or industrial facilities, relying on one technology to automate and enable more accurate preventative maintenance should be as much of a reality as interoperability is today. Optimizing building performance is a process and applying advanced technologies for better management is only part of it. Just as an automobile might experience a loss of water, the driver information center will signal that the tank is low, but lack the ability to define where the leak is, how it got there, and how soon before it will happen again.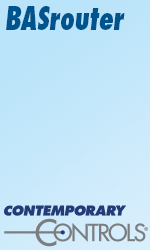 At TXU Energy, many technologies have been combined that enable control, monitoring, trending, and high-level analysis so that facility operators can integrate corrective maintenance, initiate preventative maintenance strategies, and manage them from a remote location using a common and intuitive user interface - intuitive to an HVAC or design engineering expert not a computer system architect. Super operators at the control center currently remote control equipment at sport arenas, school districts, commercial buildings, and manufacturing facilities. The system receives data from a variety of production and energy-related equipment as well as building automation systems. Of course, the process will be easier when a standard protocol for all equipment comes to fruition. But, until then, integrating disparate systems at the software layer is required in order to support the direction of cost savings for business owners today.
More discussion on the importance of an intuitive user interface and the use of the Web for on-line access to equipment conditions will be available in the November issue.
---
TXU Energy provides large commercial and industrial customers a full-range of energy, monitoring, and control solutions for optimizing operational performance. As part of the TXU family of companies, we are a global energy provider with more than 100 years of experience and eleven million customers worldwide - making TXU the largest energy services retailer in the nation.
---

[Click Banner To Learn More]
[Home Page] [The Automator] [About] [Subscribe ] [Contact Us]