---
| | |
| --- | --- |
| Editorial Comments by Ken Sinclair | |












Our New Energy Paradigm
October's issue speaks to the radical changes occurring in our industry at many levels. Our cover picture shows global thinking with an aggressive Building to Grid project where the Building and Electrical grid lines blur. For more on this project click here; Positive Energy Building in Masdar, Abu Dhabi.
Our North American reality is that our coal fired steam driven Electrical Grid has become a liability not an asset as it was once perceived. As we now know the miles of installed telephone wire complete with its Dilbert administration have also become a liability in allowing us to grow a leading edge wireless communication system like most of the third world. The electrical grid is broken and extremely fragile and can only be shored up with interactive building control technology that will greatly increase the intelligence of the existing grid. This process is going to involve a bit of dinosaur tipping to make utilities understand the urgency of the call for change. Much work is required by all but we who have control of the North America building energy use have the most to do.
Jack's article The NewEnergy Paradigm has a reference to NewEnergy in the title which has a double meaning because energy is new again, but also because the NewEnergy Alliance seems to be at the heart of a large number of opportunities. Anto talks in his article Buildings and ET about the past week and how energy leaders gathered in Washington DC and New York to try and understand the future of energy. In Tom's article The Enemy Within he discusses; Despite the building industry's efforts to place a greater emphasis on improving energy efficiency of buildings, the dreadfully slow pace of improvement is resulting in an ever widening gap between what is attainable and what is actually being attained.
In Andy's column Building BACnet he advises we also need to accelerate development in the BACnet community to address new requirements and accommodate new technologies.
In Paul and Ira's column Selecting the Systems Integration Contractor They advise the process that we use involves a formal "Request for Proposals" (RFP), allowing us to gather information and evaluate it in an impartial manner.
While defining The Demand Response Horizon Leighton J. Wolffe states The next frontier for DR is to move beyond curtailment to leveraging the power of building automation systems
An interview on Intelligent Buildings by Mike Williams tells us how implementing an intelligent building can result in a significant improvement in system operations, increased efficiency, and provide high-level tools for facility assessment and optimization.
In a interview with Ron Zimmer Convergence of Green and Intelligent Buildings he explains that the intent of our research is to provide documented evidence and build tools that can be used to educate and influence end-users, building owners, architects and contractors that a greener building can be achieved using intelligent technology.
All of these views plus the other October Articles, Interviews, and Columns speak to Our New Energy Paradigm
As always lots of new products, plus be sure to check our event calendar to see the number of events we have in our future.

Demand Response Needs You, me, and the rest of the BAS industry to make our rolling stock and lighting loads the dynamic part of DR.
How many kW can you provide to your Demand Response Program?
From Wikipedia, In electricity grids, demand response (DR) refers to mechanisms to manage the demand from customers in response to supply conditions, for example, having electricity customers reduce their consumption at critical times or in response to market prices.
It is estimated that a 5% lowering of demand would result in a 50% price reduction during the peak hours of the California electricity crisis in 2000/2001.
Crises of all kinds forge unexpected alliances, and the current energy situation is no exception. Our September 2008 theme is about the DR opportunity that we must all become part of. As you read the issue please question how you can be part of this opportunity.
Anto starts the discussion with Is DR Hype? Or, is DR real and a potential short-term game changer for building automation? In the article DR-Expo Comes To Ontario Peter Kelly-Detwiler and Rob Reale, Constellation NewEnergy tell us; Demand response is gaining increased recognition as an innovative solution to help address our growing energy needs. At DR-Expo in Toronto, October 6-7. Anno Scholten, of Novus Edge will be leading a track called "DR Technology Planning" While Christina Inge from Spinwave's give us her spin on DR on College Campuses.
Jim Sinopoli provides his help with a 8-Step Strategy To Making Existing Buildings Smart
Last month's most read interview was Growing Interest & Participation in Demand Response indicating our readers interest. This month Ahmad Faruqui discusses how Dynamic Pricing minimizes the use of expensive peaking capacity which sits idle most of the time
In addition to all this DR talk we have lots of other great articles, interviews and reviews about how the industry is positioning it self to be a major player in the DR opportunity.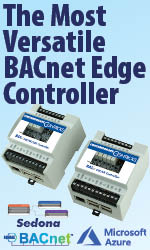 Plus four great September Columns The Green Gold Rush Andy McMillan, Programming Methods Steven R. Calabrese
It's all too cheap Toby Considine, Differentiating an Intelligent Building Paul Ehrlich & Ira Goldschmidt
As always lots of new products, plus be sure to check our event calendar to see the number of events we have in our future.
We have added a new Blog tab to our navigation menu which links to related industry blogs of interest. We created an Industry online Forum many years before blogging was conceived and have combined these.
Of course the news just keeps flowing thru our web site and RSS feeds daily, and of course the only way to truly find what you are looking for in the vast quantity of information on our site is with our site search engine http://www.automatedbuildings.com/search/sitesearch.htm
We have been working on improving our web site by reorganizing how we handle the great number of news release we receive daily. We now provide a

News Feed ( Which Needs a RSS Feed Reader ) and have provided a New Our RSS news feed rendered into HTML
Tell our sponsors you saw their ad on the AutomatedBuildings.com web site and thank them for supporting your free access to evolving Automated Building Industry information. Click on their ads and view their valuable products and services. Please review all Our Sponsors.
Plus lots of new products
It is a great time to be in the news business for our industry.
Send comments and suggestions to news@automatedbuildings.com
---


[Click Banner To Learn More]
[Home Page] [The Automator] [About] [Subscribe ] [Contact Us]