---

This "plug and play" system delivers power by flexible modular wiring, and low voltage components are connected with off-the-shelf cabling and jacks, the entire system infrastructure can be relocated, expanded, or contracted to meet changing requirements.

Michael Cole,
Product Manager
Convia-enabled Products
Legrand/Wiremold

White Paper
The most effective, sustainable buildings incorporate features that provide maximum space flexibility and effective energy management. These objectives are best met by a multi-functional platform that combines modular power delivery with an intelligent system to monitor, manage, and control energy use.















Until now, options for managing energy consumption focused on lighting, and ranged from panel-based systems to digitally addressable ballasts. Panel systems tend to be large and inflexible. The ballast-based approach is locked in at the fixture level and is not conducive to larger scale, comprehensive energy management. The Convia-enabled Wiremold system is an entirely new approach to energy management. It is comprised of two scalable, "plug-and-play" components: a modular Wiremold® power infrastructure and Convia® energy control and management.

The Convia-enabled Wiremold System

The backbone of the Convia-enabled Wiremold system is Walkerflex® modular wiring located above the ceiling or in an access floor. Power runs from the electrical closet to a modular distribution box that has from 4 to 12 connection points that accept modular cable sets. These cables are available in 3- to 10-wire configurations in either 10 AWG or 12 AWG. The system is UL listed in the U.S and Canada for 120V/208V and 277V/480V and 20A. Cable connectors feature pin alignment for a tight, worry-free connection.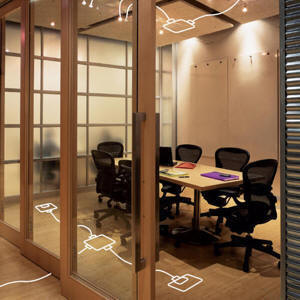 The power delivery system is "enabled" by the Convia network (ConviaNET), which includes a desktop Global Gateway, hubs, relay dimmers, power modules, and various other accessories such as sensors and switches which are linked by low voltage cabling (Cat 3 and Cat 5e). Each relay dimmer and power module controls and monitors energy usage. In this way electrical connectors supply power to electrical or electronic devices, while creating distributed zone control through the ConviaNET devices. The result is a system that can simultaneously execute multiple energy management strategies. For example, when someone enters a conference room, the occupancy sensor triggers daylight harvesting sensors to adjust the lights, turns on plug loads, and changes the thermostat set points.

When power modules are linked to electrical receptacles, the circuit's energy usage is monitored, controlled, and archived. The Convia-enabled Wiremold system has the capability to turn circuits on or off, dynamically balance loads based on set priorities, and shed loads on demand. The U.S. Department of Energy estimates that plug load represents 26% of energy use in commercial offices. Powering down non-essential devices when a space is not occupied can save up to 20% of annual energy use. This power module technology is also available in Wiremold floor boxes and poke-thru devices, thus enabling plug load control in areas that are not served by modular wiring.

Manage and Monitor Energy Use

The Convia-enabled Wiremold system is controlled by the desktop Global Gateway and/or a hand-held Wand. By pointing the Wand at two or more objects, the user can change the electrical association of the objects, allowing the system to be programmed to best fit the users' needs. The Global Gateway allows users to control or program the infrastructure remotely and enables building subsystems to interact and be controlled through a single interface.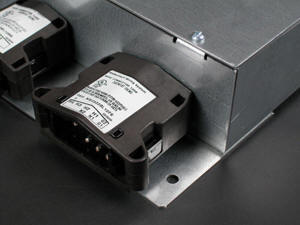 The Convia platform provides real-time information to manage and optimize entire buildings, zones, and individual workstations. Building managers set proscribed usage through presets, priorities, and other parameters, and the system automatically adjusts. They can also use the system to benchmark standards by selecting what they want to control and what standards to control against, such as Title 24, ASHRAE 90.1, and local commercial building energy codes. The results are available in real time and energy usage is tracked and archived for future reference.
The Convia-enabled Wiremold system can also interact with other building automation systems, such as HVAC thermostats, through a Convia Protocol Bridge. This translator enables data transfer between devices and networks using various serial, Ethernet, or LonWorks® protocols. An extensive library of protocol bridge drivers provides easy interoperability with devices and networks used in building automation, HVAC, fire, and process control.
The Convia-enabled Wiremold system offers several options in the degree of access and control provided to the people who occupy the space. Use of the Wand and access to the Global Gateway may be restricted. Or building managers may opt to provide some level of individual control. For example, people may be able to control lighting, HVAC, and other conditions in their own space.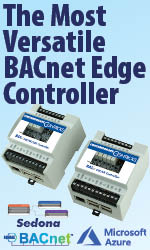 Long-term Benefits

In addition to functions like occupancy sensing, timed scheduling, and daylight harvesting, the Convia-enabled Wiremold system provides the depth of knowledge necessary for continuous commissioning. It also offers flexibility via the Wand and/or Global Gateway for reprogramming necessary for optimal space utilization. In contrast to conventional wiring and control systems, these changes are accomplished without breaking into walls and physically relocating or adding wires. Further, because this "plug and play" system delivers power by flexible modular wiring, and low voltage components are connected with off-the-shelf cabling and jacks, the entire system infrastructure can be relocated, expanded, or contracted to meet changing requirements.

The Convia-enabled Wiremold system offers demonstrable results. A recent study conducted by The Weidt Group, an independent engineering consultant, found that office buildings using a Convia-enabled Wiremold system can gain up to 30 percent in annual energy savings as compared to the ASHRAE standard 90.1-2007, the current energy benchmark for buildings.
Managers can also use the Convia-enabled Wiremold system to conduct analysis of occupancy and space utilization data. The Energy Track reporting tool records electrical use and occupancy data of any space in the system, enabling managers to measure how the space is being used. Based on space utilization trends over time, facility managers gain insight into which areas in a building are the most – and the least – productive.
A Convia-enabled Wiremold system may contribute up to 42 LEED points for LEED NC and 31 LEED points for LEED CI construction projects. The U.S. Green Building Council recommends that project leaders refer to their Rating System checklist for all possible points and contributions. This system also helps qualify a building for federal energy tax credits of up to $1.80 per sq. ft. of a building, of which $0.60 is associated with reduced lighting consumption. The Convia-enabled Wiremold system may also help a building qualify for local municipality energy credits where applicable.
---


[Click Banner To Learn More]
[Home Page] [The Automator] [About] [Subscribe ] [Contact Us]