---
Closing the Feedback Loop

What type of feedback is needed by each party?
Answering this question is a bit more complex.

Paul Ehrlich, Ira Goldschmidt & Angela Lewis
Building Intelligence Group
In control theory, a feedback loop returns an output to a control device in order to provide data to inform future outputs from the control device. This practice provides more accurate control and is often specified for projects. This same concept can be applied to the design and construction of building automaton systems, but in practice, the feedback loop in the design and construction process is often not closed. The output (results) of the process are never returned to inform future outputs (projects). While controls are part of most projects, somewhere between the initial control design concepts to actual operation, the project team forgot about the control system feedback loop.















As noted in previous columns we believe that advanced control algorithms are part of the solution to delivering high performance buildings. But the nature of projects often results in an open feedback loop between design, construction, commissioning and operations, which is one reason for ineffective use of advanced control sequences.
To determine how to close the feedback loop requires answering two questions:
• Who should the feedback go to?
• What feedback is needed by each party?
Depending on the project, the answers may be different. Here are some possible responses to the two questions:
Who should the feedback go to? Feedback could be provided to the:
• Mechanical engineer
• Controls integrator
• Controls contractor
• Programmer
• Commissioning agent
• Several or all of the above
What type of feedback is needed by each party? Answering this question is a bit more complex. It requires knowing what challenges were encountered during the implementation process, which parties responsible for what tasks and an honest assessment of why the challenges occurred. To start answering this question, we need to identify:
• Who wrote the control sequences, as well as level amount of detail and coordination of the sequences with other parties involved
• Who programmed the system, as well as level amount of detail and coordination of the sequences with other parties involved
• The scope of the controls commissioning services provided
• What information and training was provided to the control system operator
• Was risk and/or unknown information pushed down the process supply chain? – Meaning, was insufficient information provided to the contractor?
An honest assessment of these items helps to identify lessons learned and hopefully helps to prevent repeating the same mistakes in the future. Although the complete alignment of theory and practice may never be practical or possible, there is great opportunity to help close the feedback loop for control design, construction, commissioning and operation for building automation systems. If we are not willing to honestly identify current project and industry challenges, it will not be possible for the industry to provide answers to current and future needs of building occupants, owners, designers or operators.
Note that this month's column is courtesy of our associate Angela Lewis. She can be reached at angela@buildingintelligencegroup.com.
---
About the Authors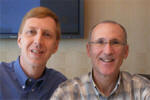 Paul and Ira first worked together on a series of ASHRAE projects including the BACnet committee and Guideline 13 – Specifying DDC Controls. The formation of Building Intelligence Group provided them the ability to work together professionally providing assistance to owners with the planning, design and development of Intelligent Building Systems. Building Intelligence Group provides services for clients worldwide including leading Universities, Corporations, and Developers. More information can be found at www.buildingintelligencegroup.com We also invite you to contact us directly at Paul@buildingintelligencegroup.com or ira@buildingintelligencegroup.com
---

[Click Banner To Learn More]
[Home Page] [The Automator] [About] [Subscribe ] [Contact Us]