---
As sustainable building increases, so does the need to educate the public about the importance of sustainability and energy efficiencies. With improved sustainable materials and more government funding available, health care, education and offices are expected to be the building industry's largest areas for new nonresidential green construction, according to FMI's 2008 U.S. Construction Overview.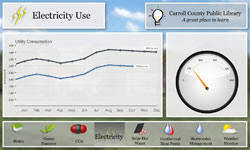 Once built, facilities want to see how energy efficient the buildings are, and share this information with building occupants, visitors and the public. Displaying a building's energy efficiencies or sustainable practices is a trend seen more and more in the green building industry. Using a solution such as an Energy Efficiency Education Dashboard (EEED) provides details on the building's energy efficiencies in a fast and easy to understand format. It can also help earn an Innovation in Design LEED certification credit from the U.S. Green Building Council (USGBC).

An EEED is a graphical user interface (GUI) that displays a building's resource use in real-time by "talking" to a building's automation system. It not only shows energy efficiencies, but serves as an educational tool that provides more information about the green features used throughout the building, photo-realistic graphics, company information and more. The Energy Efficiency Education Dashboard is offered by Quality Automation Graphics, an innovative leader in the design of user interfaces. This solution has been utilized by schools, a state capitol complex, libraries, a new McDonald's restaurant, and is in the development process for several universities.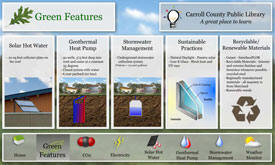 A recent example is an EEED created for the new Finksburg Branch of the Carroll County Public Library in Maryland. The Finksburg Branch opened earlier this year and is one of the first green buildings in Carroll County. Displayed in the library's lobby, the Finksburg Branch is using the EEED to educate staff and patrons on the new building's energy efficiencies, carbon footprint and green initiatives.

"We're delighted with the product both technically and artistically. It's so gratifying to see kids interacting with the dashboard and learning how we are helping our environment," said Scott Reinhart, the assistant director of Carroll County Public Library.

The information is presented in an easy to understand format, similar to a Web site, on an interactive touchscreen to show users the library's energy consumption in real-time. Users can also check the weather and learn more about the library's various green features, including a geothermal heat pump, storm water management, solar hot water and recyclable materials. Quality Automation Graphics worked with Johnson Controls, a global leader in building efficiency and power solutions, to integrate the EEED with the library's control system.

If you're interested in learning how you can use the Energy Efficiency Education Dashboard as a green education tool, visit http://www.qagraphics.com/interactive-development/energy-efficiency-education-dashboard or contact Sarah Erdman, marketing director of Quality Automation Graphics at serdman@qagraphics.com.


---


[Click Banner To Learn More]
[Home Page] [The Automator] [About] [Subscribe ] [Contact Us]