---

The fact is that most buildings are too complex to be evaluated on just energy consumption.

Jim Sinopoli PE, RCDD, LEED AP
Managing Principal,
Smart Buildings

Contributing Editor
"It is an immutable law in business that words are words, explanations are explanations, promises are promises but only performance is reality."
Harold S. Geneen, CEO of International Telephone and Telegraph, 1959-77
The answer to that question would seem pretty obvious. We measure the performance of a building based on its energy consumption, comparing its consumption against some base minimum energy performance such as the ASHRAE/IESNA Standard 90.1. The larger the improvement over the base energy performance the higher the building is performing. If a new building has exceeded the estimated base performance by 42% or an existing building by 35% (LEED criteria for optimizing energy performance) they have reached the highest level of building performance. But what if an existing building has exceeded the base energy performance by 35% but is unsafe, or unprofitable or is not satisfying it occupants? Is it still a high performance building?















Energy consumption and sustainability are critical in buildings, but the view that only energy defines a building's performance is myopic. Given the high energy awareness that statement may sound like heresy. But the fact is that most buildings are too complex to be evaluated on just energy consumption. If you where shopping for an automobile, would you base your buying decision solely on miles-per-gallon or kilometers-per-liter of gasoline? If so we'd all be driving single-seater cars with 4-cycle engines. Building performance needs to be defined broader, more holistically. Aside from energy and sustainability we need to examine other factors of a building's performance. While energy and sustainability are important unto themselves, they also influence or affect some of the other building performance factors. These factors may include the following:

Financial Metrics
It may seem crass to shift from saving the environment to money, but all buildings from modest houses to the tallest skyscrapers have financial aspects. Buildings are a business with whole industry sectors dealing with design, construction, management and investments in buildings. Financial concerns cut across the lifecycle of a building; the construction or acquisition cost of the building, the buildings operations costs and the asset value of the building.

While there's not a standard similar to ASHRE/IESNA to benchmark minimum financial performance of a building, there is data on comparable buildings which could be used to judge whether the building is above or below average financial metrics of similar buildings. For example the Building Owners and Managers Association (BOMA) annually publishes the Experience Exchange Report which is based on data collected from thousands of buildings. The report allows users to examine expenses and income for similar type buildings in a common locale or submarket. The examination of basic balance and income reports for a building for profit and loss, increases or decreases to income, expenses and asset valuation can be used to judge financial performance. Also, while energy and sustainability initiatives have a social and resource conservation basis, the impetus for many is financial. That is a large part of the motivation behind conservation, alternative energy sources, demand response and so forth is to save money.

Security and Life Safety
Buildings must provide the physical protection of its occupants and assets. This includes protection from crime, vandalism, espionage, fire, accidents and environmental elements. Typically a security threat assessment of the building is conducted and then measures are identified and deployed to deter, detect, delay, mitigate, or notify of any attempt to injure, damage, modify or remove an asset or person. These measures are put into place in three ways: the building systems, architectural countermeasures and security operations. The building systems needed to provide security and life safety include fire alarm, video surveillance, access control and intrusion detection. Architectural countermeasure include landscaping, doors, lighting, vehicular standoffs and air intake. Building security operations include emergency preparedness, training, policies, training, patrols and so forth. So the security performance of a building is measured on regular threat assessments of the building, optimal operation and testing of the security related systems, prudent use of architectural countermeasure and a fully functional security operation. Security and life safety are affected by many different factors such as location and age of the building, composition of the building occupants, climate, economic conditions and education levels. Data on the number and type of security incidents in the building, trends in incidents, crime statistics for the area, and occupant surveys can be used to evaluate the security performance of a building.
Operational
Efficient and effective operation and maintenance of a building is critical to its performance. It includes a variety of tasks: space planning, work order processing, energy management, asset management, management responsiveness, systems performance, provision of specific space needs and requirements, cleaning, training of staff, management of contractors, etc. Data from organizations such as BOMA and the International Facility Management Association (IFMA) allow building owners to compare the operations of their building with other comparable buildings to evaluate their building performance. For example, IFMA can provide information on gross and rentable square footage by industry type and facility use, square footage per occupant, janitorial costs and staffing, maintenance costs, roads and grounds costs, utility costs, life and safety costs, emergency and disaster planning costs, FM information technology costs, employee amenities costs and best practices. So one way to evaluate the operational performance of a building is to gather operational data on the building and compare it to the operational metrics of similar buildings.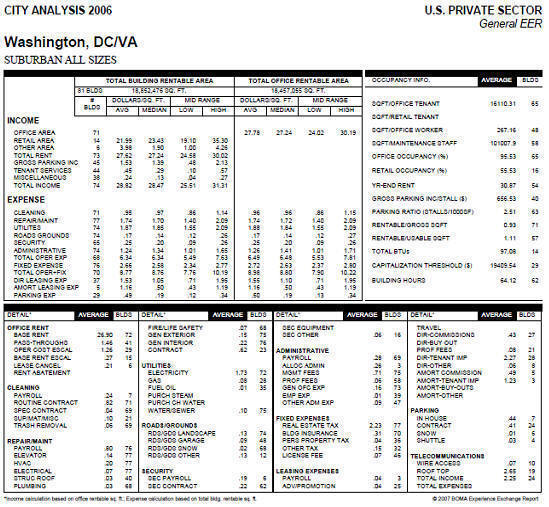 Productivity and Satisfaction of Building Occupants
Buildings enable their occupants to work, play, meet, shop, sleep, eat, socialize, educate, learn and a host of other things. So one of the performance criteria of a building should be how well it succeeds in enabling its occupants. This involves the comfort of the occupants, both physically and psychologically. The physical part is straightforward involving thermal comfort, appropriate lighting for the occupants' activity, the occupant's control of the lighting and air distribution, the workspace layouts and the technology systems available to the occupants to make their tasks easier. These technology systems may be systems for digital signage, Wi-Fi, in-building cell phone coverage, asset location systems, audio video systems and so forth. The physiological effect may relate to the building's image, appearance and aesthetics.

Another measure of building performance is the productivity of building occupants. The largest effect on productivity over the last several decades has been technology and the Internet which reduce the time to access information, perform tasks and communicate. The workspace itself also plays a very important role. In a 2008 Workplace Survey conducted by Gensler, they found that effective workplace design directly correlated to improved business performance. Gensler created a Workplace Performance Index that accounted for the criticality of the work mode, the time spent on the work and the effectiveness of the space for the particular work mode (work modes are activities such as collaboration, focus and concentration, learning and socializing). They accounted for the physical attributes of the space: layout, lighting, air, storage, furniture and access/privacy. What they found was that top-performing companies had workplaces with higher performance indices. They also found employees with workplaces with higher performance indices had greater job satisfaction and organizational commitment and were more engaged with their organization, all very positive to the businesses and organizations. The metrics and methodology of evaluating the satisfaction and productivity of building occupants has been developed, and at the core it is a survey of people that use the building. The feedback from people using a building, whether they are office workers, shoppers or teachers is invaluable input to building operations or the design of the next building.

It would be nice if there was a whole building performance methodology as quantitative as ASHRAE/IESNA 90.1 is for energy performance. Short of that building owners will need to use comparable data, interviews, observations, surveys, tests and demographic and financial data to evaluate other building performance factors. Note that there may be other measures to consider in a building's performance than the ones covered and other methodologies to develop those performance metrics. The point is that while energy performance is certainly an important one, the vision needs to be broader and more holistic.

For more information about smart buildings, technology design or to schedule a Continuing Education program, email me at jsinopoli@smart-buildings.com.
---

[Click Banner To Learn More]
[Home Page] [The Automator] [About] [Subscribe ] [Contact Us]