---

Stay Cutting Edge with Visual Representation


Sarah Erdman,
Marketing Director
QA Graphics
Visual representation is important for your business both externally and internally. Externally, it's obviously better if you can present your business in a way that's attractive to customers. Internally, it's just as important for education, training and the improvement of day-to-day procedures. With the graphic capabilities available today, visual representation has become a key component to remaining competitive in the global marketplace. Concepts can be brought to life, demonstrating even the smallest of details.















Luckily, you can access quality graphics and diversify your business offerings without being a design expert or having someone on staff full-time. Outsourcing your graphics needs is both cost effective and efficient, allowing you to focus your time where it's needed most. But who do you rely on for accurate solutions? In technical industries it can be difficult to find the right design group to accurately demonstrate your work. Design firms that are solely "creative" won't be familiar with your business or technical requirements. It's important to find a design company that can not only make great looking graphics, but that can also clearly illustrate the information that you are trying to convey.

When choosing a firm to outsource work to, it's important to look for a company that is knowledgeable in the industry and can offer a variety of services that will in turn allow you to diversify your skill set. One highly used design source that provides a variety of solutions for the building automation and green building industry is QA Graphics. The company's design team is comprised of a variety of technical and creative backgrounds, ranging from mechanical engineers, graphic designers, 3D designers, architects, and flash developers to offer system graphic design, BIM design and drafting services to ease the day-to-day workload. The company also offers eye-catching solutions like energy dashboards, 3D demonstrations and graphical user interfaces that are commonly used to market products and services. This broad range of experience allows you to access creative solutions competitive to other design firms, as well as the technical knowledge and familiarity with building concepts that is required to help you effectively showcase your products and services.

Working with designers that have a technical understanding of building concepts greatly simplifies the design process. At QA Graphics for example, most of the system graphics are developed by mechanical engineers to provide an accurate representation of building systems. The designers typically work from schematic flow diagrams or electrical diagrams to create the corresponding data points and display building system information, like alarms, equipment temperature, chilled water flow, etc. Understanding these basic concepts allows them easily interpret the drawings as well as troubleshoot potential issues.

A variety of integrators, engineers, facility managers, and building owners come to QA Graphics for solutions that realistically demonstrate technical features in a way that's easy to understand. "Because our designers understand building concepts, they can provide solutions that are creative as well as accurate from a technical standpoint," said Russ Zimmerman, VP of engineering/operations at QA Graphics.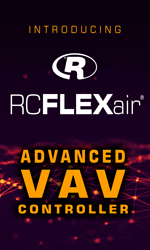 "This knowledge also helps us resolve potential issues early on. When reviewing control drawings, we can recognize if something is misplaced, like a sensor for example," said Zimmerman. "It's helpful that our designers can recognize issues like this ahead of time, so we can point it out to the integrator for adjustments before completing the graphics."

Businesses in the building industry also utilize QA Graphics' 3D creative services to demonstrate how equipment works or to showcase sustainable initiatives. By relying on a joint effort from designers with engineering, architectural and creative backgrounds, you can obtain solutions that creatively convey building concepts in a way that's easy to understand. A technical background allows the designers to create realistic visualizations of a variety of processes. By working together, they understand what the main areas of focus should be, allowing them to create realistic visualizations of how different processes work. For example, the transfer of energy can be shown in a way that's easy to understand. A demonstration can be created to show the transfer of energy from solar collectors to hot water tanks, which is then used to heat and cool a building.

Having several designers with architectural backgrounds and LEED accreditation on staff provides an understanding of green building fundamentals and the U.S. Green Building Council's LEED certification process. This knowledge allows the designers to create interactive solutions like energy education dashboards or 3D demonstrations that can then be used to educate building occupants and the public about sustainable initiatives. A number of organizations utilize these types of solutions when applying for LEED certification as it can qualify for Innovation in Design credits.

As the industry continues to evolve, proper visual representation is key to ensure you remain competitive in the market place. Utilize effective marketing solutions and ensure your internal resources are not only accurate but easy to understand. To learn more about how you can access creative solutions to improve your day-to-day business, visit www.qagraphics.com or contact serdman@qagraphics.com.

---


[Click Banner To Learn More]
[Home Page] [The Automator] [About] [Subscribe ] [Contact Us]