ASHRAE, DOE Partner to Promote Energy Efficiency












ATLANTA - Improving the efficient use of energy while minimizing its impact on the environment is the goal of a partnering agreement signed by the American Society of Heating, Refrigerating and Air-Conditioning Engineers (ASHRAE) and the U.S. Department of Energy (DOE). Through a memorandum of understanding signed Oct. 31, ASHRAE and the DOE will work together to improve the efficient use of energy and the viable and widespread use of renewable energy sources and to minimize the impact of energy use on the environment. "ASHRAE energy standards have guided the efficient use of energy resources in buildings for more than 20 years," Richard Rooley, FREng, ASHRAE president, said. "Partnering with the Department of Energy will allow us to improve on our efforts in achieving substantial energy savings without sacrificing comfort, air quality or productivity."
---
Save Energy, Improve IAQ With Displacement Ventilation
ATLANTA - While displacement ventilation has the potential to improve indoor air quality and save energy, it has not been widely used in the United States. But its potential for use is great, due to existence of large core offices in many U.S. buildings that are isolated from the external climate and that need cooling. A 10-step guideline for use by designers in designing displacement ventilation systems is featured in a book from the American Society of Heating, Refrigerating and Air-Conditioning Engineers (ASHRAE). System Performance Evaluation and Design Guidelines for Displacement Ventilation is the result of an ASHRAE research project by Qingyan Chen, Ph.D., professor of mechanical engineering, Ray Herrick Laboratories, Purdue University, West Lafayette, Ind., and Leon Glicksman, Ph.D., professor of building technology and of mechanical engineering, Massachusetts Institute of Technology.
---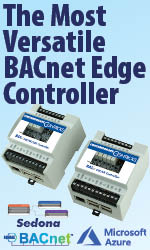 ASHRAE Seeks Proposals to Write Standard 62 Users Manual
ATLANTA - Making it easier for users to meet the requirements of ASHRAE's ventilation standard, thereby improving indoor air quality for building occupants, is the objective of a proposed users manual currently out for bid. The American Society of Heating, Refrigerating and Air-Conditioning Engineers recently released 14 proposals for research projects in the areas of design tools, energy conservation, high risk, innovative and emerging technologies, indoor air quality, comfort and health, operating and maintenance tools, and refrigeration systems for bid. Projects are scheduled to begin April 1, 2004. Among them is a project to develop a users manual for ANSI/ASHRAE Standard 62-2001, Ventilation for Acceptable Indoor Air Quality.
For more information on the above visit www.ashrae.org
---


[Click Banner To Learn More]
[Home Page] [The Automator] [About] [Subscribe ] [Contact Us]