---
Designer unwritten benefit with Open Building Automation Systems is standardisation.

Paul D.J. Mason, C.E.O.
BWP plc
This is the eighth of 9 articles where we are introducing the cost benefit for interoperability and that gained from the procurement technique achievable with open systems and choice. There is now a bonus 10th article in Operational Costs for the VBHQ, available in February. The 9th article is now for January 2005 and is a real live case study of a fully integrated building in London.
October's article Win-Win with Open Systems Building Automation
September's article Buying Open Systems
August's article Open Systems Standards
July's article LonMark International and the LonMark System
June's article More Intelligent Building and save money, VBHQ part 2
May's article Intelligent Intelligent Building, VBHQ Part 1
April's introductory article Cost Comparison Model Open vs Proprietary












Last month, October's WIN WIN, we advised designer benefits:

One fundamental design suits all.

Modular and Scaleable design is inherent.

Infrastructure is most important, the infrastructure must provide for equal access with standard connectors and using standard cables e.g. Cat 5 or on the back of a modular wiring system. These cables and connectors are from any number of suppliers and are ideally installed in a structured wiring style. The required function includes being able to be connected without any extra hardware, simply a standard plug and cable connection.

A commodity is something that works standalone and is complete with everything necessary to carry out its function. Commodity products or package plant, i.e. lighting control units or air handling unit complete packages are the great benefit of this system design and should be developed for everyone's benefit. Components, commodities and equipment can all be simply plugged onto the cable systems at any time at inception or in future for choice and best cost.

The Head End can be selected to a variety of specifications including none at all; this process leads more and more to convergence.
<![if !vml]>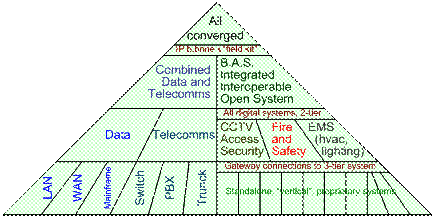 <![endif]>
In business, consultants hold themselves out as leading mechanical and electrical engineering consultants who are skilled and experienced in carrying out those works as appointed. In legal terms the design consultant must exercise their professional skill and care to a level that can be expected of a reasonably competent and skilled mechanical and electrical consultant in providing their engineering services.
In simple terms if no one else is specifying Open Building Automation Systems then no one can be wrong! However if the majority of systems specified are Open B.A.S. then those that are not specifying Open B.A.S. will be in the wrong! This point may end up retrospective in that consultants typically guarantee designs for 12 years. It may be the case after 5 years into a design that a Client has an issue with their building. At this point an expert will advise what was available at the time of the design, what was reasonable to do and with hindsight at that time what should have been considered or what should have occurred. If it is proven that a reasonably competent and skilled m&e consultant should have considered standards and openness rather than a lock in to a well established lock-in scenario then that consultant could be at fault and may have to pay for the failure.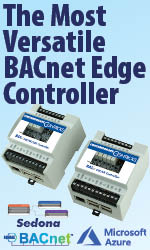 It will be the case soon that the LonMark System will be European Standard EN14908, and will have an annual update and improvement system. In future the LonMark System will be proposed to ISO. KNX is EN50090 and BACNet is ISO 16484-5 and XML standards are being processed by OASIS in the oBIX initiative, OASIS have been setting E-business standards since 1993. Standards will be in place and designers will have to be aware and properly trained.
It is a condition of most design contracts that standards are adhered to, if ones insurer were asked "is it OK to not use the national standard" then the clear answer will be "why do you not want to use national standards", expert opinion will then be needed!
Even so the design arguments are not strong for not designing Open B.A.S. The twenty year argument for the systems being so special and only understood by the proprietors is only true if one accepts that all the equipment has to come from one supplier. Of course that supplier's equipment will only work with its own equipment; this argument for only one supplier has been stretched to the limit. Of course you will have to buy the maintenance from the proprietor! In a business sense Open B.A.S. is simpler and quicker, there is one modular scaleable design for all solutions; that is to say there is one thing to learn and a few rules to deal with in design. It must be the case that specifiers must deal with their own education and the fact of ever increasing convergence and standardisation.
To begin that education here are a few tips on early design (pre-design is before a network integrator is retained, the aim is to get enough design done to appoint a network integrator):
Subnets and head-end connection should never have more than 3 hops through routers

Subnet is to get to IP as quick as possible

Design the biggest backbone infrastructure possible for the project

Subnets are simply designed with 42 nodes and leave headroom to 64 nodes

Set up subnets with as many interacting elements as possible e.g. PIR and lights

Devices should be certified to standard, e.g. LonMark System, this allows interoperability

Plant devices should be network ready, ideally, e.g. variable speed drives, air handling plant, chillers, boilers, electric meters, everything and as many as possible, interfacing to controllers should be minimised, as much network ready package plant as possible should be provided by the suppliers (this puts OEM market available to the controls suppliers)

Loose controls will be picked up, e to m electrical installation, all by a systems integrator

Network Integrator will do the software customisation
Designer unwritten benefit with Open Building Automation Systems is standardisation.
<![if !vml]>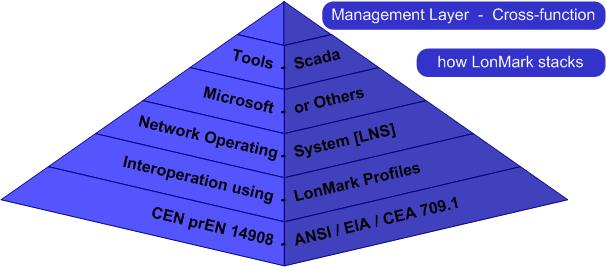 <![endif]>
Next release
Come back for a Case Study comparing traditional /conventional costs with a real building as against Open B.A.S., this is for the January issue.
This will followed in February by a bonus article on the operational costs, comparing traditional /conventional costs with Open B.A.S. for the VBHQ
The programme we have for you continues to run as follows:
1. April "Intro"
2. May "VBHQ part 1", or go to www.LonMark.org follow the VBHQ motif
3. June "VBHQ part 2", or go to www.LonMark.org follow the VBHQ motif
4. July "LonMark International" and the "LonMark System" , or go to www.LonMark.org follow the VBHQ motif
5. August "Open Systems Standards", or go to www.LonMark.org follow the VBHQ motif
6. September "Procurement Advice" or go to www.LonMark.org follow the VBHQ motif
7. October "Everyone Wins" or go to www.LonMark.org follow the VBHQ motif
8. November "Consultants Design Notes and Openness is Safer" or go to www.LonMark.org follow the VBHQ motif
December - no paper
9. January "Case Study, New Burlington Place, London"
10. February "Operational Cost of the VBHQ, by Turner and Townsend"
---
About the Author
Paul D.J. Mason B.Eng (Hons), C.E.O. at BWP plc who are based in London and the East Anglia region United Kingdom. BWP have an affiliate office, DWP, in Paris, France. BWP is a niche high quality building services consulting engineering design service company and specialist in "green" engineering. BWP currently employ 27 people. Paul (45) has a career encompassing Marine Engineering Royal Navy, the Property Services Agency of the UK Department of Environment, University as a mature student, and since 1989, with 2 private sector building services design companies "CJP" and since 1997 "BWP". Since 1999 BWP primarily specify the LonMark System.
BWP are members of LonUsers UK, Associate members of LonMark International, the Intelligent Building Group, the British Council of Offices, Building Services Research and Information Association, Chartered Institute of Building Services Engineers and the Association of Consulting Engineers. Paul is an invited Contributing Editor through 2004 with www.automatedbuildings.com.
---

[Click Banner To Learn More]
[Home Page] [The Automator] [About] [Subscribe ] [Contact Us]