---

EMAIL INTERVIEW Steve Smith & Ken Sinclair
Steve Smith, Director of Sales and Marketing, Honeywell Utility Solutions
Steve Smith is the director of sales and marketing for Honeywell Utility Solutions — specialists in delivering turnkey utility projects for energy conservation, demand response and meter automation. Steve has been helping utilities develop and implement innovative programs for more than 16 years. Steve has an MBA from Northeastern University, as well as a bachelor's degree in Electrical Engineering from the University of New Hampshire.
---
Demand Response Thermostats
Honeywell UtilityPRO is a new touchscreen programmable thermostat built especially for utility-sponsored demand response programs.











Sinclair: What is demand response?
Smith: Utilities implement demand response programs to help limit energy use at specific peak times, when demand strains the electric grid and results in higher prices for both utilities and their customers. One way to reduce demand is by installing smart thermostats or other load control devices in homes and small businesses. These devices allow the utilities to cycle equipment like air conditioners on and off for short periods of time.

By having control over peak energy use, utilities are able to stabilize costs, reduce the need for additional power plants, and avoid disruptions like brownouts and blackouts. In return for their participation, customers usually receive a break on their monthly bill or a free programmable thermostat, which can help drive their energy costs down.
Sinclair: Why are these programs necessary? Why don't utilities just build additional plants to meet customer demand?
Smith: Generating new power used to be the default option when the demand for electricity started to creep toward or eclipse the available supply. "Need more power? Build another plant." However, times have changed. For example, peaking plants now costs up to $1 million per megawatt of generation capacity. Environmental concerns make nuclear power — which has the greatest return on investment — less popular, attractive and possible. Plus, power transport is increasingly difficult due to constrained distribution systems and infrastructure. That's why demand response and conservation programs are on the rise and more and more necessary.
Sinclair: What is Honeywell UtilityPRO?
Smith: UtilityPRO is a new touchscreen programmable thermostat built especially for utility-sponsored demand response programs. It adds the latest load control functionality to Honeywell's award-winning, best-selling programmable thermostat. This combination makes it attractive to utilities and homeowners. As a result, it can help fuel program participation and give utilities greater control over peak energy use.

This now provides homeowners with a thermostat that is simple to use and effective. Its intuitive logic and menu-driven programming help users maximize energy savings while maintaining comfort. The thermostat also offers top-of-the-line features like touchscreen interaction and a large, easy-to-read backlit display.

Along with the usual demand response capabilities, the thermostat helps utilities maximize the link to homeowners and improve customer service. Specifically, utilities can send customized text messages through the thermostat with information like weather forecasts and updates on other conservation programs. In addition, this new thermostat can provide customers with billing data, including current rates and month-to-date charges.
Sinclair: How is it different from other demand response thermostats?
Smith: There are three key features that make UtilityPRO unique. To start, it is the first demand response thermostat with a touchscreen display. And the display is just one feature in an award-winning, best-selling design. Honeywell is bringing the latest thermostat technology to utilities and their customers.

Utilities can send customized messages to homeowners. Other thermostats on the market have text-messaging functionality, however, they are limited to a set of predefined messages.

In addition, this thermostat can provide customers with billing information, including current rates, month-to-date charges and year-over-year usage comparisons.

Honeywell also plans to add two-way communication capabilities to the thermostat, which will give utilities in depth insight into energy use at the household level. This capability will allow integration with emerging smart grid technology.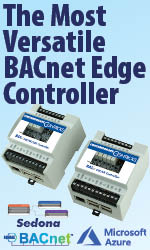 Sinclair: Are any utilities currently using the new thermostat?
Smith: The thermostat won't be available until late second quarter. However, Baltimore Gas and Electric recently selected UtilityPRO to be part of a comprehensive demand response program — one of the largest of its kind in the United States — that Honeywell will help the utility deliver. Along with the thermostat, Honeywell will provide marketing, installation and call center support.

BGE and Honeywell expect to enroll an estimated 420,000 customers in the program, almost 50 percent of the residential customer base with central air conditioning. This is 20 to 30 percent above typical demand response participation. BGE estimates its demand response program will reduce more than 600 megawatts of peak energy use by 2012, equivalent to the generation capacity of a small- to mid-sized power plant.
Sinclair: Honeywell is well known as an energy services company, but its work with utilities may not be as familiar. What is the company's experience in demand response?
Smith: Honeywell has 25 years experience designing and implementing demand response programs for utilities. We have installed more than 950,000 load control devices to date, which makes us the largest residential demand response implementer in North America. However, installing thermostats, switches or other devices is just one component of a program. Honeywell also helps utilities with:

- Planning – We provide input and direction at the outset of a program so utilities know what to expect in terms of costs, timelines, enrollment and results.
- Implementation – We support the launch of a program with help in everything from program management and marketing to customer enrollment and reporting.
- Service – We provide service support on an ongoing basis to help keep customer satisfaction at the highest levels.

Along with demand response support, Honeywell provides smart metering, and energy and water conservation solutions to utilities.
---


[Click Banner To Learn More]
[Home Page] [The Automator] [About] [Subscribe ] [Contact Us]