---

EMAIL INTERVIEW - Peter Kelly-Detwiler & Ken Sinclair
Peter Kelly-Detwiler, Vice President of Energy Technology Services, Constellation NewEnergy
Peter Kelly-Detwiler is Senior Vice President of Energy Technology Services for Constellation NewEnergy, Inc., a subsidiary of Constellation Energy Group (NYSE:CEG). He and his company-wide team oversee the integration of efficiency technologies and applications which help customers better manage their total energy bills and create optimal energy solutions. His current focus is NewEnergy's advanced load response initiative which will support the development of thousands of megawatts of load response among NewEnergy's North American customer base.
---
Buildings as Virtual Peaking Plants
The NewEnergy Alliance, is committed to driving innovation in the industry that will create smarter, more energy responsive buildings.











Sinclair: You've written a lot this past year about the need to create virtual peaking plants that can deliver capacity to the electric grid during times of peak demand. Can you elaborate on where participating companies can look to harvest the load in their facilities?
Kelly-Detwiler:: Absolutely. There are a variety of automated building systems that represent prime load-response assets. Most familiar, of course, are heating, air conditioning and lighting systems. Given that the need for reducing load is most frequently on the hottest and brightest days of the year, turning off unnecessary lighting not only lowers lighting usage, but also reduces AC needs, making it an immediate "go to" for load curtailment. Building operators and facility managers can put their buildings into a better position to shed load by combining these automated systems with manual adjustments such as the set point of a thermostat, perhaps from 22°C to 24°C.

However, the definition of a load-response asset can be expanded well beyond these two opportunities to include any electricity load capable of being dropped, moved, or reduced during a specified time period to a level below what it would typically consume.

Load-response assets are further characterized by a series of simple questions:

• How many kilowatts (kW) can be dropped?
• How long and how much advance notice is required?
• How many times per day, week, month, or year can the load be reduced?

As you can imagine, the value of a load-response asset increases with reaction time, length of drop, and the number of times the process can be successfully repeated. Constellation NewEnergy is working closely with the NewEnergy Alliance, a group committed to driving innovation in the building automation industry that will create smarter, more energy responsive buildings, and Lawrence Berkeley National Laboratory (LBNL) to develop protocols and standards for appropriate load shedding strategies for a multitude of building automation systems. LBNL has done a lot of research in this area and developed a library of best practices. Constellation NewEnergy is leveraging this existing work to make it easier for Alliance members to develop and implement load shedding strategies.
Sinclair: With energy fast becoming the new driver behind enterprise-wide inter connectivity, a new set of acronyms has been introduced to the conversation about sustainable buildings. Take a moment to explain some of the more important terms of art to us.
Kelly-Detwiler:: It is an alphabet soup out there but some of the more important acronyms and terms are the following:

• ISO: Independent System Operator. ISOs serve the electricity needs of a single-state or multiple-state region. Each ISO is responsible for dispatching power generation and monitoring power flow, development and oversight of power markets and managing resources for future needs. The Federal Energy Regulatory Commission (FERC) oversees these independent organizations. Each ISO has its own load response programs, with unique needs, rules and requirements for participation. Some are emergency only programs to supplement capacity shortages, others address frequency issues, and some are voluntary programs for economic purposes.

• RTO: Regional Transmission Organization. RTOs perform similar or expanded ISO services across a multi-state area and are responsible for maintaining and operating a specific power grid to meet regional electricity needs. RTOs watch over seven regional power grids in the US, including New England (New England ISO), New York (NY ISO), the Mid-Atlantic (PJM Interconnection), Mid-West (Midwest Independent Transmission System Operator), Southwest (Southwest Power Pool) Texas (ERCOT ISO) and California (California ISO). Actual demand response events are regional in scope, initiated within one RTO.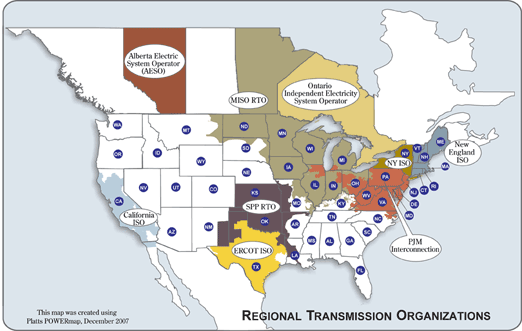 Caption: Regional Transmission Organizations (RTO)/Independent System Operators (ISO) Map
Source: Federal Energy Regulatory Commission

• Curtailment Capability: The amount of electricity a load response participant is able to shed at the time when the electricity grid is under stress. Prior to electric system stress, a load response customer works with an aggregator to enroll a predetermined amount of energy with the ISO that they are committed to reduce when called upon. This committed reduction capability determines the amount of financial incentives the participant earns both before, during and after the time of electricity grid stress.
Sinclair: What exactly is a load response event and how are folks compensated for participating?
Kelly-Detwiler:: An ISO's load response has been a program designed by independent system operators to help prevent blackouts and brownouts on the hottest or coldest days of the year when energy is at peak demand. A load response event is the actual command to curtail load by the ISO or utility. The reason for the event, amount and duration of the event and, most importantly, the compensation for participating in an event vary from program to program. Our role in this is first, to work with large electricity customers to commit and enroll load into the program. Then, we facilitate the load shed strategy and compensation from the utilities back to the customers for that curtailment.

Constellation NewEnergy is already active in every region of the country where ISOs, RTOs and utilities are sending out commands to curtail load on the hottest or coldest days of the year. But this does not even begin to leverage the full capabilities of today's intelligent building systems. Constellation NewEnergy is working with the NewEnergy Alliance to introduce innovative load-response technologies that leverage advances in software and building-automation technologies to harness the energy load in our built environment and deliver energy assets to the grid in times of opportunity – what I refer to as price responsive buildings. Simply put, these buildings will be able to curtail load in response to market signals that are continuously streamed into the building.

Energy is a highly volatile commodity so it is essential to connect the dots between the supply and demand sides of the energy equation in conjunction with establishing and automating shed protocols. Once this has been put in place, building systems can automatically curtail or shave load when prices are high, in effect selling commodity onto the spot market like an actual electricity generator and reaping a comparable financial reward from their energy harvest.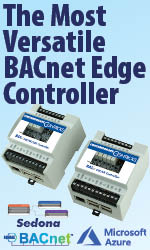 Sinclair: How does this differ from the approach taken by other load response providers?
Kelly-Detwiler:: While there are a number of companies that provide basic demand response services principally by turning equipment off or flipping on generators, these are limited applications that usually operate independently of BAS systems, and they do not address the more sophisticated approach required of modern integrated energy supply and demand solutions. Additionally, from a sustainability perspective, some of these approaches involve firing up polluting fossil fuel-based generators to supply more electricity to the grid.

We see a longer-term business model emerging in which BAS work collaboratively with a competitive energy supplier like Constellation NewEnergy to elevate their product and service offerings to include demand side energy solutions. To make this model a reality industry/BAS needs to develop and apply new control strategies that effectively curtail load at peak periods while still maintaining critical considerations such as air quality, code compliance, and regulatory standards for building operations. By working closely with BAS providers on several pilot projects over the past six months, we found that not only can these critical needs be met, but significant load shifting and curtailment can occur without reducing comfort. These pilot programs are encouraging, and we hope to share some of our results with you in the near future.
Sinclair: How do you see Load Response contributing to a more sustainable and reliable electric grid?
Kelly-Detwiler:: We're all in agreement that transmission and distribution is not coming on line fast enough to meet our growing demand. In fact, U.S. energy needs are forecasted to increase by more than 20 percent over the next 15 years, while planned transmission systems are anticipated to grow at a mere 3.5 percent. Clearly, there needs to be a significant shift in how we bring more energy online when and where it is needed. We are increasingly convinced that Load Response and a robust partnership between energy providers and the BAS industry, as represented by the NewEnergy Alliance, will be an important component to a more reliable energy grid in the future. The building automation systems are already in place to receive event and price driven signals to reduce demand during critical peak periods. This delivers a one, two, three punch: alleviating pressure on the grid, reducing carbon emissions, and greatly improving the overall energy efficiency of buildings. And, if that isn't enough, the savings that customers realize from this new approach to energy management can be redirected into renewable energy purchases, as well as other long-term energy initiatives, making Load Response an all around winning solution.
---


[Click Banner To Learn More]
[Home Page] [The Automator] [About] [Subscribe ] [Contact Us]