---
Articles - August 2018

Our authors provide insight into our rapidly evolving industry.
Please take the time to read their valuable articles.

Honeypots Honeypots are one of the latest tools being used to lure in unsuspecting hackers into a trap. These systems are designed to mimic original data hubs, but instead, capture the methods being used to track better and block system attacks. - Peter Chipkin, President, Chipkin Automation Systems Inc.

Where to Get a Building Automation Degree In this article, we highlight a select few universities that are at the forefront of building automation system (BAS) curriculum. - Scott Holstein, Marketing Manager, Computrols

Where is SedonaDev.Org? The SedonaDev.Org website no longer exists. - George Thomas, President, Contemporary Controls
Technology and The Five Pillars of Asset Management After years of applied learning, speaking with tens of thousands of industry members and making this my passion, I've developed a framework that splits Asset Management into five identifiable pillars that can help future technologists navigate the asset management landscape. - Logan Soya, CEO and Founder, Aquicore
Research Suggests Stress Can Increase Productivity Sparking New AI Debate - James McHale, Managing Director, Memoori
Analytics at Edge By incorporating "analytics at the edge," facility management operations can rapidly accelerate processes, reduce data storage and data transfer costs and improve system resilience and performance. - Marc Petock, Chief Communications Officer & Vice President, Marketing, Lynxspring
Is our industry Building-IoT ready? How Amazon, Google, and Apple will change building automation for years to come. - Pook-Ping Yao, CEO, Optigo Networks
EnOceanŽ Wireless Ambient Light Energy Harvesting CO2, Temperature and Humidity Sensor - Mike Schell, VP Marketing & Business Development,AirTest Technologies Inc.
2018 Voice Buyer's Guide: Smart Building Edition - Ken Herron, Chief Marketing Officer, UIB
When Will Smart Buildings Make Hearts Sing? The world is awaiting the Smart Building that can make an emotional connection to those living and working inside. - Therese Sullivan, BuildingContext Ltd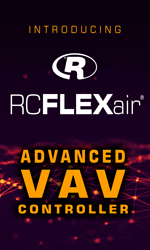 Columns - August 2018
Back To BASics – Point Selection - Ira Goldschmidt, P.E., LEEDŽAP, Engineering Consultant, Goldschmidt Engineering Solutions

Study Part 3- Why Good Images Matter - We know for a fact that good images that are properly labeled win more clicks in searches. - Manny Mandrusiak CD. Vocational Rehabilitation Consultant, Vancouver Island Works Project

Choosing a Light or a Black Mirror When we consider how buildings can manipulate our emotions, we also are considering how our emotions can manipulate buildings. - Toby Considine, TC9 Inc

Building Emotion Connects the Physical, Virtual, and Emotional Worlds - A new virtual medium to purportedly communicate between the dead inanimate building and living humans. - Ken Sinclair, Editor, AutomatedBuildings
Edge-Bots That Will Learn Emotion It was great to get feedback on the excitement of the potential mash-up of a fixed physical asset and its emotional contents creating the new identity Building Emotion. - Ken Sinclair, Editor, AutomatedBuildings

Building Emotion at AHR Expo The 2019 Show will be held in Atlanta, hosting more than 2,100 exhibitors and attracting crowds of more than 60,000 industry professionals from every state in America and 165 countries worldwide. The Show provides a unique forum for the entire HVACR industry to come together and share new products, technologies, and ideas. - Ken Sinclair, Editor, AutomatedBuildings
---


[Click Banner To Learn More]
[Home Page] [The Automator] [About] [Subscribe ] [Contact Us]