---
| | |
| --- | --- |
| | Kathy Neumeyer Technical Writer at |
Contemporary Controls Showcases BACnet-Compliant Products AHR Expo 2022
Be sure to visit Contemporary Controls' Booth C974 in the Central Hall to see our suite of new and updated BACnet-compliant products. Also, visit us at the EnOcean Alliance Booth C1180 to preview our new EnOcean to BACnet Gateway. Finally, be sure to catch our AHR Expo Educational Session, "Cloud-Connected BACnet Controllers with Drag/Drop Programming and IoT Capabilities," on Tuesday, February 1, at 4:45 p.m.
Here is a preview of some of our most popular products:
BACnet Routers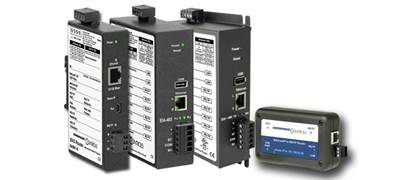 The BASrouter series of BACnet multi-network routers provide stand-alone routing between BACnet/IP, BACnet Ethernet, and BACnet MS/TP, thereby allowing the systems integrator to mix BACnet network technologies within a single BACnet internetwork. New features include built-in BACnet diagnostic capabilities with visual analytics MS/TP status table, routing status table, network errors count, and traffic statistics. This allows the integrator to easily install robust BACnet networks and drastically speed up troubleshooting.
The BASrouterLX is a high-performance BACnet router which includes advanced features, such as MS/TP Backbone, Backward Routing, Allowlist option for enhanced security, MS/TP slave proxy support, and MS/TP frame capture and storage for use with WiresharkŪ. The BASrouterCX is similar to BASrouterLX but with a built-in LTE CAT1 modem and VPN support for installations at remote sites.
Original Design Manufacturing Products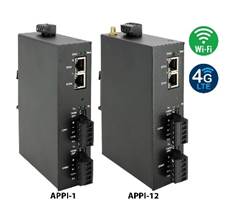 Contemporary Controls offers original design manufacturing (ODM) services which leverage our comprehensive design and manufacturing capabilities to deliver customized networking and control devices that customers can brand as their own proprietary product.
We are displaying our APPI Automation Platform, which is a robust and powerful hardware platform built upon the high-speed Raspberry Pi Compute Module 3+. Intended for non-stop automation projects, the Automation Platform includes two isolated EIA-485 serial ports suitable for BACnet MS/TP, Modbus RTU, or other serial protocols. Also included are two 10/100 Mbps Ethernet ports, DIN-rail mounting, and convenient powering from shared 24 VAC/VDC power sources. For wide-temperature operation, our APTI model offers operation from -40°C to+75°C. Both models–APPI and APTI–are FCC, FE, and EMC compliant and can be configured with an optional daughter board to provide Wi-Fi, LTE/4G, or EnOcean wireless communication.
We are also showcasing our RTU38 Advanced Rooftop Controller, which is a 38-point rooftop controller with dual Ethernet ports and an isolated MS/TP port that provides BACnet/IP and BACnet MS/TP client/server capability. A powerful CPU with a Linux OS makes this an ideal controller for OEMs who want to develop custom equipment for applications, such as economizers, demand control ventilation, variable air volume control, and multi-stage heating and cooling.
EnOcean to BACnet Gateway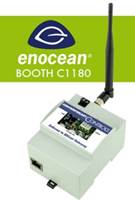 For customers interested in energy harvesting, be sure to visit the EnOcean Alliance at Booth C1180 to preview our EnOcean to BACnet Gateway. This gateway allows users to easily integrate their EnOcean sensors and actuators to a BACnet/IP building automation network. Each EnOcean device appears as a virtual BACnet device and EnOcean output devices can be controlled via BACnet.
In addition, EnOcean IoT experts will be demonstrating "self-powered wireless sensor solutions that deliver the required data for intelligent HVAC installations." EnOcean is a world leader in energy harvesting wireless technology with multiple HVAC solutions that lower installation and maintenance costs.
AHR Expo Educational Session
Contemporary Controls' new product and technology presentation entitled Cloud-Connected BACnet Controllers with Drag/Drop Programming and IoT Capabilities is hosted by Bennet Levine, the Research & Development manager at Contemporary Controls. This free session is on Tuesday, February 1, from 4:45 PM - 5:05 p.m. in Theater A - N253.
The BASiot-Edge is our new rugged edge controller with 12-points of I/O and easy to use IoT functionality with many other features usually found on supervisory devices. During the presentation, you will learn about the controller's ability to communicate to AWS, GCP and Azure, its drag and drop Sedona component-based programming, BACnet/IP and MS/TP ports and their ability to read/write points from other BACnet devices, the dashboard graphic features, email alarms, scheduling, and much more.
For more details about Contemporary Controls' booth at AHR 2022, check out Contemporary Controls - 2022 AHR Expo (mapyourshow.com).
Kathy Neumeyer Technical Writer at Contemporary Controls
---


[Click Banner To Learn More]
[Home Page] [The Automator] [About] [Subscribe ] [Contact Us]