---
The Winter Issue of Project Haystack's Connections Magazine is Here!

Latest issue of the organization's community driven magazine

By
Marc Petock, Executive Secretary
John Petze, Executive Director


www.project-haystack.org




The Project Haystack Organization has published the latest issue of the organization's community driven magazine, Connections Magazine. A complimentary copy can be downloaded here:
https://marketing.project-haystack.org/images/connections-magazine/Project-Haystack-Connections-Magazine-Issue-10-January-2022.pdf
The issue's theme, Data. Our New Asset, reports on the latest activities presented by the global Project Haystack members and practitioners. This 10th issue includes contributions from Tridium, J2 Innovations Conserve It, the DLR Group, the Epsten Group, Lynxspring, Energocentrum Plus, PADI.io, CloudBlue, and BuildingFit. Several of the articles were written by end users including design consultants, commissioning experts, smart building consultants, property managers and developers – all of whom are demanding smarter, interoperable solutions and recognize the importance of standardized data tagging. This issue also focuses on companies that are responding by providing Haystack-compatible products, solutions, and services.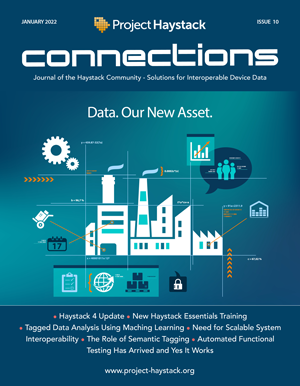 Also included, are updates from Project Haystack Working Groups with sections dedicated to Tools for Developers and Integrators, How to Get Involved, and a curation of social media about Member Projects, Practices and Products, and a directory of all Project Haystack Members. The issue also includes profiles of recent new member companies.
In addition, the 70-plus page issue includes information on the release of a new Haystack Essentials eLearning Course sanctioned by Project-Haystack.org and offered by Fantom Factory. Designed for anyone new to Project Haystack, the course covers what Haystack Tags are and provides the understanding on how to apply them to a basic site model. Using interactive exercises, users can practice applying these tags into example scenarios and models.
Project Haystack's comprehensive, open standard for semantic tagging of data, has been embraced worldwide and is playing a leading role in making device data interoperable by providing the industry with a standard metadata model, tools, reference implementations and educational materials, all developed by a true open-source community. Growing membership in the organization and continued global instances now estimated to be over 40,000 facilities worldwide, all point to the growth and acceptance of the Haystack standard. Facility owners, operators, managers, and service companies recognize that a standardized approach to semantic data modeling has been key to overcoming the hurdles related to effectively using data produced by the built environment.
More information along with additional resources are available on the organizations Web site,
www.project-haystack.org
.
See you in Vegas Monday, January 31st, 2022

The Role of Data in Achieving Smarter Buildings - and Haystack's Role in Making Data Interoperable 12:30pm to 1:00pm:
Data has become a critical asset for the built environment. When captured, normalized, tagged, and analyzed, data can enable a true transformation on how we manage and operate our facilities. Accessing and making effective use of data from existing operational systems is a critical element of all smart building initiatives.
Today's increased access to data from equipment systems and a new generation of IoT devices presents new opportunities to improve the efficiency and sustainability of our facilities, however, having access to data is only the first step in making meaningful use of it. Capturing the meaning of our data and representing that meaning in a uniform way is the key to deriving benefit from facility and equipment data.
John Petze, Executive Director and Marc Petock, Executive Secretary of Project Haystack discuss the use of semantic tagging and its key role in making data interoperability across different systems and applications. in determining what data is relevant, how to standardize it, how to give it common context, how to streamline it to unlock the data's true value and how it enables a true transformation on the way we manage and operate buildings. The presentation will also provide an update on the latest work of the Project-Haystack.org.
Host - Marc Petock & John Petze

https://ahr22.mapyourshow.com/8_0/sessions/session-details.cfm?scheduleid=224

---

[Click Banner To Learn More]
[Home Page] [The Automator] [About] [Subscribe ] [Contact Us]