---
| | |
| --- | --- |
| Editorial Comments by Ken Sinclair | |

is a very busy month, with two of our industry major events almost colliding. AHR Expo is later this year, (February not January) and BuilConn is earlier (March not April) and XML Symposium has its own day in Orlando so we have a tremendous amount of industry information to share with you. As well as writing about these events I am personally involved with presentations at all of them. Dave Branson and I have our four free education sessions at AHR Expo, plus AHR Expo is the time of year when our industry introduces new products and services and has always been a busy time to be in the news business. I am moderator for the XML-Related HVAC Industry Initiatives Session 10:45 - 12:00 Wednesday, February 9th at the XML Symposium as well as a track leader for CaseStudies@BuilConn. Our interview section is bulging with industry leaders' views on open system integration issues that will be presented at BuilConn. Be sure to give them all a read.
Our feature article Beyond Commissioning: The Role of Automation explores the power of our open automation systems to automatically commission on an on-going basis as conditions demand. Michael R. Brambley and Srinivas Katipamula, Pacific Northwest National Laboratory
You have a lot of reading to do in this issue to catch up with our rapidly evolving industry, and as I have outline in my February Engineered Systems column The Only Thing Constant Is Change.
January and February 2005 have been great months for us with our total visits to our magazine well over 40,000 per month and lots of new sponsor plus requests for increase ad spaces from our existing sponsors. Thank you industry we are please to be your B2B magazine.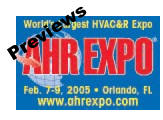 As we start our 7th calendar year for AutomatedBuilding.com, I am proud of the hundreds of industry articles that we have published which originally seemed like future watch but now have become the reality shaping our industry. Our original mission statement for AutomatedBuilding.com has not changed and we are very proud of that. When we started our online magazine we did not know that the Internet would have such a profound effect on all our lives. From the beginning I could not even image that last month I would subscribe online to a IP phone service for our company and that owning software would become unfashionable and would be replaced with Application Service Providers (ASP) or hosted solutions like those talked about in this month's article Online Time Management.












We could not see that networking of everything, open protocols and defining the path to convergence would dominate our web site content.
But last month's favourite article Web Services – A New BACnet Standard ASHRAE SPC 135 adds Web services to BACnet by Steve Tom, and a close second in total reads by the article ZigBee or Not ZigBee indicates that we are all about networking and convergences.
Look at the subject matter of this month's articles and interviews if there is any question.
Devices that integrate many open protocols, Protocol Solution BACnet, LonWorks, Modbus, Metasys and ZigBee protocol solution.
2005 the year of XML? Anto's article's title says it all.
Robots replacing people, Automating Large Building Security Using Robotics
Networked digital signage become part of building automation ( Wow! I sure did not see that coming) Lessons Offered By New York Subway Digital Signage Network
A wireless networking standard? Gads we are still struggling with open system wire based protocols.
A New Bee in our Industry No! It's not the return of the killer Bees, it is the ZigBee Alliance for wireless networking
Nationally Controlled Building Automation with a low enough cost to entice the fast food industry
Would You Like Fries With That? Automation Takes a Bite Out of the $400+ Billion Commercial Food Service Industry
January's Interviews carry on the theme The Zigbee Revolution - Update on oBIX - Building Open Systems Seminar
2004 in Review - Intelligent Building Ranking System
This month's review provides Sneak Preview of New Book - Web Based Energy Information and Control Systems A new Book is posed to be publish this spring. Barney has shared a bit of information with us so we can provide you some insight into the new book. The Table of Contents which is provided at the bottom of this review lists the author or authors of each chapter and reads like a who is who of our industry's mover and shakers.
Also lots of new products in our January issue be sure to check them out.
As always there are lots of other great articles, interviews and sneak previews is this issue.
Check out

and our newest sponsors.
Thanks to all Our Sponsors for allowing us to provide our industry online information service to you for free.
Send comments and suggestions to news@automatedbuildings.com
---


[Click Banner To Learn More]
[Home Page] [The Automator] [About] [Subscribe ] [Contact Us]