It has been a fun filled few months since the start of AutomatedBuildings.com. We are suffering a little bit of vertigo from the learning curve but the industry support has been great. A special thanks to all our subscribers. Your support has been most encouraging and shows us that there is a need for the information that we are assembling. Our first issue showed our general direction, and this July web site launch issue contains input from the Automated Building Industry. I am pleased with this month's articles and general web enhancements. Please feedback your thoughts as well as the kind of information you would like to see in your internet resource. Help us get known to the world by telling a friend or colleague if you find the resource useful, if not tell us.
Our August 99 update includes interesting News/Press Releases. Check out the Hartman Loop and China Markets. A new section has been added to Press Releases called New Products. In this section we will try to keep you abreast of the rapidly evolving market. Also as requested, we are setting up a Want Ads Section on the Resource bar which for now includes Employment Opportunities and Dealers Wanted sections. We are pleased that the industry is using us to communicate with the industry. In addition to the above changes we have reworked the Link Library adding 15 new links plus several new sections; Actuators Dampers & Valves, Input Output Devices Sensors & Relays, LonTalk& LonMark End Device Products, and Installation Manufacturing Products. A new section Humidifiers has also been added as these devices are often supplied by the automation industry and are a integral part of good environmental control. We have added an Industrial Control Companies section because of the convergence of our industries. Much of the evolution occurring in the industrial sector is also occurring in automated buildings and in the future I will be adding sites that have interesting approaches to common problems.
A special thanks to BACnet guru Michael Newman for helping us introduce AutomatedBuildings.com and for providing a link from ASHRAE's automation resource for the industry the BACnet web site at http://www.bacnet.org/.
As you can see we have been busy responding to your requests and look forward to continuing to shape AutomatedBuilding.com into your internet automation resource.
Our next issue of the Automator is September 1st and part of our theme will be Y2K so please get your articles in early to news@automatedbuildings.com.
A special thanks to our friend Tom Hartman for preparing a great article just for us for the launch of AutomatedBuildings.com's July issue. The article NETWORK CONTROL: A NEW PARADIGM FOR HVAC deals with the leading edge thinking that we have come to expect from Tom. Visit Tom's web site, it is a great resource of new age thinking.
Articles provided by Gerry Lands and David Wolins of EnFlex Corp, Tom Zaban,VP Marketing Reliable Controls, National Sales & Marketing Manager, Strand Lighting (Canada) Inc, Richard Goode and Michael Wilbourn, Alerton Technologies Inc also contribute significantly to our July launch issue. The article by Donald A.Coggan offers a summarized, simplified explanation of intelligent buildings.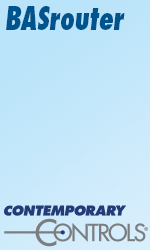 Three Product and Software reviews for Belimo, EnFlex, and Tim's Tools have been provided for this issue. We intend to make this a regular feature of our emagazine.
Headlines and Press Releases are a valuable source of info for professionals and consumers. Have a look at the releases to get an idea of what is happening in this industry. Keep checking back to the press release section during the months to come as we post new information as soon as we get it.
Our connection to the industry through our link library is continually upgraded with new links added daily. We have reduced the wording at the top to allow easy access to this great resource.
We are also always upgrading our events calendar so take a look.
This is not just a spectator sport, please send your articles, new releases and new product information to us. Click here to see article format. If you are pushed for time send us an email and we will format your message to the industry and your clients. Take a look at our When Automation becomes Art article which originally was an email.

---


[Click Banner To Learn More]
[Home Page] [The Automator] [About] [Subscribe ] [Contact Us]