---
"Pushing Digital Dinosaurs"


Our June issue theme is "Pushing Digital Dinosaurs" The theme is about the end of several eras and the beginning of new ones full of change



Ken Sinclair

Founder, Owner, Publisher AutomatedBuildings.com
Our June issue theme is "Pushing Digital Dinosaurs" The theme is about the end of several eras and the beginning of new ones full of change. Can we push start the traditional Digital Dinosaurs, or herd them out of our way if they can not change and adapt????? . We all need to question whether we feel something pushing on us.....big smile.
I do. If you do not feel the pushing then you do not understand the change upon us. From the Head Dinosaur 😁
I will start the Sinclair-Saurus with quotes from my article of 21 years ago
The first year of AutomatedBuildings.com
As the space in time seems familiar to me, I wrote I had better get on with my life's vocation of catching up.
Digital Dinosaur
Does Dallas

could have been a title for a low-grade horror movie but proved to be a significant growing point for us. Our involvement in The State of the Art Building Automation session at the AHREXPO helped us both inform and be informed about the rapid web growth as well as the exciting topics of evolving communication standards. We discovered that our greatest asset was the fact that we dropped out of the sky without the normal connection to large manufacturers or publishers. Once we convinced the industry that our intentions were honorable and that we wanted to build an automated building web resource the support was phenomenal. ( Our 21 years of continuous education sessions at AHREXPO.com was interrupted this year when Chicago likely to be the biggest event ever, was cancelled by the Covid Curse and we are all hoping for safe return to Las Vegas for 2022 )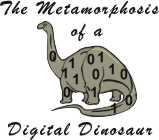 "I have been on the leading/bleeding edge of the building automation industry for over 30 years. I have seen pneumatic control give way to electronic, electronics turn into main frame computers as big as refrigerators, mainframes give way to mini computers the size of suitcases, mini computers evolve to stand alone panels the size of clipboards which gave away to micro panels the size of pocket calculators, and now input and output devices become addressable. Now that the hardware had virtually disappeared and the migration of DDC control to the Internet had started it seemed that the next edge was here and I had better get on with my life's vocation of catching up.
Amazed by the implied simplicity of the Internet I was frustrated by the lack of organization of our automation industry. My special interest was how net web browsers would be used to present building automation graphical information anywhere. As I assembled a great number of bookmarks/links pertaining to this subject, it occurred to me that I might not be the only person trying to make sense of this wonderful new world. This new virtual medium had the power to allow organized and logical presentation complete with industry interaction. The potential opportunity to pull the Automated Building Industry together as a virtual community excited me.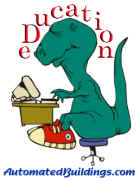 A blur of our past 22 years for you to catch up,

From Y2K to 2021
Click on 3D for a fly over is a few minutes
This evolved into my and the industries Education with non stop linking to relative pieces of industry information and history and
sharing with industry magazines like connected contractor
As you see I have a Dinosaur fixation, but what has really changed in 21 year? Clouds have come closer and with easier access at lower cost , Powerful Edge computers replacing micro processors bring amazing capabilities , AI's influences is everywhere, Data is the new utility and is
king, Occupants are our new controlled variable their well being is our well being mobile experience and abundance of API and APPs ..Wireless wave washes over all very quickly.
I feel the return of the excitement of the past 21 years, the explosion of dot com the following dot bomb folks investing in vapor ware and a whole new way that would change our world Mobile Apps increasing our Mobile experience and expectations
It is now about
Building a Digital Family of Trust
New technologies are solving old problems while creating new concerns.
Dinosaur Slayers like our contributing editor Nicolas
have been whispering at first but now is shouting about and changing environment that is hazardous to dinosaur thinking in this
LinkedIn post great discussion breaks out about the changes Artificial Intelligence will bring.
This is what the more evolved "the dinosaur-pushers" are talking about these days. Thank you James Dice, I feel you pushing... Big Smile.
Sometimes it is just too hard to get a word in edgewise during our 10-way conversations! Still they are fun conversations! Feel privileged to be a part.
I just wanted to make a few points:
1) the dinosaur-pushers have a new phrase "API-First Buildings IoT" --
Check out this James Dice conversation:
Followed up with this discussion
The API-first Data Layer [Nexus newsletter #75]
Leads to this article back on our web site
How building digitalization is changing the Master Systems Integrators focus area
—Google's Sabine Lam on a horizontal system architecture and what that means for a building's service provider roles.
"MSIs are a key element to a successful deployment of this solution. Their role is evolving towards a much more security and data driven focus area where OT protocols are being replaced with everything communicating IT (MQTT/UDMI) and where the data modeling aspect is a means to enable applications across an entire portfolio instead of specific to one building."
Sabine was one of the speakers
The Greatest BAS Show on Earth!
never seen before products, software, and CONCEPTS that will shape the next decade in BAS technology! This
BUSINESS TRACK For sales professionals, managers, executives How to Successfully Utilize Master Systems Integration
This track focused on case studies and implementation plans relating to Master Systems Integration, highlighting instances of how people are hiring or working with Master Systems Integrators. It will additionally, highlight best practices/current trends on how the industry is evolving to take advantage of new technology amidst modern challenges, like data management.
Scott Cochrane - President & CEO, Cochrane Supply & Engineering – President, Canada Controls
Jim Young - Founder & CEO, Realcomm
Ken Sinclair - Editor, Owner, & Founder, AutomatedBuildings.com
Robert Reale - Managing Director of Strategic Operations, CBRE
Sabine Lam - Building Operating Systems Global Lead for Real Estate and Workplace Services, Google
Donny Walker - Partner, Newcomb & Boyd
Bobbie Tincher - Utilities Systems Manager, University of Kentucky
Want to learn more?

The great thing about virtual events is the ability to easily record and capture all of the extremely valuable content and then have it accessible long after the live event comes to an end. The Controls-Con team received such incredible feedback about the content presented and questions about how others might be able to access it, that the team decided to open up the opportunity to register for a Post-Controls-Con Access Pass. With this post-event pass, you'll be able to view all session recordings, download speaker PowerPoints, and view and download sponsor resources and content. Click here to purchase your Access Pass at a discounted rate of $99—an amazing offer for 16 hours of building automation and integration education. As a speaker and moderator of Controls-Con, I've been given the capability of providing 10 complimentary Post-Event Access Passes to my readers which will be honored on a first come, first serve basis—so I encourage you to act fast since there has been a high demand. Simply email events@cochranesupply.com and mention this article, and you will receive a comp code response if you're within the first 10 requests.
Here are a few power point screen captures but you need to listen to the complete sessions and download & understand the power points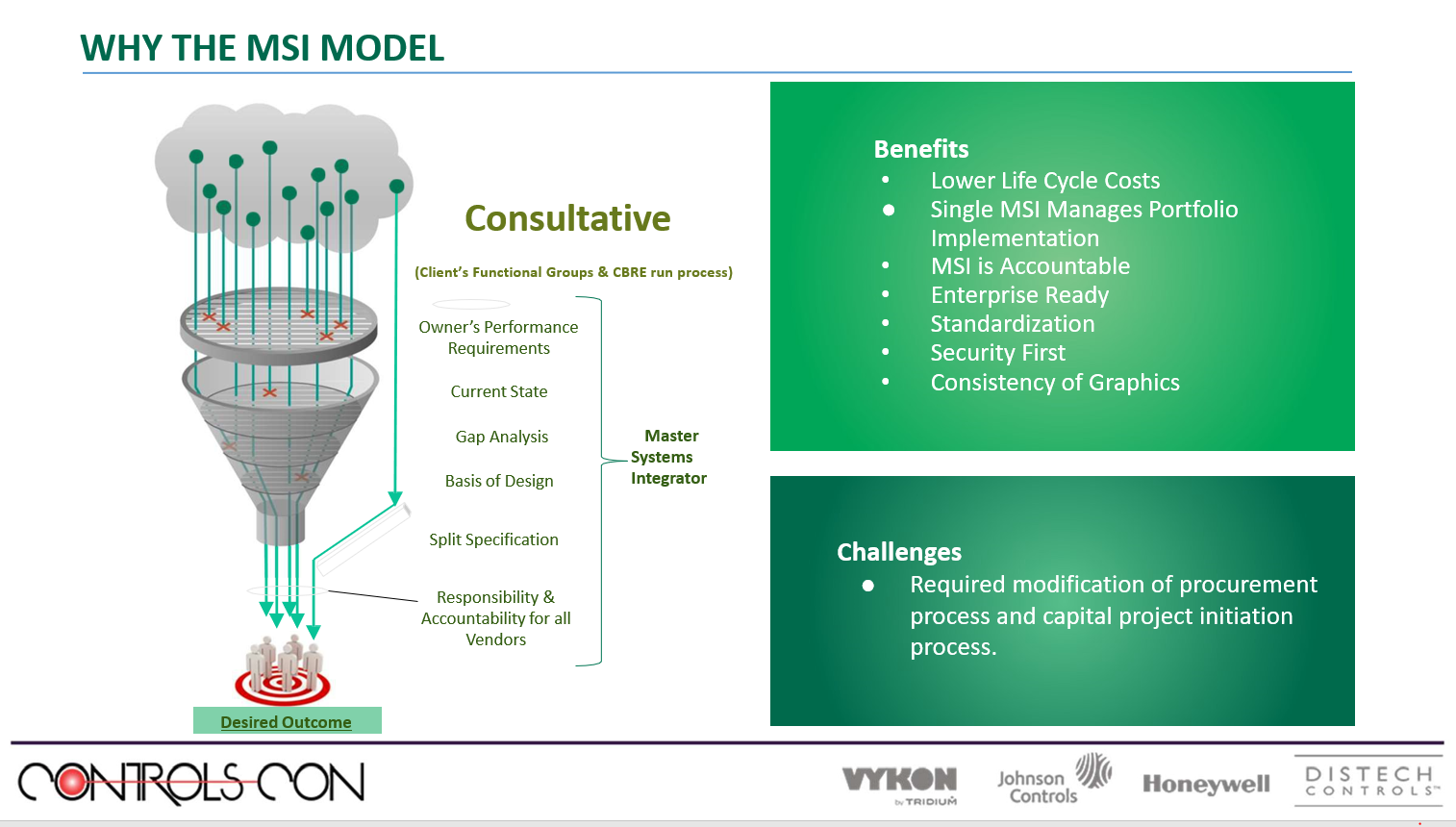 Robert Reale - Managing Director of Strategic Operations, CBRE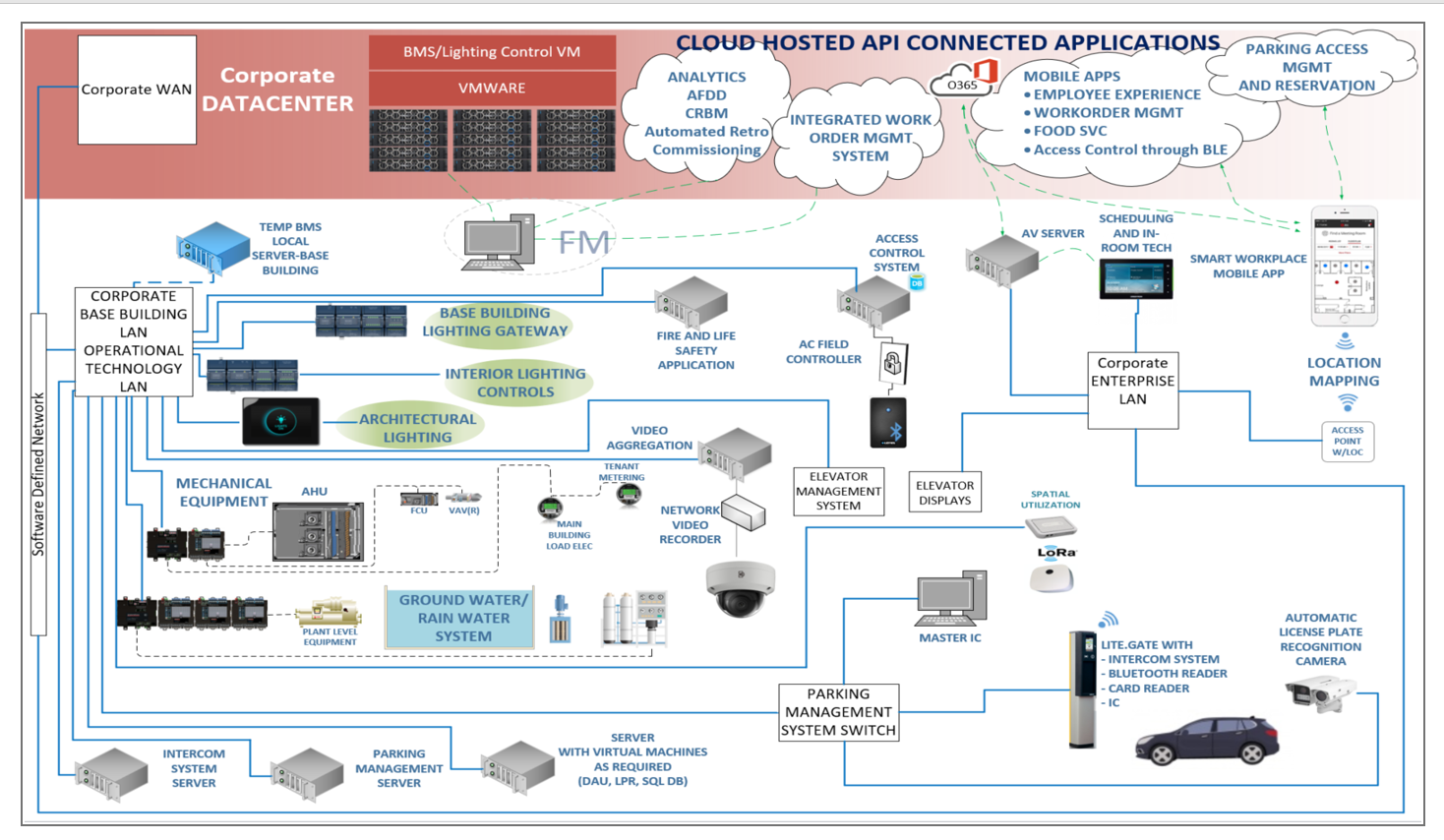 Donny Walker - Partner, Newcomb & Boyd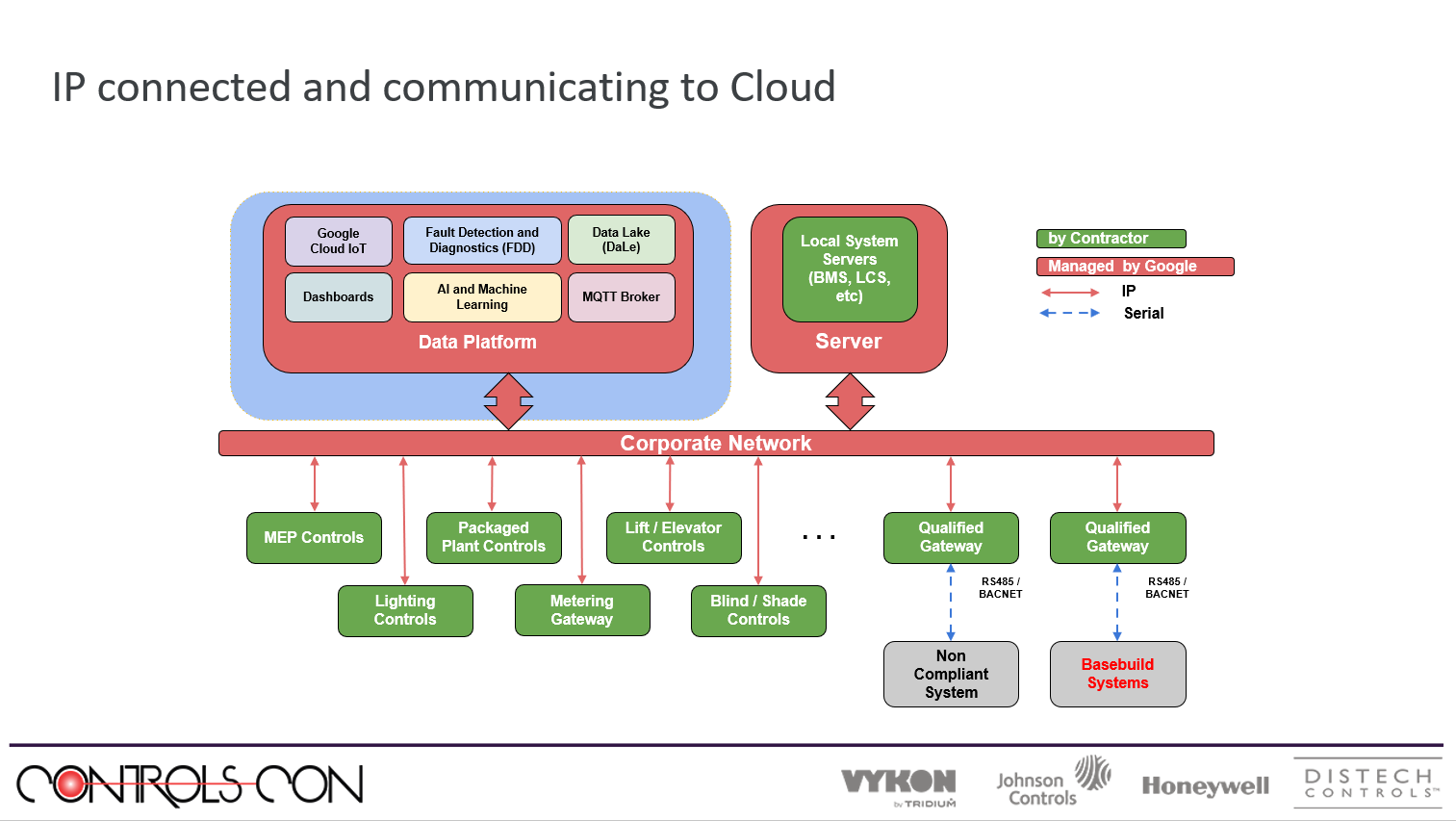 Sabine Lam - Building Operating Systems Global Lead for Real Estate and Workplace Services, Google
Before AutomatedBuildings.com

What does the author know about facility operation? Most Engineered System readers know me from my monthly Building Automation Columns and my online internet readers know me as the Editor/Owner of AutomatedBuildings.com but before doing either of these I spent over 35 years in the industry optimizing operating procedures in existing facilities and large buildings.

Johnson Controls in Milwaukee originally trained me as a service/sales engineer. I left my post of service manager with JCI to operate several buildings for a local developer. After that I accepted a contract position as the Assistance Energy Analyst for the Province of Alberta. This gave me exposure to the new and exciting world of computer simulated energy performance, although the program did run on paper cards on a mainframe computer in Ottawa over a very slow modem. For over 25 of these 35 years I operated as Sinclair Energy Services Ltd providing energy simulations, conservation, and automation consulting for existing large buildings in Western Canada.

While working on a computer simulation for a 60-acre solar heated bubble that was to bring a mild environment to a northern Alberta town for both for the construction and finished town-site Don Holte of Nova Engineering taught me that the scope and approach to environment control engineering was unlimited. Don went on to be the International President of ASHRAE. Several of my industry mentors share a good understanding of computerized large building simulation principles. I started Sinclair Energy Services Ltd to do computer simulations, energy conservation, as well as identifying computerized controls related opportunities in large existing buildings.

The University of Alberta (U of A) started a total Direct Digital Control system in 1975. I was lucky to be part of this project that was installing large campus buildings with only total DDC without any conventional controls. The computers were as big as refrigerators, and we had a system analyst and a team of code monkeys, plus we had to create and build most of our own software and sensors as most had not been invented yet or were too costly. Being part of the team that created these extremely interesting leading edge systems spawned many life mentors for me. I was amazed at the quantity and variety of people required to build what had not been built before. This project and associated mechanical/lighting energy conservation projects for over 15 million square feet of facility helped me gain insight into large complex operations. A central chilled water plant with over 15,000 tons of cooling and miles of distribution allowed us to hone our hydraulic skills and let the DDC system prove us wrong or right.

In the early 1980s, I moved to Vancouver Island and Sinclair Energy Services Ltd started providing similar services for the British Columbia Buildings Corporation that then had over 22 million square feet of space in over 700 buildings. The DDC revolution had begun and it was centred on the lower BC Mainland and Vancouver Island. Most of our energy studies on existing buildings ended in the retrofit of the existing controls to the new DDC systems. Working with the industry to make the new DDC as powerful and flexible as possible further increased my team of industry mentors. I still had time to be a founding member and a President of both the local chapter of AEE and the Vancouver Island Chapter of ASHRAE. I was fortunate to be on the teams that won the ASHRAE international energy award for existing buildings Robson Square for BCBC and Vancouver Art Gallery for City of Vancouver and several AEE energy awards, plus local BC Hydro Power Smart awards.

Sinclair Energy Services worked with the local utility BC Hydro "Power Smart Program" which allowed us to identify, document, and oversee the implementing of many million dollars of energy conservation projects. Several clients as well as several large hospitals allowed us more insight into special application projects. All of our work was done in existing facilities and buildings and the identification of these operational opportunities gave me insight into the existing operation team. In all our projects, much of our time was spent retrofitting, rebuilding and training building operators to the point that we created a High Performance Building Operator's Course. I wish that the Web had been invented so we could share this with you now. It included the essence of room load calculation, building simulation, thermo and energy analysis of various types of air handling type, control strategy development, power optimization, and more. The best part was the creation of a personnel network of high performance operators that could share ideas and help each other solve problems. I hope to achieve the rekindling of this valuable network of super operators online
---

[Click Banner To Learn More]
[Home Page] [The Automator] [About] [Subscribe ] [Contact Us]