A well attended AHR Expo has come and gone. A hectic few days to try and catch up with the industry. This is the piece I wrote for the show daily that tried to explain to the masses of over 50,000 at show, where the building automation industry is today. Somewhere between anywhere and everywhere.

At the bottom is linkage to some pdfs from our free education sessions at the show. A good show.
Ken Sinclair Publisher AutomatedBuildings.com
Anywhere buildings integrations and the general anywhereness (yes that is now a word in Wikipedia) of our industry will be our challenge for 2011.
Managing building systems all the time from anywhere with a continuously connected open web environment that allows the user to complete all tasks including engineering, commissioning and facility maintenance is the new reality. The role of evolving technologies such as smart phones and tablets for users and facility managers interface is changing everything while connecting everything and it's this combination of changes that is dramatically changing our industry. The driver is not "Information Technology", but the way forward is enabled by IT. We must prepare our building information for continuous connections.
We need a systematic approach to tracking energy utilization that detects problems early, long before they lead to tenant comfort complaints, high energy costs, or unexpected equipment failure. Today's aggressive energy standards are greatly increasing the need to insure all technologies in place actually work. Once successful operation has been achieved continuous commissioning is the only way to maintain and improve our aggressive energy standards.
Connecting buildings to everything with connectivity and services now in the information cloud is the focus of almost all the exhibitors at the 2011 AHR Expo. New sensors, video analytics, wireless, Software as a Service, artificial intelligence, ownership of metering are all changing how we connect to the future. In addition building system analytic software, remote operations centers, micro video cameras, facial recognition security, plug load control and more add to the change. Our new found graphical technologies allow us to demonstrate and tell the world about our ability as an industry to reduce environmental impact.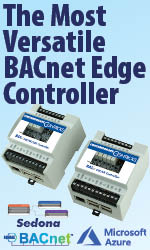 "So how much should a facility management organization set aside for all of the above for information management?" A fascinating question not generally discussed. The "convergence" of IT and BMS solutions, the evolution of BIM and all related virtual connections, coupled with the emergence of the "Facility Information Officer" suggests that the time is ripe to get some discussion on this. Discussions need to include new facilities with a BIM as well as older ones with a lot of data needing connections and convergence to achieve anywhereness..
As an industry practitioner how can I keep up with all this change?
AHR Expo is the place to get educated about the radical changes occurring in our industry. Be sure to visit the Building Automation Showcase on the Exhibit floor and join us in our 5 education sessions; Continuously Connected Open Information for BAS Room: N113
1. Connecting Building Automation to Everything
2. Continuous Commissioning and Today's Aggressive Energy Standards
3. Key Technologies for our Connected Future
4. Incentives to Motivate and Connect our Industry
5. Creating Budget for Implementing Information Management