---
Studies have found that people spend 80-90% of their time indoors. So it's no surprise that one of the most promising technologies for buildings is Indoor Positioning Systems (IPS). An IPS simply locates objects and people in a building and provides location dependent information.
An IPS is really just a data acquisition system, obtaining information as to where people or objects are within the building and primarily providing data to occupants to assist in way finding. It has much more potential, such as providing valuable information to businesses and building owners, and at the same time presenting some legitimate concerns.

Brief History of Related Systems

The idea of locating objects and people in buildings is not new. Back in the 1990s Real Time Locating Systems (RTLS) entered the market. These systems allowed hospitals to track equipment such as wheelchairs and gurneys, warehouses to track merchandise, etc. These systems initially used active RFID tags on objects and eventually used active RFID tags in employee or visitor badges to track people. IT companies also started providing RTLS via Wi-Fi systems in the building. Initially the density of Wi-Fi access points in buildings had to be significantly increased to allow the system to "triangulate" the object or person and the Wi-Fi "tags" on objects were fairly bulky.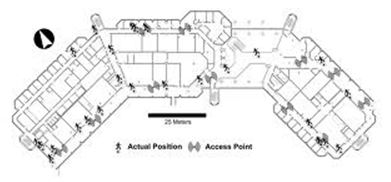 Indoor Positioning Systems may also have some similarities with Distributed Antenna Systems (DAS) that boost cell phone coverage in buildings. The IPS uses cellphone apps to allow users to navigate through a building and can use the cellphone capabilities, such as Bluetooth to locate the cell phone users. Unlike the RTLS, where corporate users (hospitals, warehouses, etc.) bought a system, DAS deployments are business deals between the building owner and the local cell carrier. Building owners wanted to satisfy the needs of their tenants, and the cell carriers wanted to increase usage. It's likely that the indoor positioning systems will take on a "commercial arrangement" similar to DAS: Who pays for what? Who owns the data? Who profits? How to handle privacy and security aspects? Who maintains and upgrades the system?

IPS Technology

Whereas GPS depends on satellites IPS is based on "reference anchors", essentially network nodes with a known position in the building. At least three nodes are needed to triangulate and locate a "target" with the aid of a software application to calculate location. There are a number of technology approaches that have the potential for being the basis of indoor positioning: radio frequencies, acoustic, optical, electromagnetic radiation, etc. These methods measure the signal strength or power levels of the radio waves or signals to calculate distance from the anchor to the object.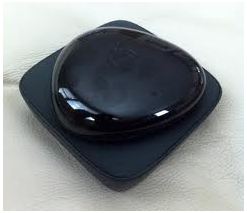 One approach to the architecture of the IPS is "Bluetooth Beaconing". Bluetooth was created in 1994 to essentially replace short cables. Today every smartphone is Bluetooth enabled and we're all familiar with using Bluetooth to connect ear buds, headsets, printers, game consoles, keyboards, etc. It is the Bluetooth capabilities of smartphones together with the Bluetooth beacons that can provide the location of the smartphone users. In 2010 Nokia introduced an indoor positioning system based on Bluetooth Low Energy (BLE) technology (basically the latest Bluetooth technology operating on low power with low latency in communications). The density of the Bluetooth beacons is roughly the same as a typical Wi-Fi deployment, with accuracy around 0.3 meters (one foot), with no latency. (http://research.nokia.com/news/9505)

There appear to be two general approaches for the Bluetooth beaconing: one where the smartphones pull data from beacons, the other just the opposite, where the beacons pull information from the smartphones. Several experts believe the first approach, the smartphones detecting the beacons is a better plan for privacy and data security; the second approach, the beacons detecting the smartphone eliminates the need for specialized software on the smartphones and is passive for the smartphone users.

Companies in the IPS Space

Recently twenty-two international companies formed the In-Location Alliance to standardize and commercialize the technology. The alliance includes large multi-national companies such as Nokia, Samsung, Qualcomm and Sony. The list also contains Broadcom, Dialog Semiconductor, Eptisa, Geomobile, Genasys, Indra, Insiteo, Nomadic Solutions, Nordic Semiconductor, Nordic Technology Group, NowOn, Primax Electronics, RapidBlue Solutions, Seolane Innovation, TamperSeal AB, Team Action Zone and Visioglobe.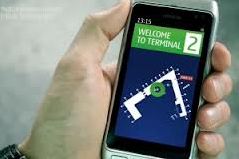 Some tech giants, such as Google, are pursuing and developing the technology but are not part of the alliance. Apple has hinted and is expected to be a major player in indoor positioning with their iOS devices as well.

Some of the companies involved in IPS are high tech companies motivated to extend their existing outdoor mapping applications to the indoor environment where GPS doesn't work well due to signal attenuation. In addition to extending their mapping applications and advertising revenue the companies have an opportunity to create a treasure trove of data that would assist businesses, primarily retail, in identifying customers and product placement.

Where are Building Owners?

While all of this takes place in buildings and has the potential to provide valuable data to building owners, it is not the traditional building control system manufacturers, building operators or facility management that are driving the technology and IPS deployments. Without their involvement something is likely to be lost in this approach as several beneficial applications of IPS can be used to improve building operations. For example, one of the key metrics for building management is data on how occupants are using the building spaces. That may include when and where building occupants enter and exit the building, what building spaces occupants inhabit, what time or day they occupy the spaces, duration of occupancy, etc. Such data could be used optimize the building operations, correlating the occupant data to building systems, energy consumption, space utilization, and even using the data for renovations of existing buildings or design of new buildings. IPS could also be part of addressing life safety events, for example locating people for safety or security purposes. With facility management organizations really just starting to wade into the world of data analytics, IPS is potentially posed to provide data on a building that really hasn't existed in the past and enrich the analytics of building operations.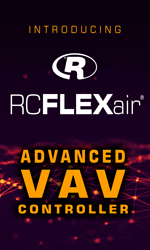 The IPS technology could be used for almost any size building, but appears to be particularly well-fitted for large commercial buildings, educational campuses, malls, airports and guided tours of museums. If you think IPS is pie-in-the-sky and way in the future, think again:
Google launched their Indoor Maps and Indoor Location in late 2011. They already have over 10,000 floor plans for a variety of buildings in North America, Europe and Japan and claim 5-10m accuracy indoors inside buildings. Some of the mapped clients include IKEA, MGM Resorts, Mission College, Mall of America, Macy's, Home Depot, and Bloomingdales. (See http://maps.google.com/help/maps/indoormaps/).
Walgreens has a partnership with a startup called"aisle411". Any Walgreen shopper using a smartphone can view maps of any of 8,000 Walgreen stores and locate products down to a section of an aisle.
Zonith has an IPS offering also using Bluetooth beaconing, but it is targeting a different market; it focuses on security, safety, and situational awareness applications. They have an application called "Lone Worker", focusing on large utilities, production plants and commercial buildings which can locate lone workers and keep track of employees for safety purposes.
So we track and locate people and objects outdoors in real-time via GPS; IPS provides for similar tracking indoors. In the near future it may be that there will be few places on Earth where we can't be tracked and identified. The key to successful IPS deployments are going to be: (a) users having the option to opt in or out of being tracked, (b) thoroughly secured systems, and (c) the demonstration of benefits for smartphone users, business owners and building owners.


---


[Click Banner To Learn More]
[Home Page] [The Automator] [About] [Subscribe ] [Contact Us]